With the rebranded CBS All Access launching as Paramount+ this week, we have compiled a quick guide on where and how to watch all the shows and movies in the Star Trek Universe.
If you are not aware, which would be some doing considering that ViacomCBS conducted a stellar marketing campaign, CBS All Access relaunched on March 4th as Paramount+, the result of the merger between Viacom and CBS a few years ago.
At the recent ViacomCBS Investors Day presentation held on February 24th, we learned more about what the new streaming platform has in store for the Star Trek franchise. Needless to say, things are looking rosy for the explorers of the final frontier. Alex Kurtzman and Julie McNamara outlined plans to release new seasons of Star Trek every quarter via the service and already discussions have been held on future shows post Discovery and Picard. Even now we are getting new and exciting news on Star Treks future with the news yesterday that Discovery Consulting Producer and Writer Kalinda Vasquez has been tasked with scripting a new entry in the film series.
While this is all great news for Star Trek and the fan base, the launching of Paramount+ will have ramifications going forward on how we can actually watch these new shows. At present, Paramount+ is only available in the US and Canada with a rollout to the Nordic Countries expected March 25th and Australia in mid-2021. There is no news on when Europe and other areas can expect the service to go live.
We have seen questions asked regarding the rebranding and how this will actually effect shows that are streaming on the likes of Netflix or Amazon Prime, and the answer at the moment is that it shouldn't have any effect, for now. However, it's possible that the contracts in place are timebound and the launching of Paramount+ internationally could tie in with these contracts expiring, allowing shows like Lower Decks and Discovery to revert back to ViacomCBS and then air exclusively on Paramount+. It is also possible, that when Paramount+ does launch outside of the US and Canada, new shows such as Star Trek: Prodigy and Star Trek: Strange New Worlds could act at the 'big draw' factor upon release.
So, as it stands, where can you watch the Star Trek Universe?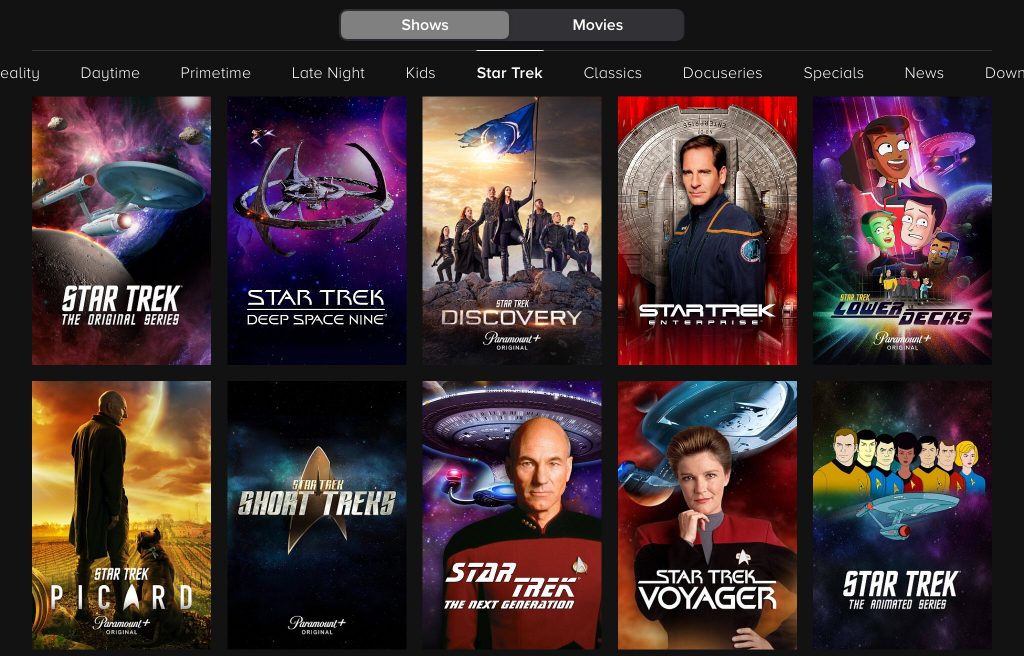 USA and parts of Latin America.
As stated, Paramount+ launched on March 4th, a rebranding from CBS All Access so if you already had an account set up, it should just change over following a simple update. Word is that the interface hasn't changed that much so if you're familiar with CBS All Access there should be nothing surprising about it. Star Trek Shows currently available to watch on Paramount+ include all seasons of:
Star Trek: The Original Series
Star Trek: The Animated Series
Star Trek: The Next Generation
Star Trek: Deep Space Nine
Star Trek: Voyager
Star Trek: Enterprise
Star Trek: Short Treks
Star Trek: Discovery
Star Trek: Picard
Star Trek: Lower Decks
Currently available to watch on the service in relation to the film franchise:
Star Trek IV: The Voyage Home
Star Trek: Generations
Star Trek: First Contact
Star Trek: Nemesis
No doubt the reason for the limited number of films on Paramount+ is due to international rights with various streaming services and networks with the currents rights to showcase.
If you live in Canada however, the rebranded service is in name and logo only, with full access to the Paramount+ coming soon but Star Trek can still be accessed on CraveTV and CTV Sci-Fi.
Internationally
If you live outside of the USA, Canada and Latin America, then being able to watch your favourite series might be a little bit tricky as they are spread out over a number of different services which of course all come with individual costs.
Currently available on Netflix:
Star Trek: The Original Series
Star Trek: The Animated Series
Star Trek: The Next Generation
Star Trek: Deep Space Nine
Star Trek: Voyager
Star Trek: Enterprise
Star Trek: Short Treks (Limited episodes)
Star Trek: Discovery
You can also watch the excellent documentary For the Love of Spock.
Currently Available on Amazon Prime with a Prime Membership:
Star Trek: Picard
Star Trek: Lower Decks
Star Trek Into Darkness (Kelvin Timeline Film)
Star Trek Beyond (Kelvin Timeline Film)
All other Star Trek series and films are available on Amazon Prime but these come as purchases or rentals.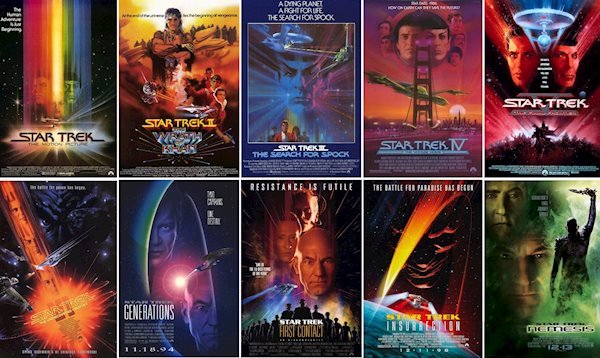 Now, if you want to watch the film series it is very much dependant on where you live, the UK satellite network of SKY TV which also operates in Germany, Austria, Switzerland and Italy currently has the licenses to all but 2 of the film series, the two missing being Into Darkness and Beyond of the Kelvin Timeline films.
SKY TV (Cinema):
Star Trek (2009 – Kelvin Timeline Film)
Star Trek the Motion Picture
Star Trek II the Wrath of Khan
Star Trek III the Search for Spock
Star Trek IV the Voyage Home
Star Trek V the Final Frontier
Star Trek VI the Undiscovered Country
Star Trek Generations
Star Trek First Contact
Star Trek Insurrection
Star Trek Nemesis
Remember that Netflix, Amazon Prime and Sky TV all come at a cost with Netflix and Amazon having free 30-day trials for new members.
Also, from Trek Central:
---
Don't forget, you can also get involved via our social media platforms:
▶ Facebook – https://www.facebook.com/TrekCentral
▶ Instagram – https://instagram.com/TrekCentral
▶ Twitter – https://twitter.com/TheTrekCentral
▶ YouTube – https://youtube.com/TheTrekCentral
▶ Discord – https://discord.gg/f62Gbcu