Trekthis.co.uk had the pleasure of catching up with actress Samora Smallwood who plays Lt. Amin in the Star Trek Universe in between some of her projects to ask about her character and her time on the USS Enterprise.
Samora Smallwood's Lt. Amin served onboard the USS Enterprise as navigator alongside Rebecca Romijn's Number 1 and played a pivotal role in helping the Federation defeat the AI known as Control and propel the USS Discovery 900 years into the future in order to save the universe. We next see the character saving Spock (Ethan Peck) and Number 1 from a broken turbolift in the Short Trek episode 'Q&A'.
TrekThis: How did you land the part of Lt. Amin for Star Trek Discovery? Was it something you sought out?
Samora Smallwood: Good question! As an actor, you always have your favourite shows, your "wish list" of projects you want to work on. Star Trek was on my list for a while. In our industry, your talent agent submits you for auditions and the Casting Director either calls you in or doesn't. It's such a competitive industry and in TV especially time is of the essence, so being known to Casting can be very helpful as they can only bring in a certain number of performers. Lisa Parasyn is the Casting Director for Star Trek Discovery here (she's recently won an Emmy Award for Casting on "Schitt's Creek".) I've built a relationship with Lisa Parasyn Casting by showing up, doing the work, and being an actor she can count on & I'm really grateful for how supportive of me she's been. I had auditioned for Star Trek Discovery (under a variety of pseudonyms) a few times. Often, as an actor you'll audition for a show a few times, and I think casting and the producers, showrunners, and the broadcaster are seeing what's the best fit. It's a big compliment to be brought in for the same show, in my opinion, because it means they like you. I was so excited to be brought in for the role of Lieutenant Amin because she was described as someone who in the face of great challenges, can steady herself, focus, and be the type of character about whom you say "she's got this". In that way, we are very similar, and as such it's the perfect role for me.
TT: were you a fan of the Star Trek before landing the part? If so, what was your introduction to the franchise?
Samora Smallwood: I totally was!!! My mom watched Star Trek when I was little. I'm biracial black (my mom is from Newfoundland and my father is West African) & my mom was always making sure I knew about James Baldwin, Toni Morisson, and the history. She was really good that way, and it's so funny because I can remember her explaining to me the importance of what Star Trek had done with Uhura and how groundbreaking it was. As I was auditioning and hoping to land the show I definitely felt a sense of how iconic it would be to join such a prestigious franchise. My real intro to the franchise was DS9 and then Voyager of course. We watched those together.
TT: After being offered the role of Lt. Amin, were you given any background or guidelines on the character or were you left to your own devices on creating her? How easy, or difficult is that for an actor, to create a character totally from scratch?
Samora Smallwood: Great question! I was filled in about what they needed from the character, but the thing with Trek is that its fans are SO hardcore in such an amazing way, that you sign an NDA before you can even read the scripts, and during the audition process the sides (audition scripts) are "dummy sides" meaning they capture the essence of what's going on but don't necessarily give away any key plot points. CBS is really smart in doing that, because you can't tell anyone what's happening & also you yourself have that thrilling feeling of "what am I going to get to be a part of?!"
Creating a Character is the best, most fun part of being an actor. For me, in creating Lieutenant Amin, I really saw her as someone extremely ambitious, hardworking, determined, and inspiring. I knew that she was focused on moving up the ranks, and doing whatever training was required to do so. I decided she looked up to her Captain very much, and in making that simple decision I was able to craft someone whose respect for Starfleet is obvious in how she approaches her job and her role aboard the Enterprise. I didn't have many lines but I made strong choices and created a very detailed backstory to ground Lieutenant Amin in the world before her and make her admiration and ambition come to life.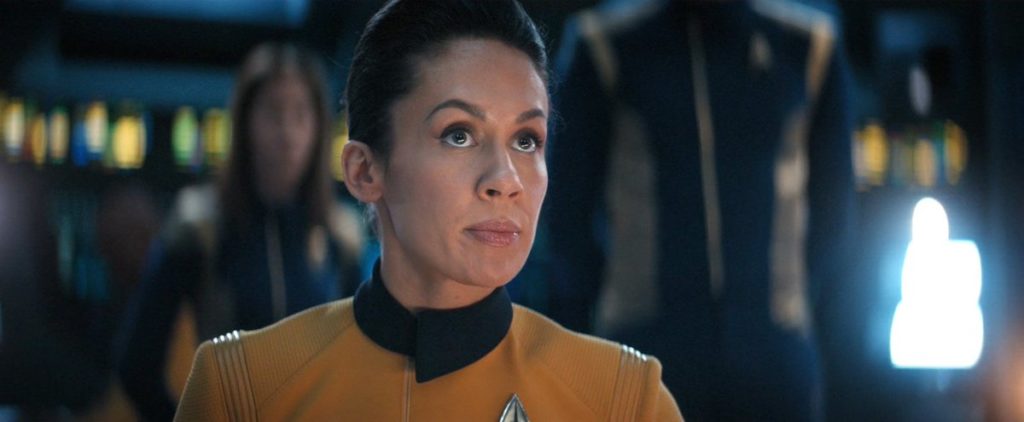 TT: What was it like on set, could you tell us your experience walking onto the bridge of one of the most famous and iconic ships in sci-fi?
Samora Smallwood: Once I discovered that I was joining THE U.S.S Enterprise I can't lie, I sincerely almost freaked out. Walking onto the set, was literally like walking into history. The team at Star Trek is honestly an elite group of artists whose attention to detail leaves nothing, nothing behind . Getting to set and being invited onto the ship and walking around, touching everything was so surreal and one of the coolest feelings. Every single screen, every single button makes sense and is perfect. Looking around (and sitting in the Captain's chair) was a rush, that I'll never forget.
Our first rehearsal in the space was such a highlight for me because Executive Producer Olatunde Osunsanmi was our director and when I walked in he called out "Samora Smallwood, welcome!" it was really, really cool and totally speaks to the warm, family energy on Star Trek Discovery. Plus, I celebrated my birthday (December 5) on set, and hearing Happy Birthday from 200 or so amazing professionals is pretty awesome.
TT: You have joined a franchise that has endured for 54 years and continues to grow with millions of fans worldwide, what is that like? Do you feel any kind of pressures or is it all just in a day's work?
Samora Smallwood: There's definitely pressure to do a good job, as always, but it's been a joy to have joined the Star Trek ranks because the fans are so incredible and supportive. Their enthusiasm for me and Lieutenant Amin, and the Enterprise, have been such a huge blessing. I get great fun out of it all, and I enjoy seeing what's being said or posted from the die-hard fans about the show, because the true fans are so loving and wonderful and I really respect their opinions.
There's also pressure when you're joining such an esteemed cast. The actors on Discovery are UNBELIEVABLE!! Sonequa Martin Green is a beast. I fell in love with her style when she was on The Walking Dead. She brings such emotional resonance and heart to every single scene she's in, and honestly watching her work was like a Master Class. She deserves all the awards. Michelle Yeoh, Doug Jones, I mean, these are iconic performers, who I was just so excited to work with. Once it was revealed that Anson Mount was going to be our Captain Pike and THE Rebecca Romijn was going to be Number One, I felt like the luckiest person in the world. Anson Mount's gravitas is so captivating on-screen and he's so so intelligent in real life, it was such a pleasure getting to talk to him because he's a big thinker, and I am too, so it wasn't, you know, chatting about the weather in Toronto or anything, but philosophy, history, politics, etc. Rebecca Romijn was someone I looked up to from time. Her career has spanned so many kinds of roles, she really has such a versatile range. In real life she is hilarious!!! Truly quick witted and willing to take the piss. She brought her husband, Jerry O'Connell, to set and the two of them had me laughing my ass off. I hadn't known Ethan Peck's work at the time (I DO NOW!! He really made Spock his own) but he is truly one of the kindest, warmest people I've ever met. A deep thinker, and an extremely kind man.
TT: Anson Mounts portrayal of Captain Pike has been lauded and rightly so, what was it like working with him and the rest of the cast?
Samora Smallwood: It really was a beautiful thing to watch Anson work, and then go to video village (where you can watch playback) and see how magically it translated onto the screen. He really knows what he's doing. He's played so many amazing roles in his career, but I think Captain Pike is my favourite because he's got this way of giving you someone with morals, guts, and integrity, someone you look up to (and I did!) but also he gives you the heart and soul too.
As I mentioned, the cast was phenomenal and I learned a lot. I also made good friends. Hanneke Talbot who plays Lieutenant Mann and I are good friends to this day. When you're working those long days it's nice to have someone there to have a giggle with. She was always making me laugh. On lunch or whatever we'd just be silly. I'm also still friends with Chai Valladares who plays Lieutenant Nicola. I actually did a series with his roommate who was like 'You're Lieutenant Amin!"
It was really a huge learning experience sitting right next to Rebecca Romijn who is so experienced, and so talented. I really love how she doesn't take herself too seriously. That was a big takeaway for me: you can be serious about the work, and have fun. She made it fun, but when it was time to work, she was focused, and in the zone. I was really inspired by her too because she's got this really illustrious career and the most lovely family as well. That's the ultimate goal, for me at least, and I think for a lot of women in film & TV: the career AND the family.
Like I said, Ethan Peck really made Spock his own, and I cannot imagine the pressure to do so. We talked about that a lot, because I had to know. When you're working so closely with people for so long, you get to know each other, and Ethan is incredibly soulful and generous and watching how respectfully and carefully he approached the craft was such a joy. The relationship he has with Michael Burnham was so heartfelt and in the pre-COVID times you could go to set and watch the work even when you aren't in a scene, and Ethan and Sonequa really created magic.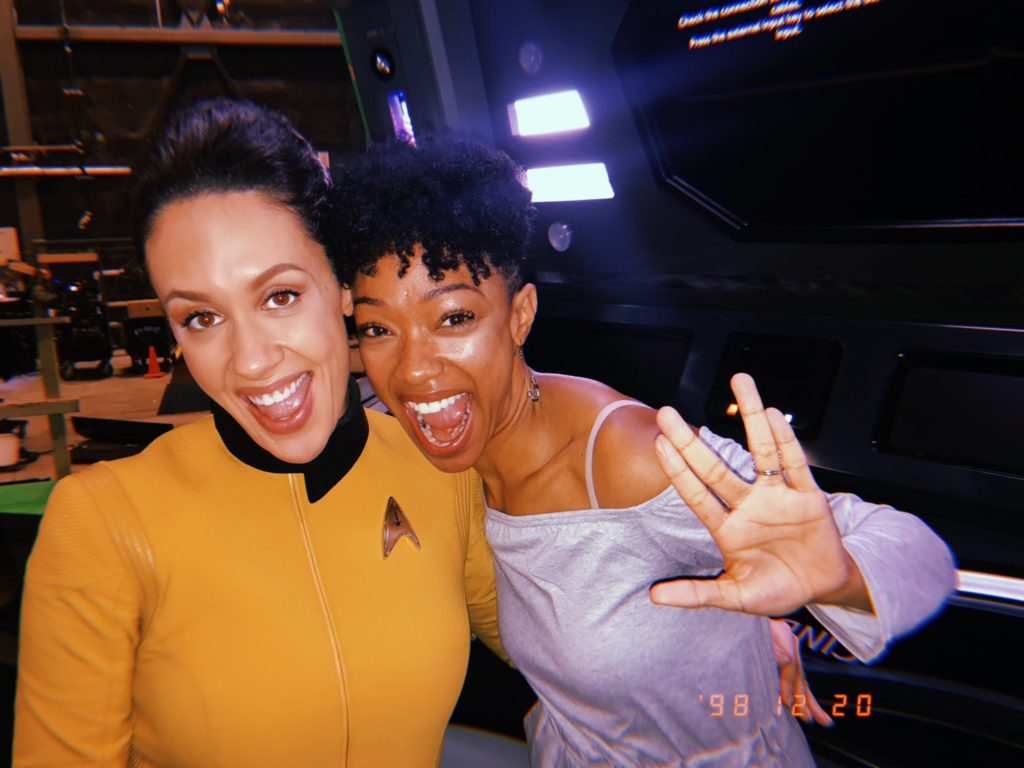 I have to talk about Sonequa again because she really blew me away. I find her very inspirational. In addition to my acting work I'm ACTRA's (our performer's union) Diversity & Inclusion Committee Co-Chair. Real representation on-screen is one of my biggest passions. Joining Star Trek Discovery was not just about being part of an iconic franchise but joining one where a black woman is the lead. A black woman who is allowed to be all the things: strong, soft, warm, passionate and a real leader. It was really moving for me. During one of her monologues I was literally holding back tears. She's the real deal, and she had her husband and son come by the set and the special way they're raising their little boy, is really heartening. I guess I'm a sucker for women doing it all!! That's what feminism is to me: honouring the sacrifices of the women who came before us by living life to the fullest and paving a new way for women in film & TV.
TT: We last saw Lt. Amin in the Star Trek Short Treks Episode 'Q&A', with Star Trek: Strange New Worlds being given the green light and in pre-production. Will we get to see Lt. Amin in the navigator's chair again?
Samora Smallwood: The Star Trek Short Treks are so so good!! I love how we get to see glimpses of the breadth of imagination of the Star Trek creative team. It was such a huge joy to be welcomed back for 'Q&A' and we were all excited to work with Director Mark Pellington. Michael Chabon's script is so well written, and I loved being a part of seeing how the Enterprise Crew came together. I had been a fan of Michael Chabon and his wife (a very talented writer!) Ayelet Waldman for YEARS. It was very cool to see his name on the script. I'm a big believer in manifestation (my motto is Manifest Yo Shit!) so that felt like one of those moments. Strange New Worlds is going to be so good & it will be cool to see a return to a more episodic format which Trek is sorta known for but still maintaining the Character development we've come to know and love. At this time, CBS has only announced the return of Captain Pike, Number One, and Spock. We'll see!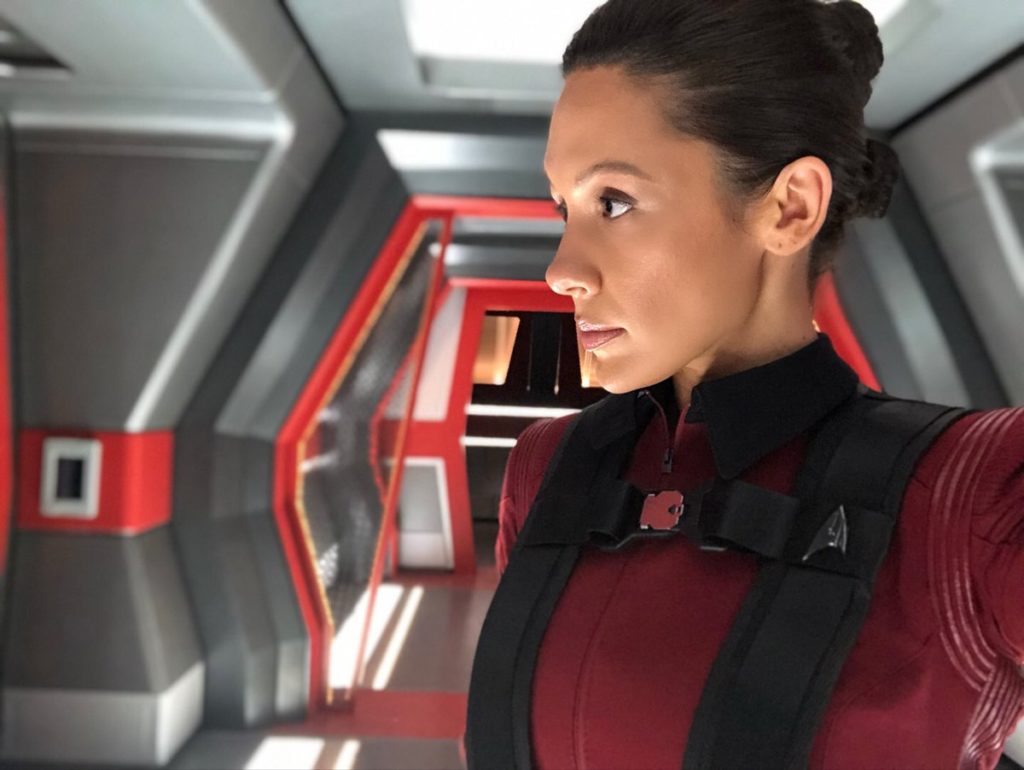 TT: Away from Star Trek, are there any projects in the pipeline you can let us know about?
Samora Smallwood: There are! There are a couple I can't mention just yet but there are two films coming up: a cute Christmas Movie "Counting on Christmas" or "A Christmas Break" in which I co-star with Private Eyes' Cindy Sampson. I always wanted to do a Christmas Movie because I LOVE Christmas and it will be something my grandfather can watch! The second film I don't know if I can say as they haven't announced it on IMDb yet. "Queen of the Morning Calm" is the debut-feature film from Director Gloria Kim, which premiered recently. On the TV side, I can be seen in upcoming episodes of 'Coroner" & "Good Witch" which I am currently filming. I feel really lucky, especially in these uncertain times to be working & building my career. I'm booked into 2021 and even writing that feels so wonderful, because any actor can tell you, it's a grind. A lovely, most rewarding pursuit, but this is a career you can only do if you truly love it. And I do.
---
Samora Smallwood is a classically trained, bilingual Actress, Writer, & Cool Feminist. She is Co-Chair of ACTRA's Diversity Committee as well as the founder of The Actors Work Studio, an innovative acting studio in Toronto. Samora's recent on-screen work includes Star Trek, The Expanse, American Gods, Coroner, The Shelter, Shadowhunters, and Frankie Drake Mysteries in a story about white passing & black identity in Canada. Samora's passion is telling fresh stories and promoting diversity on-screen and behind the camera.
Are you excited bu a possible return of Lt Amin? Jumpt to our social media platforms and give us your thoughts:
▶ Facebook – https://www.facebook.com/TrekCentral
▶ Twitter – https://twitter.com/TheTrekCentral
▶ Discord – https://discord.gg/f62Gbcu
Legacy content from trekthis.co.uk