Following last Friday's casting announcements for Strange New Worlds, we bring you some details on who they could be potentially playing in the new series.
Production on the newest entry in the Star Trek Universe is well underway, we know this thanks to a promotional video released by Paramount+ last Friday. The short one-minute teaser offered very little information about the series itself but what it did offer up was the addition of new cast members, of which there are five. We now have confirmation that joining the returning Anson Mount as Pike, Ethan Peck as Spock and Rebecca Romijn as Number One will be Babs Olusanmokum, Christina Chong, Celia Rose Gooding, Jess Bush and Melissa Navia.
While this is all very exciting news and finally gives us some new updates on the series, what it doesn't offer up is any details on who they could be playing, and it's unlikely we will gain any more information on this for some time, not at least until a potential trailer is ready. But do we really have to wait that long? It is possible that we already have details on the characters that the newest additions to the Star Trek family could be playing.
Back in November 2020, the website 'The Illuminderdi' posted details of character breakdowns potentially issued to casting companies during the audition process. Below are the breakdowns and who they could relate to in terms of the new actors. They all seem to fit fairly well.
DISCLAIMER: It is worth pointing out that none of this is confirmed and as it stands is speculation as The Illuminderdi does not offer any details of a source for their breakdowns. Regardless of that, it is fun to speculate sometimes.
Babs Olusanmokun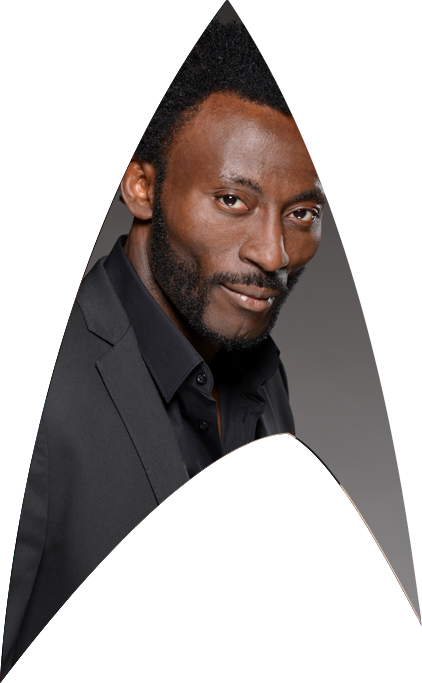 Who could he be playing?
Could Babs be playing the ship's doctor? Originally played by John Hoyt in 'The Cage' and named Boyce, in Strange New Words, this has been changed. Now called Biodun with the description stating that he is a close advisor to Captain Pike and has an air of "easy erudition", he is male, Black and in his 40s. It could be that the name of Biodun is a red herring so to speak, and that Babs could be playing a character we've seen before in the original series.
Olusanmokun's notable television credits include Netflix's Black Mirror, Marvel's The Defenders, HBO's Emmy-winning miniseries The Night Of and History's Roots miniseries remake. He'll next be seen on the big screen in the upcoming Dune and Wrath of Man.
Christina Chong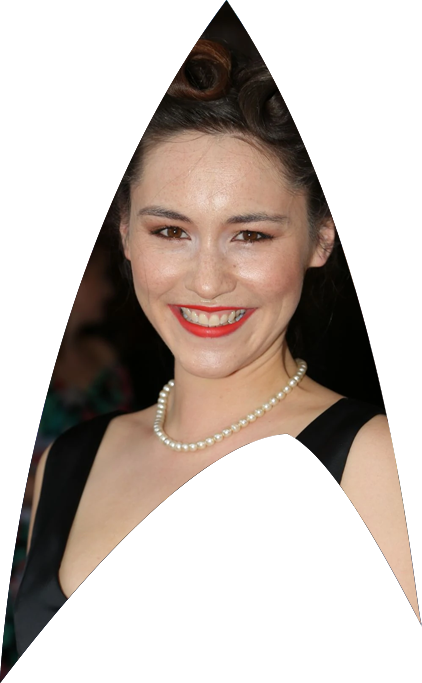 Who could she be playing?
A character called La'an. Described as in her late 20s – early 30s and is the head of Security. She's badass, physical, and suffers from PTSD. She has an air of vigilance and precision. Originally looking to someone who is East Indian, Asian, or Middle Eastern, but are open to any ethnicity. The Illuminderdi states that she is more or less sounds like a combination of every security officer we've seen on screen.
With a little background digging The Illuminderdii has stated that a character with the name of La'an Trahve appeared in the book Last Full Measure when the crew of the NX-01 meet a courier. While there are no species listed, it's possible that the name could be Vulcan.
Chong can currently be seen in the live-action adaption of Hanna Barbera's Tom and Jerry and in The CW's Bulletproof. Chong's other television credits include Black Mirror, Doctor Who, the BBC's Ill Behaviour and ABC event miniseries Of Kings and Prophets, among others. Film credits include Christmas Eve, opposite Patrick Stewart, and Johnny English: Reborn.
Celia Rose Gooding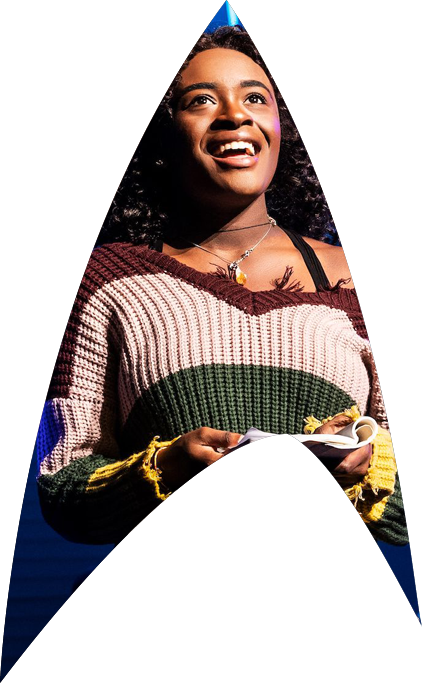 Who could she be playing?
Over the weekend, this description has been given a bit more weight and we will address why in a moment. The character name Celia Rose could be playing is called Yeboah. Described as black, in her early 20s, and fresh out of the academy. A linguistics genius, bright, promising, and the youngest member of the crew. The breakdown does sound similar to a cross between Hoshi Sato and Travis Mayweather from Enterprise.
Now the interesting part. The biggest night in music, the Grammys held its virtual ceremony over the weekend and Celia Rose Gooding and her Jagged Little Pill co-stars won the award for Best Musical Theater Album. In a congratulations post by Rebecca Romijn, she refers to Celia as 'Cadet'. Could be a fun nod to the fact that she is a new addition to the team, or it could be a clue to her ranking on the show, which aligns nicely with the above description.
Emmy Award-winning Gooding starred as Frankie Healy in Jagged Little Pill, a musical inspired by Alanis Morissette's award-winning album, until the Broadway shutdown in 2020, and received a 2020 Tony Award nomination for Best Featured Actress in a Musical for her work. Past theatre roles also include Urinetown and Fame.
Jess Bush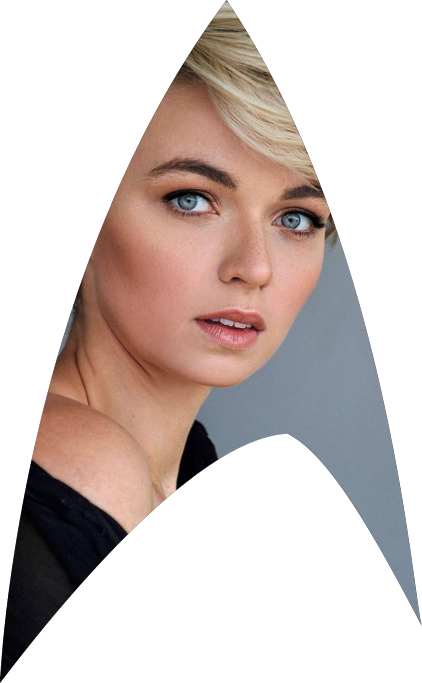 Who could she be playing?
As we have a doctor in Biodun, it's clear that he will also need a nurse, in this case, one called Miller. She's in her late 20s – early 30s, Caucasian, heroic, charming, free-thinking, and "the beating heart" of sickbay.
Bush starred as Helen in the indie feature Skinford and recurred as Kendall in the Channel 10 series Playing for Keeps. Bush also appeared in the Australian series Halifax – Retribution and guest-starred in ABC's Les Norton opposite Rebel Wilson and David Wenham.
Melissa Navia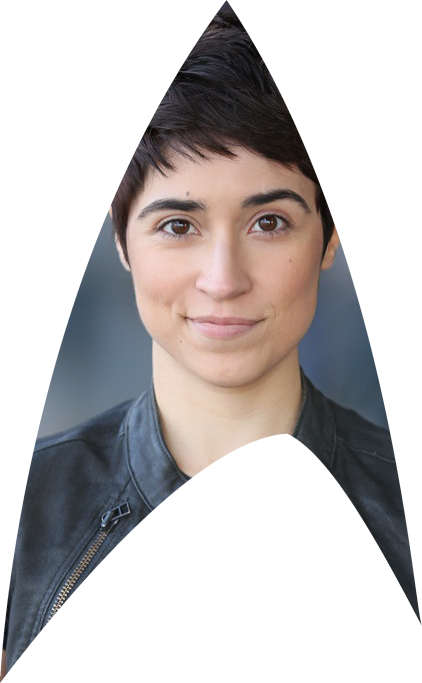 Who could she be playing?
Finally, the last breakdown from The Illuminderdi article is a character called Ortegas. Late 20's, Latinx, and an experienced vet. She has seen some combat and has a dry wit. Described as smart, funny, competitive, and is able to pivot from handling a gun to making a joke. Could be that some of the comic relief on the show could be coming from this character.
Navia's recent television credits include a recurring role on AMC's Dietland and guest roles on Showtime's Billions and Homeland. In March 2020, she made her Off-Broadway debut in the praised Bundle of Sticks at INTAR Theatre.
As we stated from the start, we don't have any confirmations that the above descriptions are indeed the real deal when it comes to casting. However, comparing the actors who are now in place it does seem like there could be some weight to them. Whether or not the character names remain in place or if they are codenames and they are in fact the characters first seen in the original Star Trek pilot 'The Cage' will remain to be seen.
Also, from Trek Central:
---
Don't forget, you can also get involved via our social media platforms:
▶ Facebook – https://www.facebook.com/TrekCentral
▶ Instagram – https://instagram.com/TrekCentral
▶ Twitter – https://twitter.com/TheTrekCentral
▶ YouTube – https://youtube.com/TheTrekCentral
▶ Discord – https://discord.gg/f62Gbcu