Well, we're still waiting for a video game release. Star Trek: Resurgence is due out later this year. However, in the meantime, we've got the comic series from IDW Publishing setting up the backstory for the new Star Trek game. The prequel is introducing us to the ship and the crew. We've already had the first two issues, but how is Issue #3?
I have to make a special mention of the variant cover of this issue by Adrián Bonilla, which is amazing. Setting up almost the naivety of Dr Leah Brahms and her research possibly being utilised by more nefarious forces in the Talarian Militia like the looming half-faced Commandant Hektar.
Star Trek: Resurgence Issue #3 is available via Amazon.com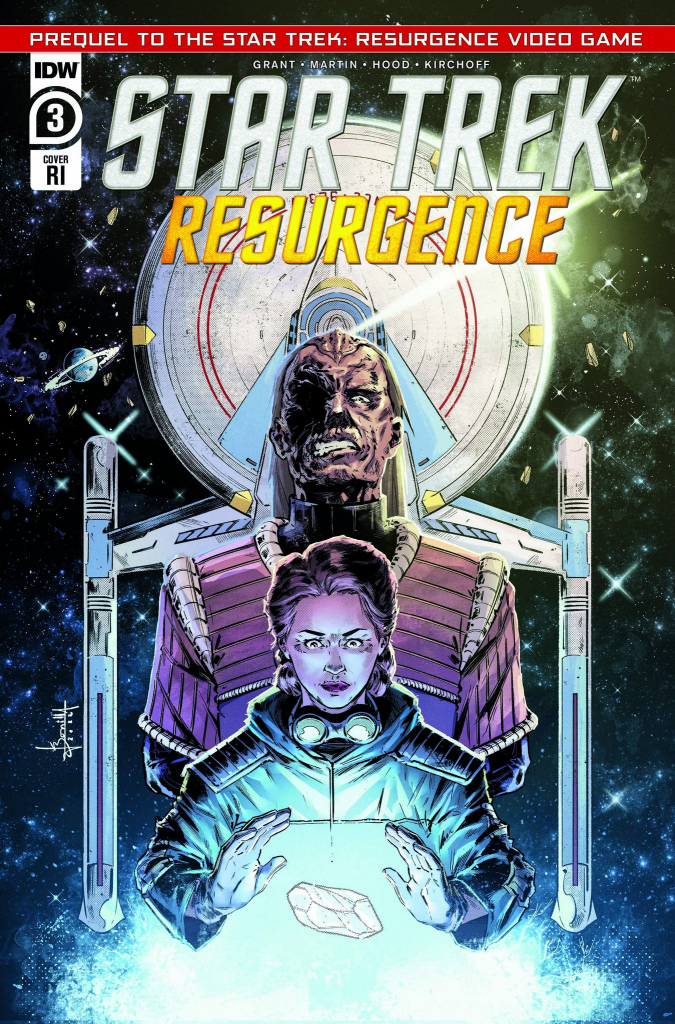 Jono Endar
The last issue started with a flashback to Leah Brahms, who she was, and a little of what she did in Star Trek: The Next Generation. Reminding people of this cameo character at the start of the issue worked well. The same is true for Issue #3 with a flashback to Jono Endar and his role in The Next Generation as well. Not only is this good for those who can't remember, but also for people who may not have watched that episode, and still getting that information of who this character is.
Jono in this issue specifically is fascinating. You can see that his time on the Enterprise-D did affect him, especially Picard. He may have returned to the Talarian Militia but that Human aspect remained. He knows that his civilisation of the Talarian's will have to grow in Peace, as it is better than War. He also has a nice opposite force with the Commandant Hektar, the Talarian with half his face missing who very much wants war.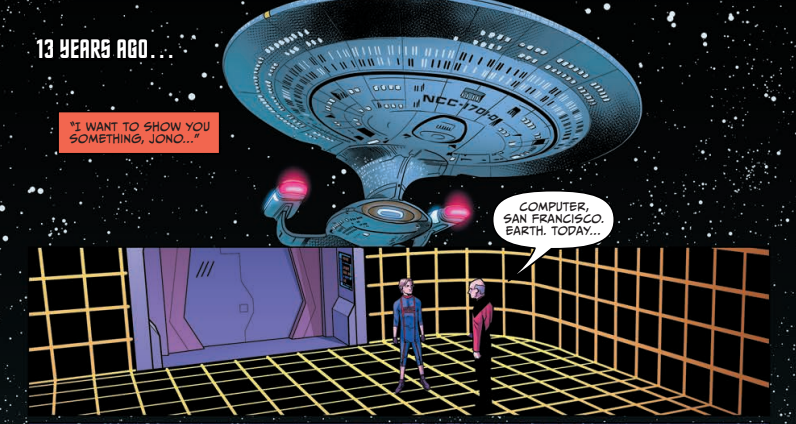 Talarians and the Dominion
What is great about this chapter is we learn a little bit more about the Talarian and their role in the Dominion War. We don't learn much, but we do learn that they fought the Dominion, and lost a lot. This is one of the reasons they are working with Brahms to get this new technology. We did get this last issue, but it doesn't hurt to hear it again.
Small references like this to something that affected the entire quadrant, and would make sense that other species from TNG would be affected, goes a long way to make the universe feel living. An excellent bit of world building and not just something for reference's sake. We don't learn how Hektar got half his face burned off, but it would be cool if it was Dominion related.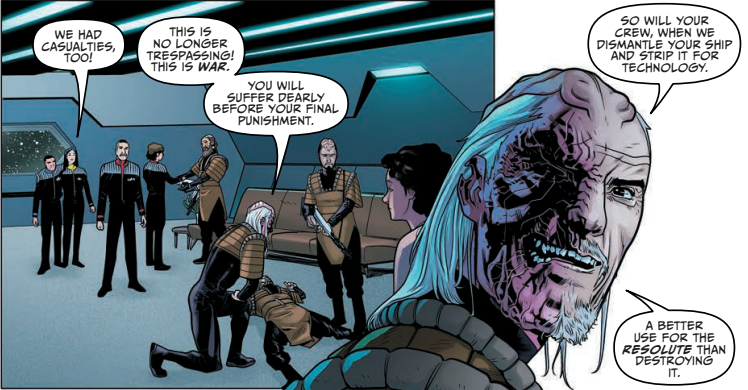 Conflicts on Both Sides
Captain Solano agrees to work with Lea Brahms and the Talarians, however, his First Officer has other ideas. He immediately goes about to figuring a way to get the Talarians off their ship and get out of Talarian Space, against his Captain's orders. This is interesting because he think his Captain is of the same mind, but he isn't.
As we know Solano worked with Brahms and knows the limitations of technology creation in the Federation system. With us playing a new first officer in the Resurgence game, I wonder if this divide will cause Sutherland to leave the ship.
But on the other side we have Jono wanting peace for the Talarians while Hektar wants war, and wants this new technology to have the upper hand against the Federation. Having both Starfleet and the Talarians have multiple perspectives and agendas really helps to elevate this story.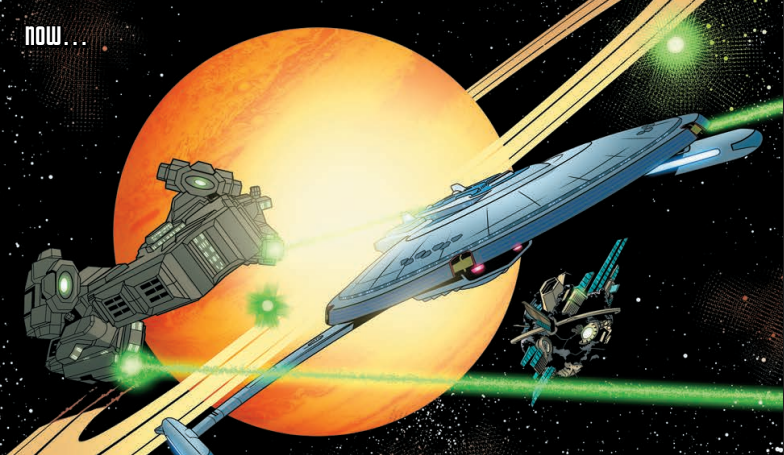 Conclusion
Issue #3 of Star Trek: Resurgence doesn't move the pieces of the story too much, but is an excellent continuation of the first two issues. Having multiple characters with multiple agendas makes for an interesting story to tell. And with such a story coming from the game writers, it makes me so excited when the game finally releases. Issue #4 of IDW Publishing's Star Trek: Resurgence will be out in February 2023.
---
More From Trek Central
🔥 – Anson Mount Talks Star Trek: Strange New Worlds Season 2
🚨 – Star Trek: Picard Showrunner Talks Season 3!
📰 – Strange New Worlds – The Illyrian Enigma Review – Issue #1
---
Join the Star Trek conversation via our social media platforms: