Once again the Star Trek Universe is expanding, that is good right? While we're super excited for the likes of Star Trek: Strange New Worlds, other things, not so much. If you've been around the Internet in the last year or two, you might have heard of NFTs. These would be the controversial cryptographic assets on a blockchain. But what does this have to do with Star Trek?
Star Trek and NFTs have a complicated relationship and for good reason too. Recently, the combination has made a reappearance. CBS Studios have filed trademarks that cover crypto-collectibles and NFTs. While this may seem innocent, it might not spell good news for Trekkies who are passionate about the franchise.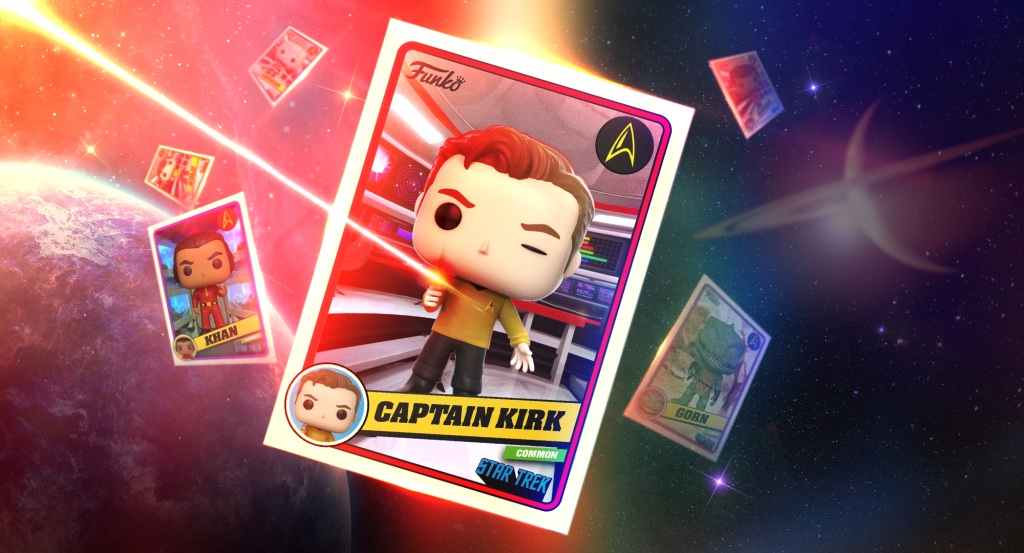 ViacomCBS's Trademark
CBS Studios have filed a pair of Metaverse applications to trademark. These would be for "crypto-collectibles" and of course "NFTs". The trademarks in question revolve around the Star Trek name. The filing mentions "Downloadable virtual goods", along with "non-fungible tokens (NFTS)". Previous attempts and announcements of NFTs related to the Star Trek Franchise have not gone down well online with Trekkies. This is for good reason as well.
Star Trek is set in a post-scarcity world, not to mention featuring the utopian ideals of the Federation. Many online argue that the idea of NFTs goes against the core values of Star Trek. Resistance is futile apparently.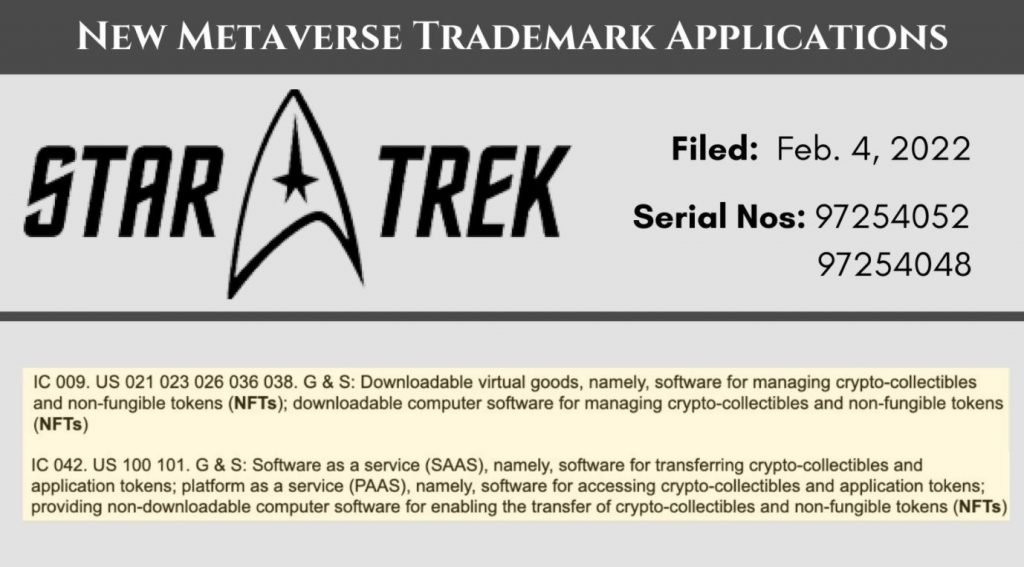 What Are NFTs?
You might not actually know what an NFT is, It's understandable. A Non-fungible Token (NFT) is a unique asset. Non-fungible means that It's unique and therefore cannot be replaced with something else. For example, we can use Bitcoin to explain. A Bitcoin is fungible, you trade one for another and it's the same thing. This is where the difference comes in, NFTs are unique, think of it as a one-of-a-kind trading card.
In the past year, the market for NFTs has exploded online. Digital art is at the forefront of the technology, along with drawings, music, and more. The creator of Twitter, Jack Dorsey, has even made his first Tweet into an NFT. I wouldn't recommend buying it personally.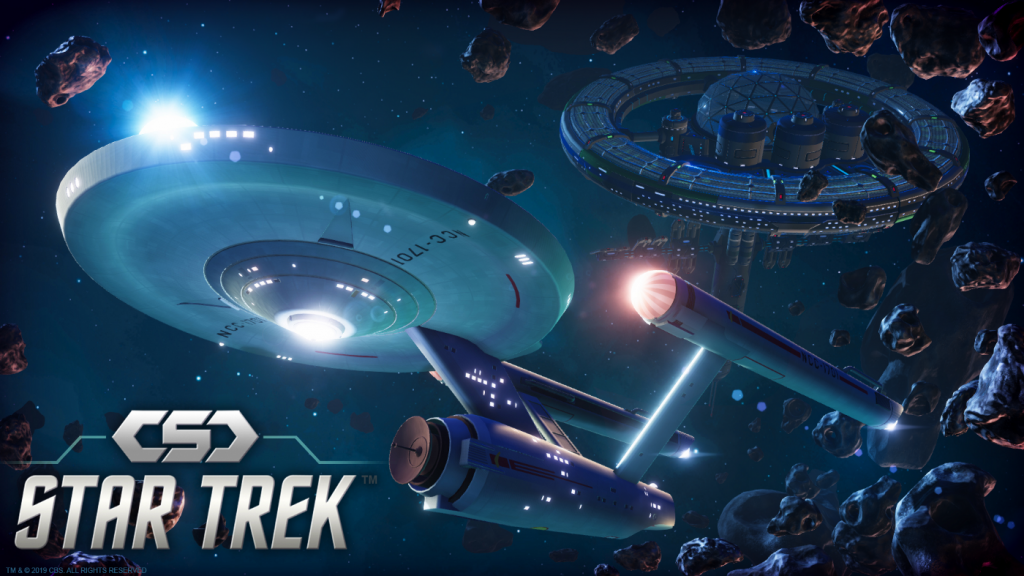 The Connection
So how does Trek connect with NFTs? Star Trek NFTs have made the rounds before and been met with heavy fandom backlash and for good reason. Roddenberry Entertainment previously attempted an NFT project in November 2021. The idea was to have Trekkies contribute art to form part of an NFT sold for "philanthropic purposes".
Trekkies online have pointed out this is regarded as "tone death". A drawback of NFTs is they are energy-intensive. NFTs have to be cryptographically verified on certain blockchain networks, which is where energy usage comes into play.
Thankfully, the Roddenberry Foundation has since abandoned its NFT plans. A released statement confirmed that they're committed to "responsible, ethical and eco-friendly manager" ways of working.
Not The First!
Cryptocurrency and Star Trek NFTs are not uncommon at this point. Even when Roddenberry announced their u-turn on the idea, CBS pushed on. Funko's collaboration with Star Trek NFTs saw an exclusive collection launched. While the collection is still running, we're not sure how successful it has been. Since its launch, fans have blasted the idea online.
The game, Crypto Space Commander (CSC), has seen a collaboration with Star Trek. Announced in 2019, game developer Lucid Sight confirmed they were working with ViacomCBS. The goal was to "Bring Star Trek to the Blockchain". So far the partnership has seen starships from Star Trek: Discovery venture into the game, along with the iconic USS Enterprise-D.
Each ship in-game started off at $100,000 (~209.59ETH, depending on the price of ETH at the start of the auction). Since starting, the likes of the USS Discovery NCC-1031 has sold for $7,424.87 (19.81233 ETH).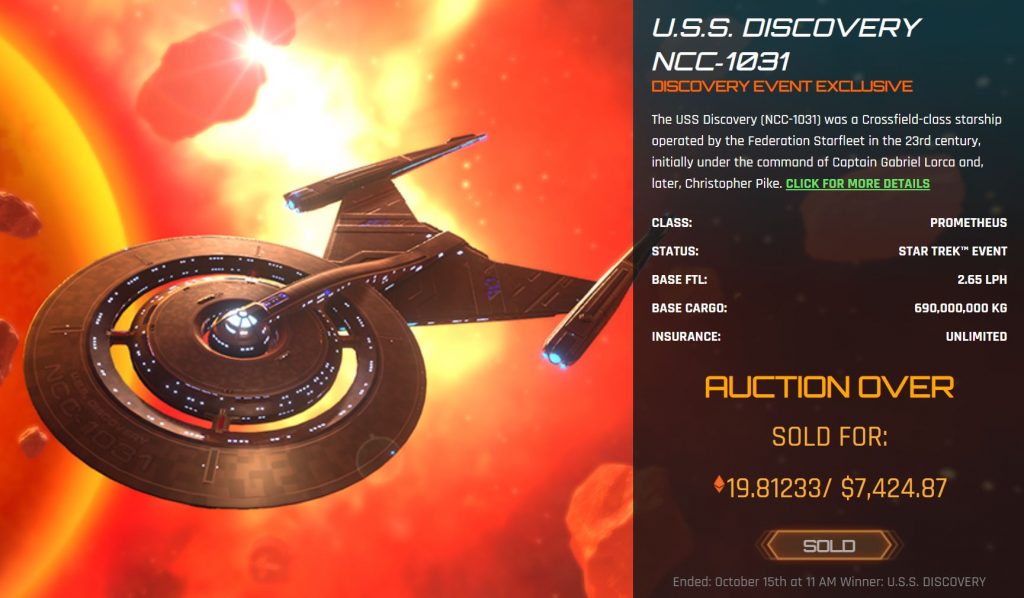 The BIG Issue!
So why are Trekkies against NFTs so much? Easy, damage to the environment, and global warming. NFTs use the same blockchain technology as some energy-hungry cryptocurrencies. In turn, this also ends up using a lot of electricity. As expected, this also generates a lot of greenhouse gas emissions. Now there are people working on mitigating this issue, but currently, NFTs remain tied to cryptocurrencies that generate greenhouse gas emissions.
Star Trek is about the utopian ideals of the Federation, along with taking place in a post-scarcity world, working with NFTs is an odd choice. NFTs are intentionally limited digital items, that also have an effect on the environment. The whole idea goes against the future that Star Trek envisions.
Many Trekkies online are drawing comparisons between the Ferengi species and the idea of Star Trek NFTs. Let's not forget this is the species that sells parts of deceased relatives for profit. As the late Rene Auberjonois's character, Odo, put it… "the Ferengi ritual of chopping up their loved ones and selling them [to be] irresistible.".
What Is Next?
It remains to be seen what CBS will do with their new trademarks. Perhaps we can expect further Star Trek NFTs developed further down the line. On one hand, this might be a stop-gap to block others from creating them. That idea would be rather smart. Art theft via NFTs is something that is plaguing creators right now.
---
More from Trek Central:
? – NEW Star Trek Comics For April 2022!
? – Janeway's New Command Starship! – Star Trek: Prodigy
Join the Star Trek conversation via our social media platforms: