Star Trek fan and artist Chris Mitchell release's part one of his Star Trek: Voyager inspired comic which you can download now.
One of the great aspects of the Star Trek franchise is the inspiration it instils in others. Trekkies have gone on to work in the sciences, engineering, and space exploration, it has shown people that regardless of the colour of your skin or where you were born and raised, nothing is unobtainable. It is part of Star Trek's legacy. The love of the franchise is also shown by the tributes created by the fan base, which can be shown via cosplay, storytelling and art. I enjoy creating drawings myself based on Star Trek and for some reason when I draw anything else, I don't have the same passion for the work I am creating, but drawing Trek gives me that motivation for the work to be the best it can so it helps me improve.

If you are on Twitter or Instagram and are a fan of Star Trek you have no doubt seen the vast amount of fan art that is available, and you would have come across the work of Chris Mitchell AKA CRMComics. From Scotland, Chris has been a fan of Star Trek since school and his love of the franchise has fuelled his artwork which has led him into creating his own amazing comic based on Star Trek: Voyager.
For me, Chris artwork is amazing and the story that follows in his comic would not seem out of place in the show its based off. Chris has nailed the likeness of each of the characters so well and you can see that this is something that he has put his heart and soul into creating. I have included two pages in this post that show off his ability to capture the starships seen in the franchise so well. Drawing people is one thing but to have the patience to recreate the details of the USS Voyager and Klingon vessels in itself needs applauding. The comic is a great read and like all good comics should, it leaves me wanting to read more.
Chris has made his comic, Star Trek: Voyager Sins of the Mother, which is the first part of an ongoing story, available to download (a link to which is available at the end of this article) for all to enjoy and we had a quick chat with him to learn more about its story and a bit more about him.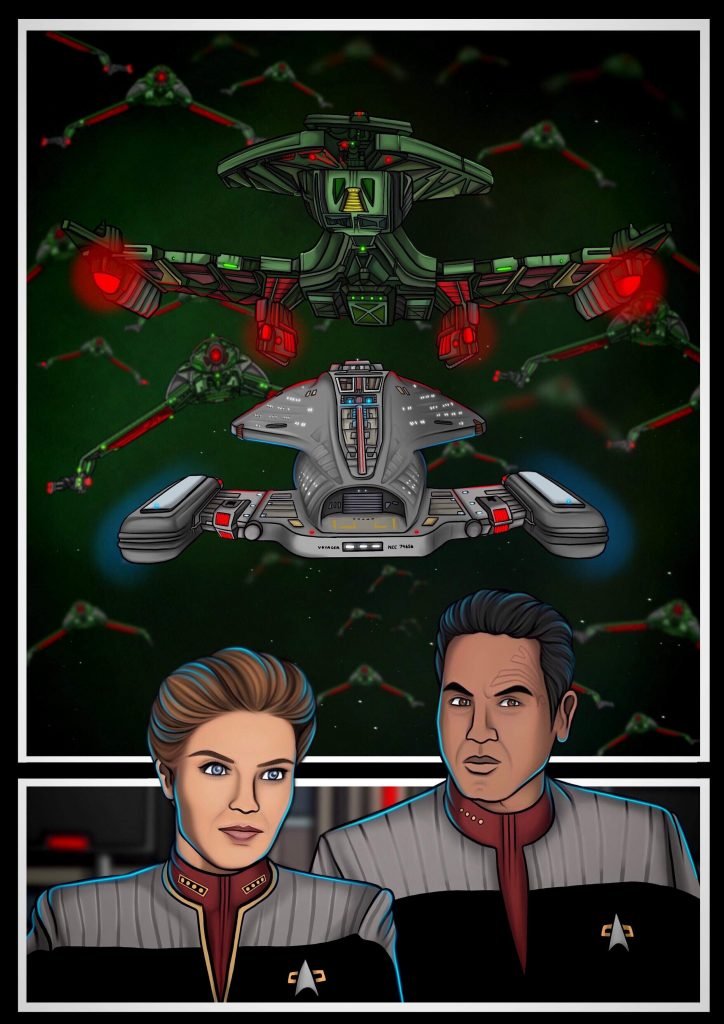 Trek Central: How long have you been drawing and who is your inspiration?
Chris Mitchell: I've been drawing all my life. I was always encouraged at school when teachers noticed I could draw and I studied art and design at college.
Growing up in the 80s and 90s I watched most of the popular shows at the time. I used to draw my favourite characters and make my own comics. Masters of the Universe, Teenage Mutant Ninja Turtles and The Simpson's, I always liked those styles of cartoon animation. I also loved reading Star Trek and Star Wars comics and was always inspired by those. I always preferred the comics to the novels because I loved seeing the artwork.
Trek Central: What got you into Star Trek and why did you choose a Voyager story?
Chris Mitchell: I didn't have a choice about getting into Star Trek really, my dad was a big fan and at 5 pm every day it was on tv while watching dinner and back then that was the only tv we had in the house so everyone in the family watched it, whether we liked it or not, lol. I loved TNG, DS9 and Voyager, those were the shows I grew up with and those series are still my favourite of the franchise.
I chose a Voyager story for a few reasons. I felt so much was left to the imagination after the final episode and there were so many stories I wanted to see happen after watching the show for seven years when the crew made it home. The other reason I chose Voyager is because B'Elanna Torres is my favourite character.
Trek Central: What is the inspiration behind your story?
Chris Mitchell: The idea for the story was in my head not long after Voyager ended in 2001 and I always sketched ideas and scribbled notes over the years. It just wouldn't go away.
I was inspired to write it after my sister lost her little girl. She lost her at the same time 9/11 happened. At that time we just felt like the entire world was ending. You go through so many different emotions and stages of grieving with something you can't make sense of. It was very difficult to see what my sister had to go through grieving, but she got through it and she is one of the strongest people I know. I was always inspired by that.
Some time after that I started to think of a way to tell the story of what she went through, but make it a Voyager story with B'Elanna Torres. In the final episode the crew changed the timeline to get home earlier and I started to think what would the consequences of that be? In life people make so many plans for the future and look forward to many things, but then things happen out with our control and can throw your life into chaos. I wanted to explore that in this story, what if because of the decision to change time, serious things happened that wouldn't be expected when Voyager returned.
Trek Central: Is this the first of many, will you be looking to branch out into different Trek series?
Chris Mitchell: I honestly don't know, this comic has taken so long with all the artwork and it's still not finished. If there's another story that comes to me I'm sure I'll work on something. Just not sure if it will be a Star Trek story or not.
Trek Central: How many issues are in this particular story arch?
Chris Mitchell: I'm working on the final part right now, theres going to be 5 or 6 chapters to it altogether.
Trek Central: How are you enjoying the new wave of Star Trek shows?
Chris Mitchell: I love them. Of them all, I think Picard is my favourite, just because it's set in the same time with characters from my favourite shows. I can't wait for season 2. I'm looking forward to Prodigy and Janeways return as well.
Trek Central: Other than Star Trek what other comics and TV shows do you like?
Chris Mitchell: Other than Star Trek, I'm a huge Star Wars fan, I loved the original movies, The Clone Wars and I'm hooked on The Mandalorian. I was very disappointed in the sequels mind you.
Trek Central: Where can people follow your work?
Chris Mitchell: I'm on Twitter and Instagram @crmcomics
You can download part one of Star Trek: Voyager Sins of the Mother by clicking here. You will require software capable of reading epub files.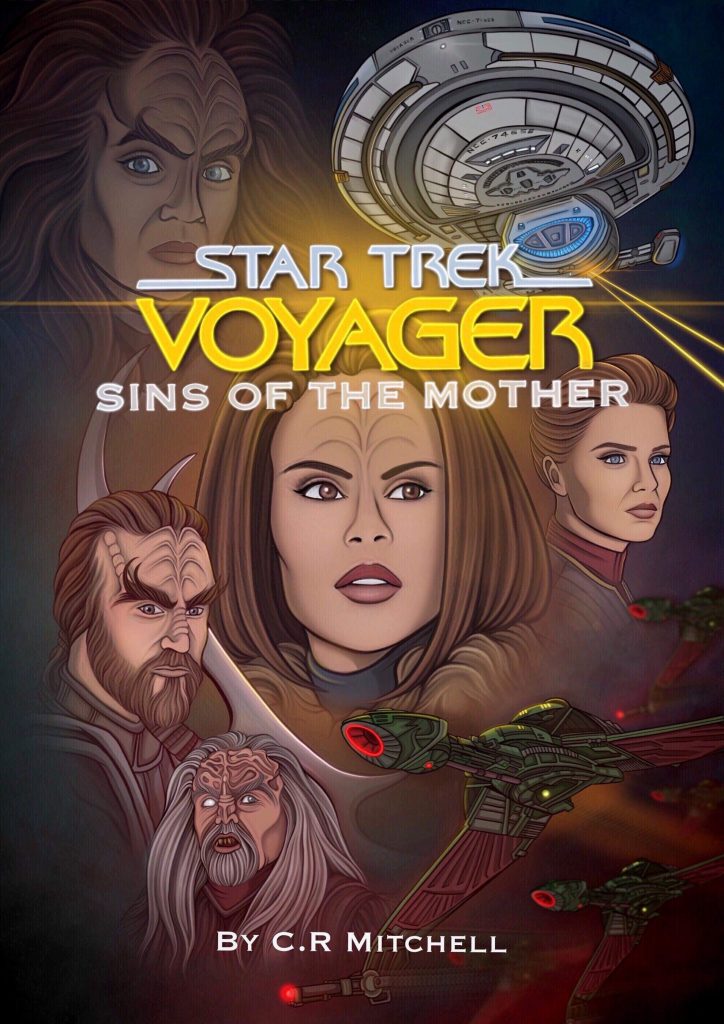 Also, from Trek Central:
---
Don't forget, you can also get involved via our social media platforms:
▶ Facebook – https://www.facebook.com/TrekCentral
▶ Instagram – https://instagram.com/TrekCentral
▶ Twitter – https://twitter.com/TheTrekCentral
▶ YouTube – https://youtube.com/TheTrekCentral
▶ Discord – https://discord.gg/f62Gbcu