Exo-6 is a relatively new company to the Star Trek merchandise scene. Helmed by Nanjin Tam, who contributed to the previous 1:6 effort under QMX, which saw the typical set of characters make it to market, followed by limited quantities of a few other characters. Today, we've got an EXO-6 Commander Saru Review.
Exo-6 is off to a much stronger start. They are also bringing a welcome change in strategy to the release pattern we've seen over the past couple of decades. Instead of going straight out of the gate with Kirk, Spock, Data and Picard in their iconic series uniforms, we instead saw the start of a 'First Contact' line. This featured the first merchandise release of the iconic 'FC' or 'Wartime' Uniforms' since Star Trek: Nemesis.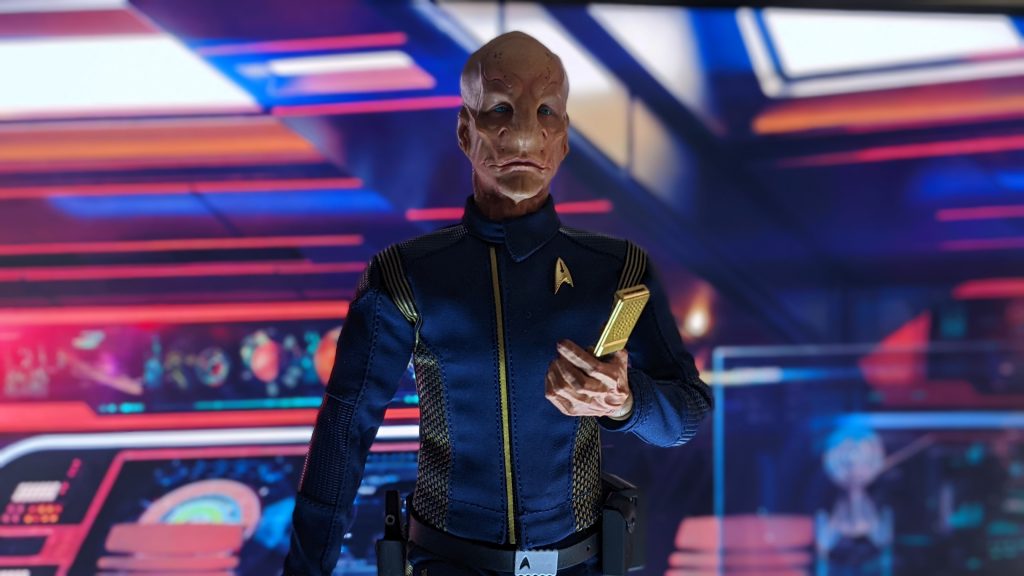 This was followed by another merch-neglected set of releases focusing on Star Trek: Voyager. Voyager seems to have a fandom resurgence with the million-mark busting documentary crowdfunding alongside Kate Mulgrew returning to our screens (or rather, ears) as her iconic Janeway in Star Trek: Prodigy. It's good to see some of the newer licensees taking note of this fan interest.
Following this pattern, Exo-6 has quickly turned its attention to Star Trek: Discovery. Following a July release of Michael Burnham, we now have Commander Saru (also clad in his season 2 blue). Saru is Exo-6's first foray into alien sculpts (although I expect it won't be long before Worf graces our shelves in one uniform or another). Given the complexity and detail or Doug Jones' makeup in Discovery, this is a make or break it figure for the company's reputation – so let's see how he holds up.
Saru Packaging
The Saru we received comes in packaging familiar to people who already collect 1:6 figures. Featuring an outer sleeve with a portrait of the figure. Which, it must be said, seems lower resolution than it should be. Additionally, printed in gloss on a matte background. The packaging follows the same style as most other merch released in the past few years.
The back of the sleeve is matte with some silver highlights. Therefore, giving the standard information, one would expect about what the box contains as well as all the licensing, safety warnings and such. Below the sleeve, we're treated to a windowed box with a printed Delta pattern with the back featuring credits to people involved in the production of the figure.
It also features a QR code that links you to an 'instructional video', giving details on how to pose your figure without damaging it. We highly recommend you give these a watch, especially for the Discovery line, with their accurate but somewhat fiddly tactical belts. Finally, for the outer box. A welcome addition to the packaging is the 5 years of Discovery logo, following in the style of last year's anniversary marketing for shows and films such as Enterprise and First Contact.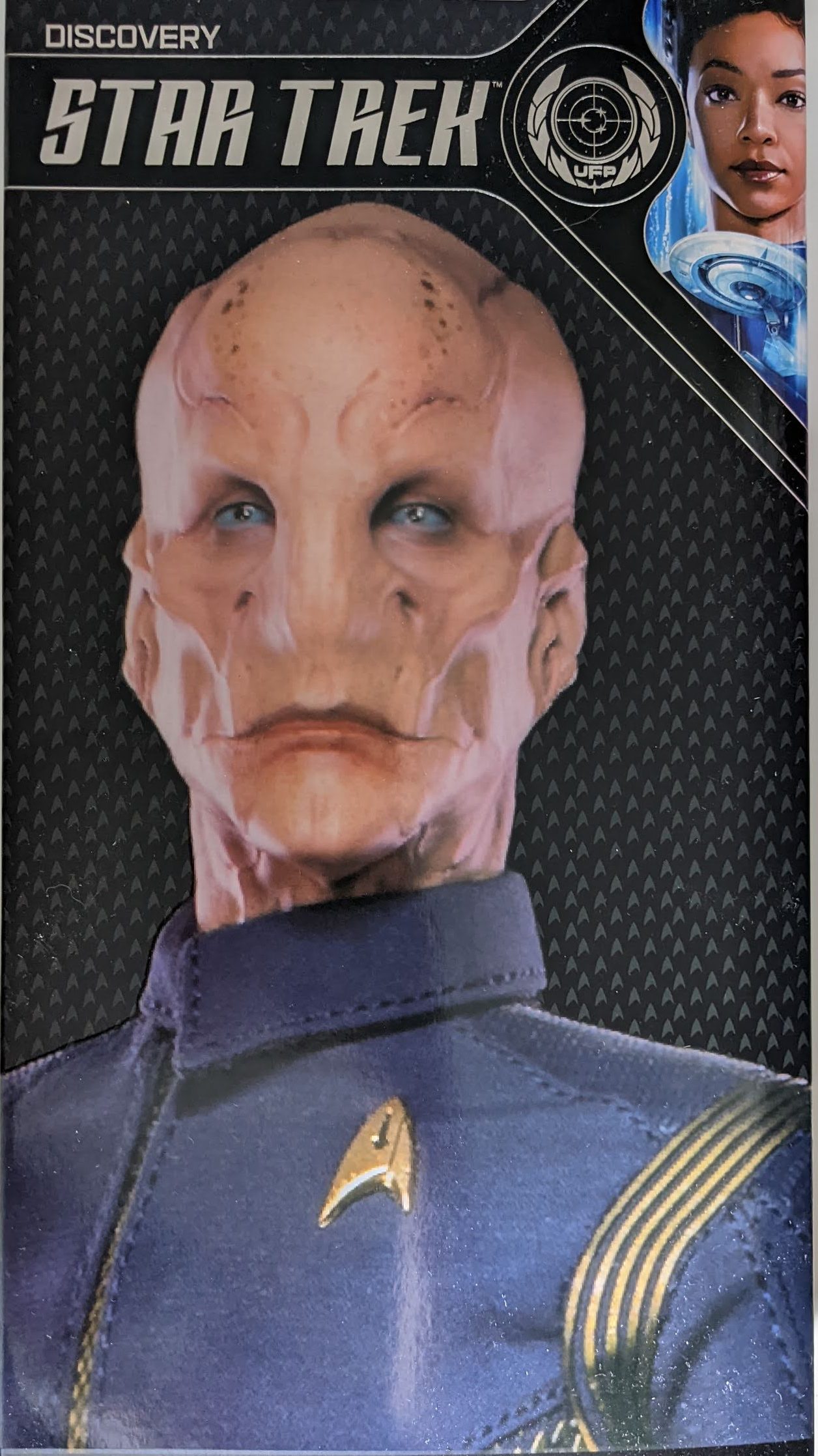 Commander Saru Sculpt
The figure itself is outstanding, and you can tell from a glance that this was a real labour of love for the folks over at Exo-6. The sculpt itself truly captures the likeness of Doug Jones in his Saru makeup, and the near-perfect paint application brings out the contours and other details. However, the eyes (complimented by the uniform) make the figure stand out on the shelf.
A small flaw that we noticed is that you can see some of the seams in the mould on the head sculpt. It's clear that the paint application has done its best to hide these but be warned that they can be seen if you're looking for them. This paint and sculpt detail continues across all the skin on the neck and hands. With both sides of the hands featuring appropriate Kelpian detail. However, there are no threat ganglia, sorry!
Also of note is that Commander Saru towers over the other figures in the Exo-6 line. Height isn't something that too many figure producers pay much attention to, so it's good to see Exo-6 taking note here so that when they complete their series crews. We can all have good fun replicating the cast promotional pictures exactly.
The Uniform
Those in Trek circles when Discovery promotional photos first released will recall the collective groan from cosplayers, especially as they saw the various textured surfaces built into the uniform. Not to mention the delta pattern panels and the notoriously. Additionally, the hard-to-maintain shoulder division bands.
Given the level of complexity that the Discovery season 1-2 uniform represents. We were expecting to find that Exo-6 would take a few liberties. But as far as we can tell, they have replicated this uniform in every detail. The deltas and division bands on the shoulders are appropriately reflective and don't show any signs of the maintenance problems that plagued the real deal – though time will tell on this front. The panelling is replicated along with the textured surfaces on the elbows, shoulders and knees.
But there's still enough movement to have fun posing your figure. The limbs have a good level of motion but should be handled with care to ensure you don't overstretch the fabric. A further issue is that the collar flap (again like the original uniforms) is prone to curving upwards instead of laying flat – in fact, the figure we're basing this review on arrived like this. When opening it we had to spend a few minutes straightening it up.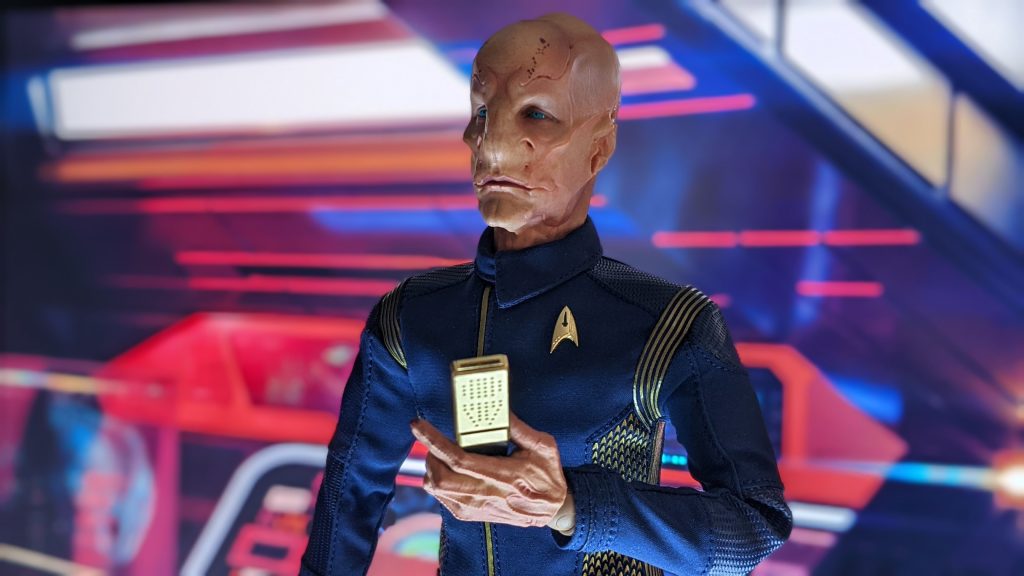 Accessories
Accessories are one of the areas where Exo-6 has been excelling, and Commander Saru is no exception. He comes with a full range of mid-2200s accessories with interactive features. From what we hear, replicated directly from the 3D files used for the show, you also have an unprecedented level of accuracy. The phaser rifle is mostly static but features a folding grip.
But the phaser is the true highlight of the accessories. It splits not just into two parts (Type 1/Type two phasers) but also features a removable power cell from the handle showing the charge level. We then have the Discovery era communicator with full flip functionality. In our personal testing, trying to flip it open tended to result in us inadvertently launching it across the room. Therefore, such actions should save the more enthusiastic movements for a future, full-sized release.
Finally, it comes with the Discovery tricorder, a removable scanner, and a tactical belt with holsters for each item. This allows you to display your Saru in standard blues. Also, getting ready for action or just having a casual scan of your shelf. Depending on your preference. Our figure also came with three left-hand options and five right-hands for your poses. The box implies that Commander Saru should come with four exact pairs of hands, but given none of the five-match, we are wondering whether this was a late change or a packaging mistake.
Finally, we have the Exo-6 base with a 'crotch grabber' stand. It has some welcome little tweaks for the Discovery era, such as a golden transporter pad base (instead of the blue or white from the FC/VOY figures), and Saru's autograph card is rendered in the display aesthetic of the mid-2250s.
Conclusion
That's a wrap on our Commander Saru Review. Retailing at $215.00, you can purchase the figure via EXO-6's website. Additionally, with Star Trek: Discovery Season 5 on the way, now is the perfect time to add Mr Saru to your collection.
---
More from Trek Central
? – Major Star Trek Villains Set To Return!
? – Star Trek Needs A New Villain, And The Answer Is Right Under Its Nose!
? – Is Captain Kirk Arriving Sooner Than Expected?!
---
Join the Star Trek conversation via our social media platforms: