Strange New World's fantastic inaugural season has finally arrived on DVD, Bluray, and a limited edition Steelbook! Out now in the UK, fans can add the first season to their collections and enjoy over 90 minutes of bonus features from deleted to a gag reel, plus behind-the-scenes features. And we've got a Strange New Worlds Season 1 Giveaway of three copies to three lucky fans!
So, to find out how to enter for a chance to win Star Trek: Strange New Worlds – Season 1 on Blu-ray, keep reading (or skip to the bottom if you're impatient)!
The debut season of Star Trek: Strange New Worlds is based on Christopher Pike's years in the Captain's chair of the U.S.S. Enterprise. The series features fan favourites from season two of Star Trek: Discovery, Anson Mount as Captain Christopher Pike, Rebecca Romijn as Number One, and Ethan Peck as Science Officer Spock. The series is set before Captain Kirk famously takes over command, as Pike and crew explore strange new worlds around the galaxy.
The first season brought 10 new adventures to the Star Trek Universe; all episodes are contained in the season one box set. No doubt fans have already seen them multiple times each! But what we haven't seen are a bunch of exclusive extras. You'll want to get our hands on the box set to see those, and you may be in with a chance if you enter our Strange New Worlds – Season 1 Giveaway!
Limited Edition Steelbook's are shiny!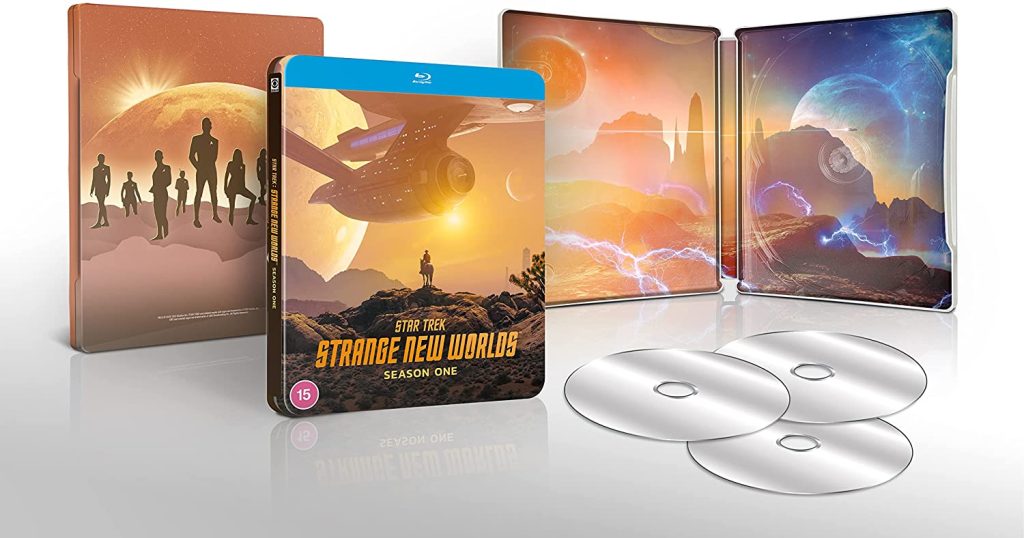 If you're a collector of Trek's steelbook editions you'll be happy to know it's a big hit with many fans including Trek Central's James Amey. Here's what he had to say about the Strange New Worlds – Season 1 edition.
"Of the steel books released since Star Trek: Discovery Season 1 in 2018 – Strange New Worlds edition feels like the most premium of them all. Other Steelbook designs (Picard & Lower Decks Season 1) experimented with cover finishes. However, neither of them really came together as this design has.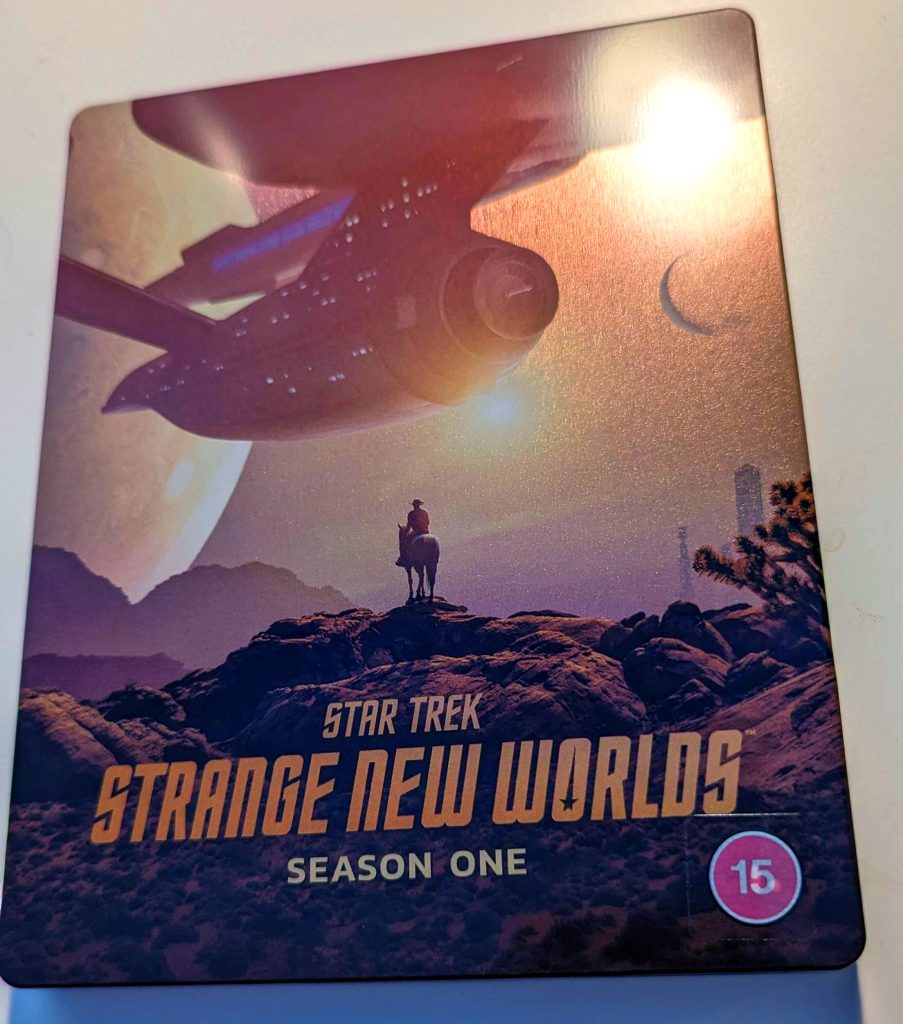 The artwork on the SNW edition is printed with materials that react to light and appear layered, despite being a flat surface. The background of the steelbook is a luxurious feeling metallic gold, but on top, we have elements printed in a standard gloss. This creates the impression that the Enterprise (and Pike) are popping off the steelbook cover. It also makes the crew silhouettes on the back stand out making this a true display piece. The interior of the steelbook is behind the plastic insert for the disks, but nonetheless, it's welcome that the set has artwork featured in the center spread (even if mostly hidden by the disks). It gives it all a premiere quality finish."
Deleted Scenes
The set contains scenes from five episodes. Most are simple 'moments' that are inconsequential to the plot. A few though, are intriguing.
Episode 2: Children of the Comet – a short minor bridge scene with incomplete SFX. Doesn't add anything to the plot but it's fun to see what the cameras & actors see when on set.
Episode 3: Ghosts of Illyria – This entry contains a couple of scenes cut from the episode. The first gives an ensign the task of highlighting Starfleet's widespread prejudice to genetic experimentation and augments. And a second scene extends Uhura encounter with her bunkmates during the quarantine. It doesn't bring anything to the plot, but it gives us a bit more of a look at junior crew members' shared quarters.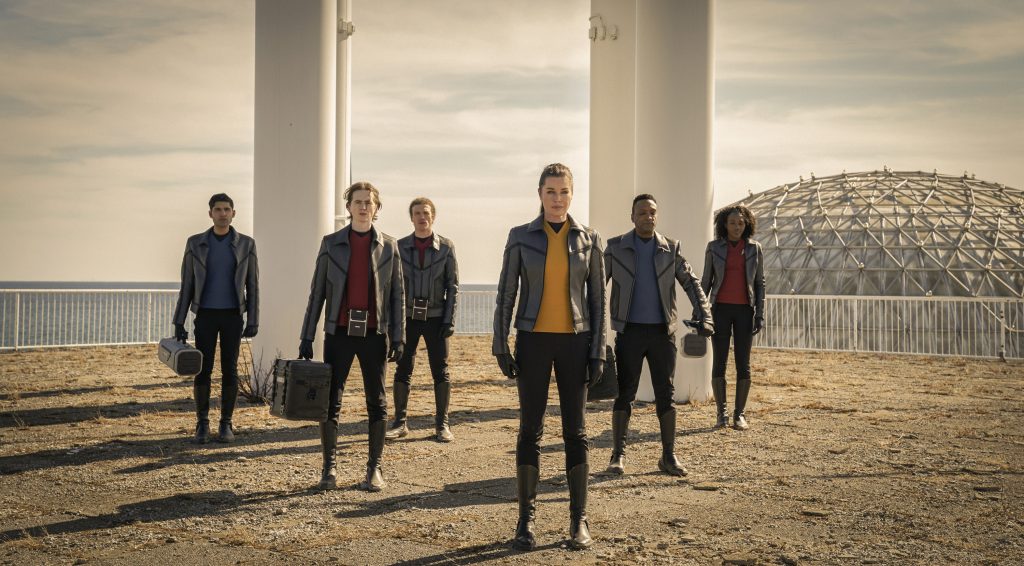 Episode 6: Where Suffering Can Not Reach – A 6-minute flashback sequence detailing Pike and Alora's first encounter. This is the most substantial of the deleted content, and while it doesn't really change the episode, it's a shame it was not included. These are pre-special effects, likely including some de-aging.
Episode 8: The Elysian Kingdom – A very short Spock moment as a wizard!
Episode 9: All Those Who Wonder – A great selection of short scenes from Trek's 'aliens' that didn't survive to the final episode. These include a great little moment between Nurse Chapel and Spock discussing 'emotions'. Various extensions to scenes involving the Gorn puppet. And a very angry Sam Kirk having a flip out at Spock, very reminiscent of Bones' angry rants. The most poignant missing scene however is Uhura's affirming her desire to stay on the Enterprise.
More Bonus Features
PIKE'S PEEK (Exclusive) – Anson Mount takes fans through his journey as Captain Christopher Pike in the first season of Star Trek: Strange New Worlds, providing a glimpse into his portrayal with intimate footage throughout the season.
WORLD BUILDING – Led by Production Designer Jonathan Lee and his team, the season's production design utilized cutting-edge technology to create worlds prior to shoots, allowing the actors to fully immerse themselves into scenes rather than imagine the worlds around them in a green room. Through interviews with producers, cast, and crew, fans will learn about the expertise involved in the development process and how the powerful technology was seamlessly integrated into the show.
EXPLORING NEW WORLDS (Exclusive) – Fans will explore the storylines and characters that bring Star Trek: Strange New Worlds to life with writers, cast, and crew.,
COMMENTARY: ANSON MOUNT & AKIVA GOLDSMAN – STRANGE NEW WORLDS (Exclusive)
GAG REEL(Exclusive)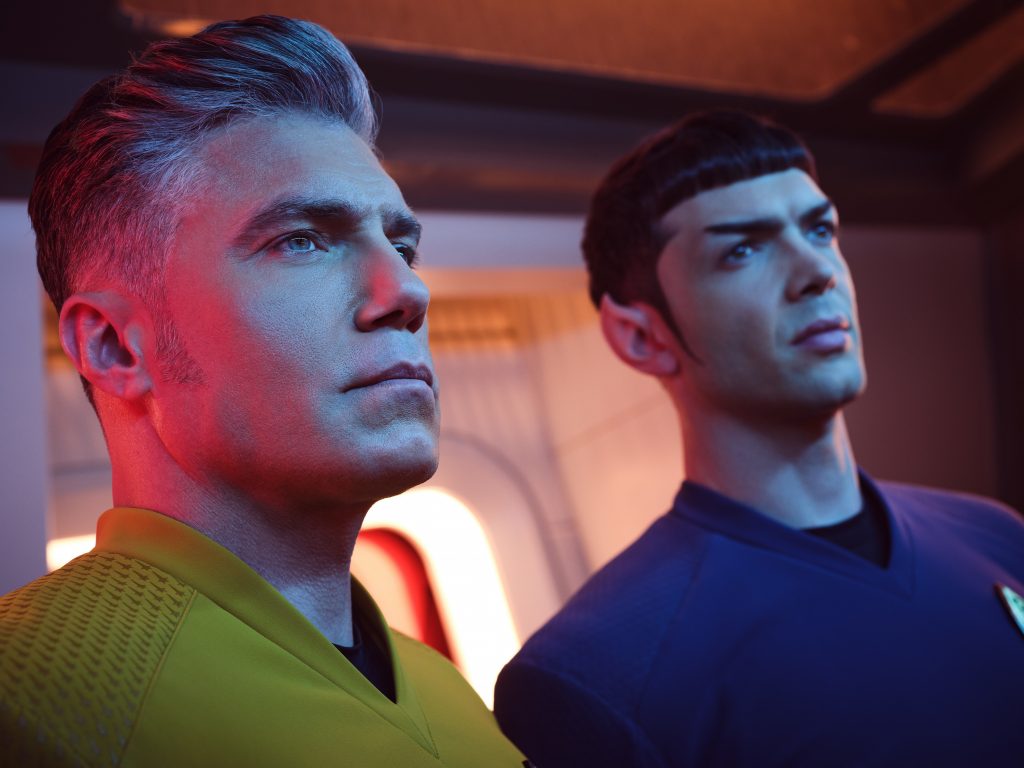 Enter now for a chance to win
Star Trek: Strange New Worlds Season 1 is available now digitally, on Blu-ray, DVD, and a limited-edition Blu-Ray Steelbook. It will also be released as a limited-edition 4K Steelbook on May 15th in the UK. For your chance to win a copy of the Blu-ray, enter below! Our Strange New Worlds Season 1 Giveaway is open to UK residents only.
Trek Central – Star Trek: Strange New Worlds Season One Blu-Ray Giveaway! (UK)
UK ENTRIES ONLY: Please Note, due to promotion restrictions this Strange New Worlds Season 1 Giveaway is restricted to entries located in the United Kingdom, only! Thank you.
---
More From Trek Central
📰 – INTERVIEW: Star Trek: Picard Showrunner Talks Season 3!
🔥 – NEW Star Trek: Picard Clip Starts The Season 3 Plot
🔍️ – Explore Star Trek: Picard's Stargazer
---
Join the Star Trek conversation via our social media platforms: