It would seem Star Trek: Strange New Worlds is not done with callbacks to Star Trek: The Orginal Series just yet. A species we're somewhat familiar with are showing up in this week's episode. However, would this confuse canon? We'll have to see. We've got trailers and clips for Star Trek: Strange New Worlds Episode 4 "Memento Mori". Additionally, Paramount promotional pictures are here!
The synopsis for this episode reads as follows…
Pike must find unconventional Starfleet methods to deal with a malevolent force that attacks the Enterprise.

Star Trek: Strange New Worlds – Episode 4 "Memento Mori" via Paramount+
Promotional Pictures
As I'll mention later, these preview pictures contain good detail. Specifically, some of the crew of the Enterprise are wearing the memorial pictures. Additionally, as the trailer will make clear, The Enterprise looks darker, likely due to battle damage. However, who are they engaging, none of these pictures gives it away.
Teaser Trailer – Strange New Worlds Episode 4 "Memento Mori"
It would seem we've got a typical action/thriller episode this week. Additionally, dealing with The Gorn. A species were seen in Star Trek before. However, will they actually be seen on-screen, or are we just getting their ship? I'm very much looking forward to the action sequ3enbces we'll be getting. Many of us have been waiting for that style of storytelling to appear in Strange New Worlds.
It very much confirms that The Gorn will return in this episode of Star Trek: Strange New Worlds. However, we're likely to get insight into La'an Noonien Singh. Additionally, a detail we've known for some time is going to appear. This being flashbacks, with actress Ava Cheung playing "Young La'an".
Additionally, we have the young girl being played by actress Sophia Webster. She'll be playing the character of "Fig", who you can see in the trailer below. However, does she make it through the episode? Who knows! It seems like the Enterprise takes a beating in Strange New Worlds Episode 4 "Memento Mori".
Memento Mori – Ready Room Clip
This week's Ready Room Clip beams down to an unknown settlement. However, the settlers seem missing in action? Additionally, based on the crew being in tactical gear, which looks great, we can presume a hostile species is present. Sadly the Ready Room clip does not make it obvious who is responsible for what is going on down on the planet.
We've got Number One leading the away team, with Security Chief La'an taking the lead on tactical situations. However, I think we're also introduced to a guest crewman this week. This would be Oscar Moreno playing Crewman Zuniga. According to IMDB, that is.
Conclusion
It's safe to presume The Gorn have returned! However, there is another detail that stands out in this episode. If you look closely, the crew of the Enterprise are wearing badges. These look to be memorial badges for starships in Starfleet. Additionally, we have seen these before. Mission Chicago's event had them on display. These "Memorial Pins" were worn to commemorate lost starships, such as the USS Discovery.
Strange New Worlds Episode 4 "Memento Mori" airs on Thursday, May 5 via Paramount+ in the USA, Australia, Latin America, and the Nordics. Additionally on the CTV Sci-Fi Channel and Crave Streaming in Canada. Plus Voot Select in India, TVNZ in New Zealand, and Cosmote TV in Greece. Additionally, the streaming service will also land in the UK & Ireland on June 22nd, 2022.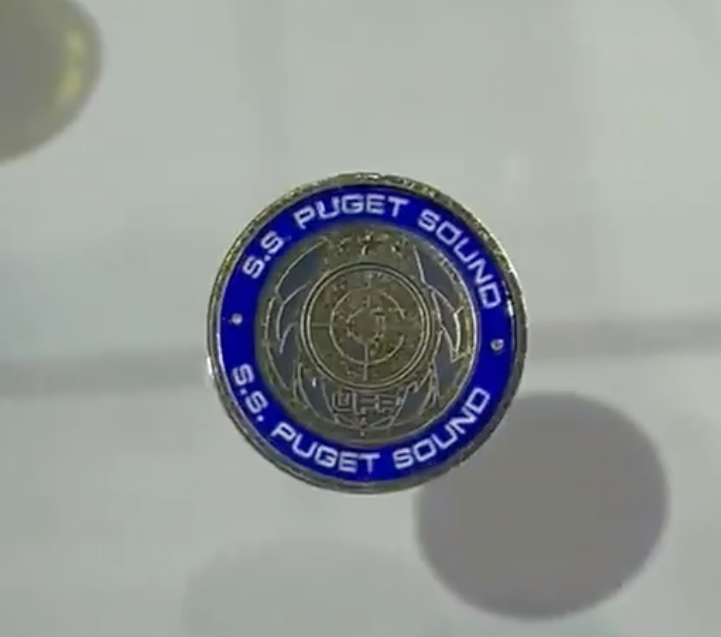 ---
More from Trek Central
? – STRANGE NEW WORLDS – Who Is Samuel Kirk?
? – REVIEW – Star Trek: Picard "Farewell" – 2×10
? – Everything We Know About Star Trek: Discovery Season 5
---
Join the Star Trek conversation via our social media platforms: