It's been an interesting past week for the Star Trek Universe. While Star Trek: Picard keeps us entertained for the moment, Paramount+ confirmed the end of Star Trek: Discovery. Still, we've got a new episode of Picard to look forward to this coming week. Star Trek: Picard Season 3 Ep 4 airs this Thursday, and we have preview pictures and a trailer. Additionally, we've got speculation on what we might see in the upcoming episode.
However, this is also the second episode of season three, directed by Jonathan Frakes. Therefore, with last week's cliffhanger ending, we should expect some exciting scenes. This week's episode is written by Showrunner Terry Matalas and Sean Tretta. Star Trek: Picard Season 3 Ep 4 is titled "No Win Scenario". The official episode synopsis reads as follows. Spoiler Warning!
"With time running out, Picard, Riker & crew must confront the sins of their past and heal fresh wounds, while the Titan drifts helplessly toward certain destruction within a mysterious space anomaly."

Star Trek: Picard Season 3 Ep 4 – Synopsis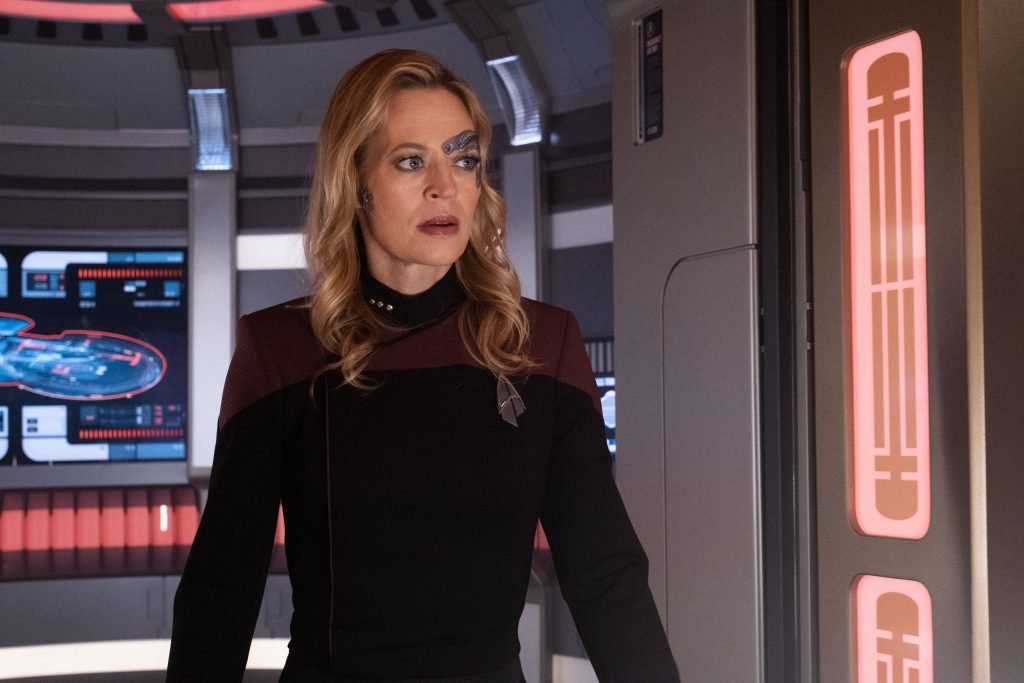 Preview Pictures
As usual, Paramount+ has dropped press pictures for the upcoming episode. These show us what is coming up in Star Trek: Picard Season 3, Ep 4. For starters, it looks like Jean-Luc Picard (Sir Patrick Stewart) is in the command chair of the USS Titan-A. Perhaps he and Riker (Jonathan Frakes) put aside their differences, and Jean-Luc takes command? He certainly has the experience. He and Riker have different opinions on how to command the Titan during the fight with Captain Vadic (Amanda Plummer).
We've also got some nice shots of the USS Titan-A's bridge crew. These individuals are getting some fantastic screen time. However, there is also a shot of Seven of Nine (Jeri Ryan) which might shed more light on her adventure in this episode. Personally, I think she'll be hunting down a Changeling onboard the ship. We've seen Ensign Foster as the person behind the sabotage. Now Seven needs to find him. Additionally, press pictures show Jack Crusher (Ed Speleers) and Jean-Luc in the Ten Forward Bar.
Given the Ten Forward bar is located on Earth, this has to be a Holodeck simulation. Perhaps it's finally time to see some bonding between Jack and Jean-Luc. Picard has not spoken to his son yet, so this might be the right time to do so. Perhaps Jack encourages him to take a different approach with Riker and such.
Preview Clip – Star Trek: Picard Season 3 Ep 4
Naturally, we've got a preview clip for Star Trek: Picard Season 3 Ep 4. Straight from The Ready Room, we see more of William Riker commanding the USS Titan. However, am I the only one wishing we see more of this? Frakes is natural in his role as Captain William Riker. While we may all want other spin-offs, I could easily watch more of this. Riker is on the bridge as the Titan drifts helplessly into the Nebula. Essentially this is a very classic Star Trek moment.
This bridge scene highlights the actual bridge crew. Riker is our main star here. However, the sequence expands the roles of those pushing the buttons. For a series packed with legendary stars, moments like these make the ship and crew feel alive. The clip sets the tension here. Riker is a man charged with ensuring the safety of the crew. However, he has got few options left. Although, the cliffhanger ending of the clip leaves us wanting more.
Theory Time for Star Trek: Picard Season 3 Episode 4
The title and synopsis of this episode give us a lot to work with. Riker and Picard are going to need to make up. Many Trekies have been commenting on how the pair's relationship deteriorated through last week's episode. But the dynamic between them was flipped, and it was stressful. However, I can see this being resolved in this episode so that they can work together more effectively. Additionally, the title of "No Win Scenario" references previous Trek.
I'd imagine we'll get a good bit of Seven of Nine (Jeri Ryan) content in this episode. While Captain Riker and his crew deal with the outside situation, we still have a Changeling running around the ship. We always knew something was up with Chad Lindberg's "Ensign Foster". Other trailers for Star Trek: Picard Season 3 have shown Seven running around the Titan. Perhaps in this episode, we'll see her hunt down the Changeling and ensure the ship stays in one piece. However, will we see more of Vadic this week?
As a Star Trek villain, she has made her debut strong. However, I'd love to spend a bit more time with her. While firing torpedoes and Portal-gunning the Titan is fun, let's let Amanda Plummer talk more. Additionally, this "mysterious space anaomly" sounds fascinating. Honestly, watch it be some deep call back to Encounter at Farpoint, and we see Giant jellyfish aliens save the Titan. No, I am being serious. With the number of references and easter eggs, you could see something like this happening.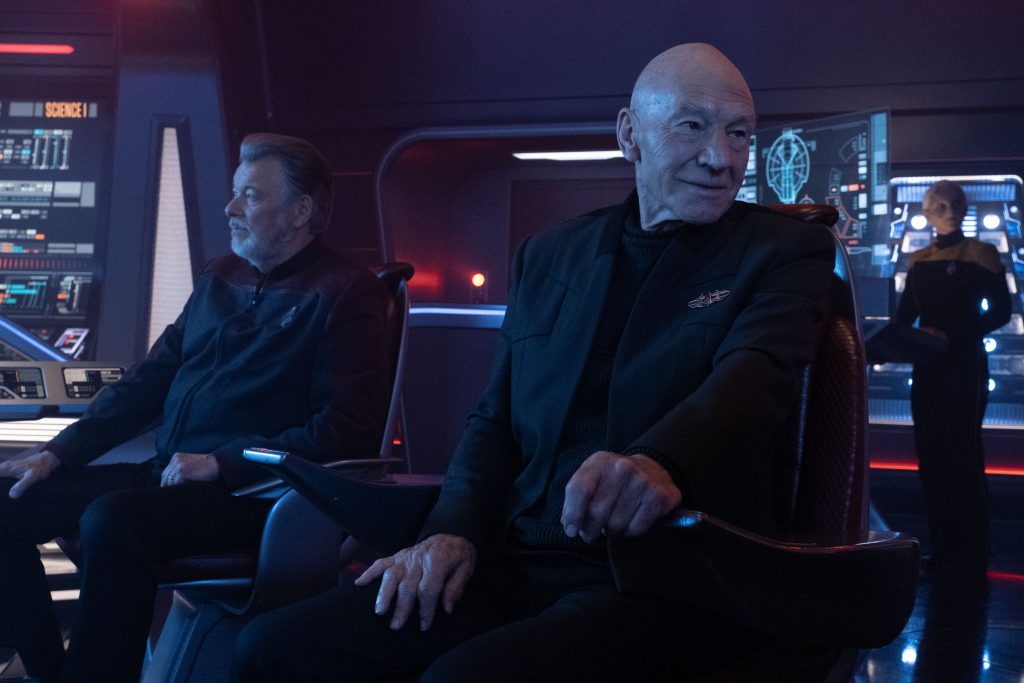 Sneaky Villians
The reveal of Changelings being back was a big one. However, fans believe we might have had one in plain sight the whole time. No, not Ensign Foster, but rather Captain William T. Riker. This stems from his rather confrontational attitude toward Jean-Luc Picard. Therefore, due to his strong words towards his former Captain, many believe that Riker is, in fact, a Changeling himself. Sure, there is room for this to work, but I don't think it is the case.
Speaking of villains in Star Trek: Picard, we can't forget Lore (Brent Spiner). In the recent episode, it's mentioned that other items were stolen from Daystrom. This is Starfleet's giant toybox of random things that can cause buildings to crash into themselves. Honest,y who is doing security? Many Trekkies believe that the body of Lore was stolen from the facility. Therefore, it would match what we see of him in the trailers.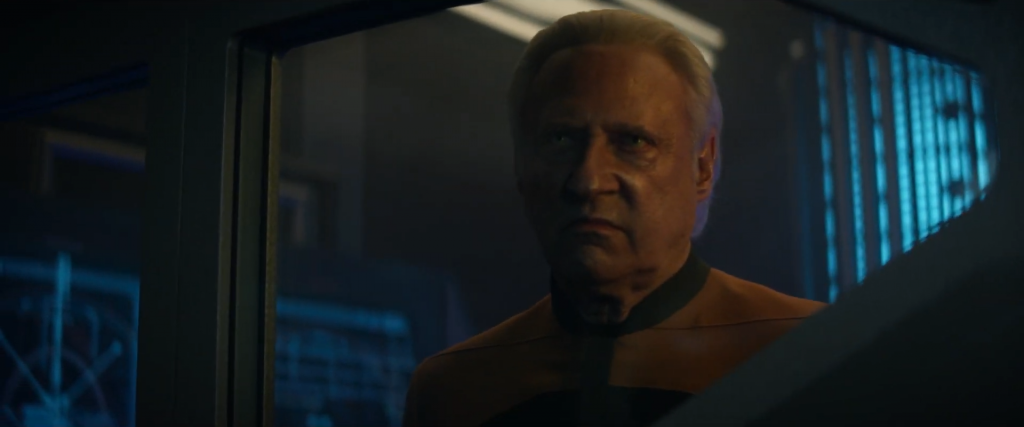 Conclusion
Star Trek: Picard Season 3 Ep 4 looks to be exciting. As fans, we've already seen series creatives hyping this one up. Additionally, we've again got Jonathan "Two Takes" Frakes directing. Therefore, I am very excited about the sequences we'll get in the upcoming episode. With Showrunner Terry Matalas also writing this episode, along with Sean Tretta, I think we'll get a nice blend of action and story which always works well in Star Trek.
Star Trek: Picard Season 3 airs on Thursdays via Paramount+ for those in the United States. Additionally, on Crave and the CTV Sci-Fi channel for viewers in Canada. However, new episodes air Fridays via Amazon Prime Video in international regions like the United Kingdom. Paramount+ also streams the episodes in select locations, such as Italy, Germany and France.
---
More From Trek Central
📰 – INTERVIEW: Star Trek: Picard Showrunner Talks Season 3!
🔥 – NEW Star Trek: Picard Clip Starts The Season 3 Plot
🔍️ – Explore Star Trek: Picard's Stargazer
---
Join the Star Trek conversation via our social media platforms: