We talk to 'Women Make Trek' Co-Founder Heather Rae to discuss the growth of the project and its important message.
The 'Women Make Trek' project launched earlier this month much to the delight of the Star Trek fandom. Created by artist Laz Marquez and founder of 'Fans Give Back' Heather Rae, the project celebrates the characters and actresses of the Star Trek universe, and shares the inspiring stories behind the artists' work. It's also a celebration of the incredibly rich and diverse talents within the Star Trek fan community itself. 
But it's not just an arts and culture exhibit, there's a serious mission behind the work. The founders hope to harness the power of fandom and translate the enthusiasm for the art into raising funds for a very worthy cause: the Breast Cancer Research Foundation. 
Already containing dozens of incredible pieces, by some prolific and very talented artists, the project gallery has begun expanding, adding many more beautiful tributes to the women of Star Trek.
We caught up with co-founder Heather Rae for an update, and found out where they're hoping to take the project next.
---
Heather Rae: We've been thrilled with the reception so far. Our goal with the initiative was to highlight fan artists and how they've been inspired by the women of Star Trek. Not only have we added artists since the debut, but we've already met our fundraising goal for the Breast Cancer Research Foundation.
Trek Central: You've got more artists coming onboard?
Heather Rae: Yes! Our goal was 55 pieces for 55 years of Star Trek but I believe we're over 60 now. We continue to receive submissions and are waiting on pieces to be finished. Submissions are still open, too!
TC: So what does this project mean to you personally, especially with International Women's Day this week. And how have the women of Trek been part of your life, how have they influenced you?
Heather Rae: Since I've recently come out as non-binary, I've been reflecting deeply on own my life raised and socialized as a girl and woman and what that meant to shape my identity. Ultimately, the older I get, the more I wish I'd had the women of Star Trek as role models when I was a child. I needed women who were assertive, determined, confident, and knew how to say, "No." I don't have children of my own, but if I did, the women who have shaped our artists and Star Trek fans alike would be front and centre in my child's life regardless of gender.
We're asking that appreciation of the initiative be channelled into donations for The Breast Cancer Research Foundation. My maternal grandmother and many other women in my life battled, won and lost to, breast cancer. I've been humbled by the generosity of the fans in helping us meet – and hopefully exceed – our goal.
TC: Tell us about the your podcast 'Fanthropology'.
Heather Rae: Fanthropology will continue to feature more interviews and content related to the project [Women Make Trek], as well as our general content exploring humanity through the lens of fandom and highlighting the ways fans give back to their communities.
TC: What do you think about the recent Star Trek movie news, which will be written by a woman (Kalinda Vazquez) for the first time ever? Long overdue IMO!
Heather Rae: I was surprised and elated by this news! Her work on Star Trek: Discovery was outstanding and I'm eager to see what she brings to the film universe. I'm confident that this film will be made now that the Paramount rebranding has been released. There's a bright future ahead for Star Trek fans and I'm humbled to see a woman lead a new era of Trek filmmaking!
TC: What's your favourite submission so far?
Heather Rae: I love each piece and story, but I'd like to use this opportunity to highlight Laz's piece. Laz and I share a deep connection to the character of Tasha Yar for our own unique reasons, but his "Warship Yar" piece is so powerful that it resonates as if I'd created it myself – unbelievable to create a piece of art so personal on multiple levels.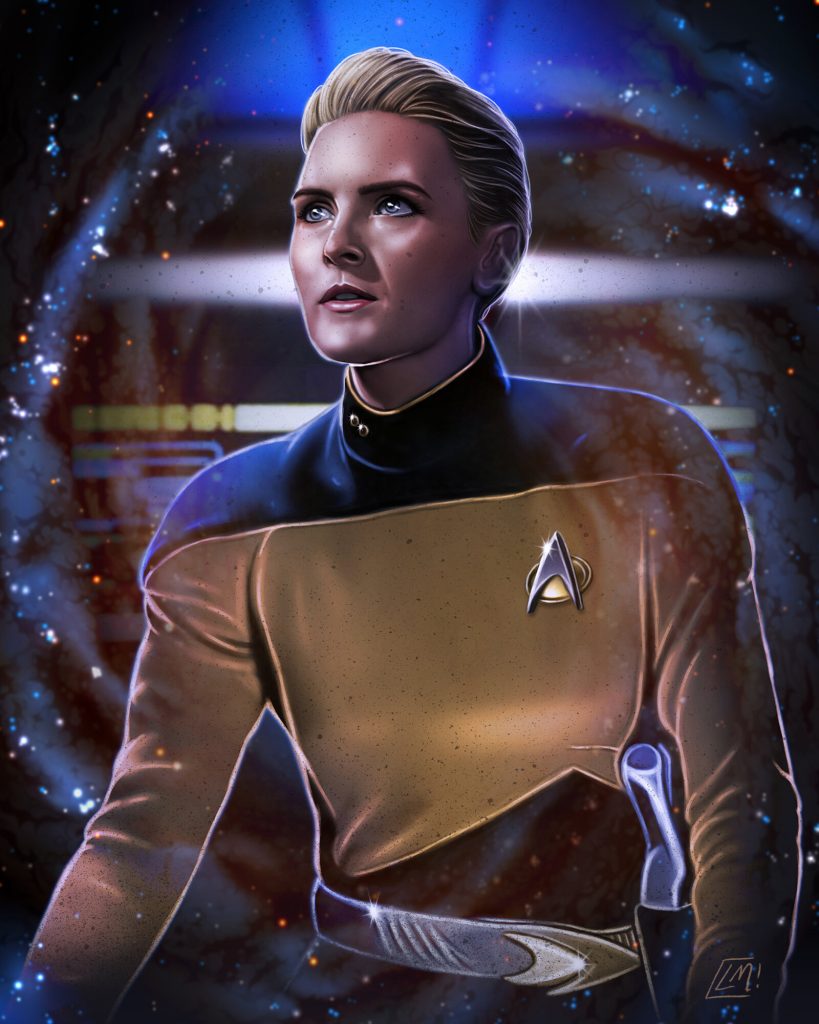 TC: So what's next?
Heather Rae: We're currently scheduling artists and other interviews and recently launched "Letters for Nichelle," a letter-writing initiative in honour of our nightingale of the galaxy. She loves to read and will receive copies of every letter. Since Nichelle's farewell event was delayed due to the pandemic, we wanted to do something to remind her of our appreciation for the impact she's made on fans and the world.
TC: Do you know if any of the art will be available to buy as prints for those that are interested?
Heather Rae: As this project was meant to raise funds for the Breast Cancer Research Foundation, we did not plan to purchase a license or sell the artwork, but we'd love to do so in the future with enough interest! We've discussed crowdfunding a coffee table book, but we'd love to work officially with CBS. These artists deserve for their pieces and stories to be seen and read!
It goes without saying that if you've not visited the Women Make Trek website and explored the works, then you really are missing out, so head on over!
---
LINKS
RECENT ARTICLES ON TREK CENTRAL
Don't forget to get involved with Trek Central via our social media.
▶ Facebook – https://www.facebook.com/TrekCentral
▶ Instagram – https://instagram.com/TrekCentral
▶ Twitter – https://twitter.com/TheTrekCentral
▶ Youtube – https://youtube.com/TheTrekCentral
▶ Discord – https://discord.gg/f62Gbcu