San Diego Comic-Con is finally back with a bang after a couple of years off. Paramount has gone to town with a massive lineup of Star Trek-filled fun. From the 10 Forward Bar experience to the Starfleet Outpost so that fans can get together over some Andorian ale. To a jam-packed schedule of Star Trek Comic-Con Trailers & Details. The legendary SDCC Hall H saw the Star Trek Universe beam down!
Of course, many of us are looking to what is next for the Star Trek Universe. Therefore, the focus on Star Trek: Picard Season 3 is something many of us have been looking forward to. However, details on other Star Treks series were present. Additionally, Alex Kurtzman confirmed at SDCC that TWO New Star Trek series are currently in-development.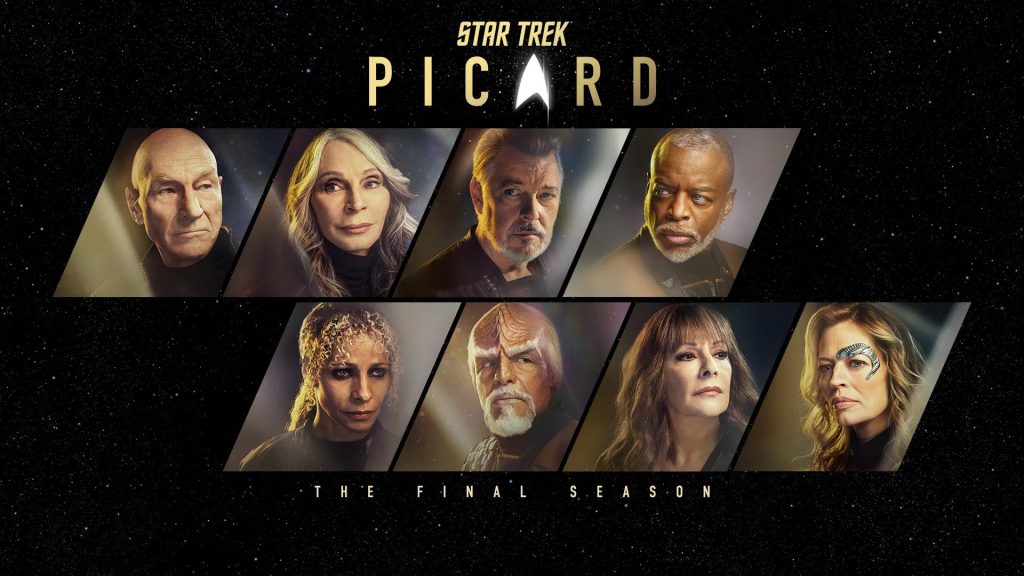 Star Trek Picard Season 3 Trailer & Details
Sir Patrick Stewart and Gates McFadden opened the Star Trek Universe panel for SDCC 2022. They were joined by Alex Kurtzman and Rod Roddenberry to reveal a brand new teaser trailer for Season 3. This trailer gives us a fantastic look at the returning TNG cast for Picard Season 3. Additionally, we've got confirmed details for the upcoming season.
Thanks to Stewart and Kurtzman, we know that the Enterprise will return. However, it looks like we might be getting more than one USS Enterprise. Stewart teased that multiple Enterprises would be on-screen. Perhaps I might get my wish about the Odyssey-class Enterprise-F from Star Trek: Online. Additionally, we've got confirmation that the villain for season 3 is a "she".
The teaser trailer for Picard contains new looks at Michael Dorn's Worf, who appears to be wearing Captain rank pips. However, Star Trek: Picard Season 3 Showrunner, Terry Matalas, has confirmed Worf is NOT a captain. Additionally, it appears LeVar Burton's Geordi La Forge is wearing commodore rank pips. We've also got Captain Riker (Jonathan Frakes), Deanna Troi (Marina Sirtis), Doctor Crusher (Gates McFadden) and Raffi Musiker (Michelle Hurd). Jeri Ryan is now back As CAPTAIN, Seven Of Nine!
Sir Patrick Stewart On Star Trek: Picard
The legendary Sir Patrick Stewart shared some thoughts on the upcoming Star Trek: Picard season 3. During the SDCC 2022 panel for Star Trek Universe, he said the following.
"We see more than one Enterprise, so it gets a little confusing. But we did revisit the old Enterprise for a time!"

Sir Patrick Stewart @ SDCC 2022
Picard Character Posters
We've also got high-quality character posters along with the teaser trailer for Star Trek: Picard Season 3. Star Trek Comic-Con Trailers & Details also included some stills of The Next Generation crew back in uniform for what is likely to be their final adventure.
Star Trek: Lower Decks Season 3
One of the most anticipated upcoming seasons is Star Trek: Lower Decks Season 3. The season is actually coming next month, on August 25th 2022, to Paramount+. However, we have been given a brand new full trailer for the season. The trailer and showrunner, Mike McMahan, confirms the Lower Decks crew will venture to Deep Space Nine. Additionally, expect some familiar faces.
The plot for Season 3 of Lower Decks seems to be about proving Captain Freeman's (Dawnn Lewis) innocence. Well, so far, that seems to be what is going on. This is Star Trek: Lower Decks. Expect chaos and weird and wacky adventures. In the trailer, we even get Commander Ransome ripping his shirt off. Like yeah? Star Trek is weird and wonderful, and we love it. Watch the SDCC trailer below.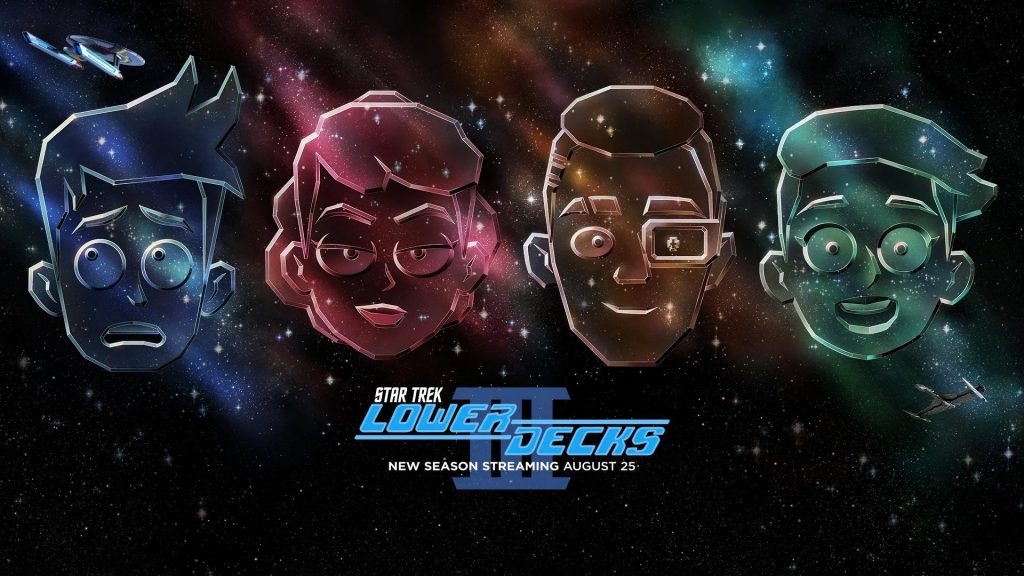 Lower Decks Character Poster & Details!
Before we got the teaser trailer for Star Trek: Lower Decks Season 3, Entertainment Weekly revealed a new alien. "K'ranch" is someone who is going to appear in the upcoming season. Mike McMahan confirms he was inspired by "Tosk" from Star Trek: Deep Space Nine. Perhaps another hint to the legendary space station that is going to be showing up?
"The Lower Decks artists who designed K'ranch wanted to make a cool, badass-looking alien that also fits into the funny look of Lower Decks, that also kind of looks like it fits into Star Trek, but is also using animation,"

Mike McMahan via Entertainment Weekly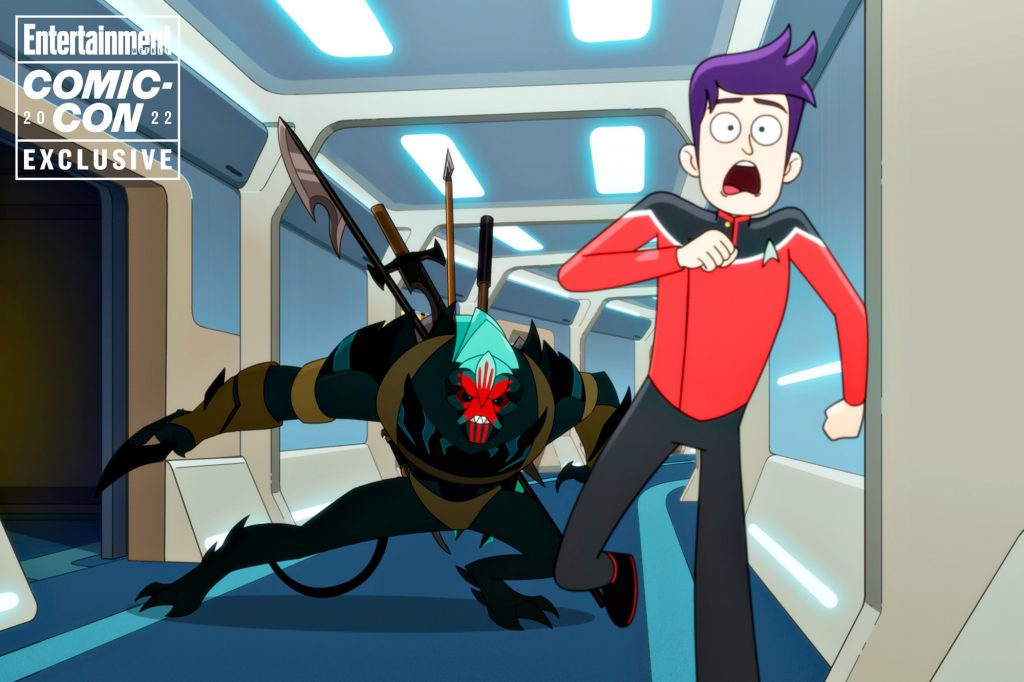 Star Trek: Strange New Worlds Meets Lower Decks!
While we did not get a teaser for Star Trek: Strange New Worlds Season 2, we did get a MASSIVE reveal for the Star Trek Universe. Star Trek Comic-Con revealed that a crossover episode between Star Trek: Lower Decks and Strange New Worlds is happening. Paramount is billing this as a "Major crossover episode". It will occur during the second season of Strange New Worlds.
Anson Mount (Captain Pike) revealed that Lower Decks stars Tawny Newsome and Jack Quaid will beam onboard his USS Enterprise. Mount shared this news following both stars gate-crashing his section of the SDCC Star Trek Universe panel yesterday. The special episode will feature both live-action and animation. Trek veteran, Jonathan Frakes, will direct the episode.
Co-showrunner Henry Alonso Myers said the idea for a crossover episode was sparked by scribe David Reed, who also writes on Amazon Prime Video's The Boys. Season 2 of Star Trek: Strange New Worlds is expected sometime in 2023. However, no confirmed release date has been revealed as of yet. We expect further news later this year.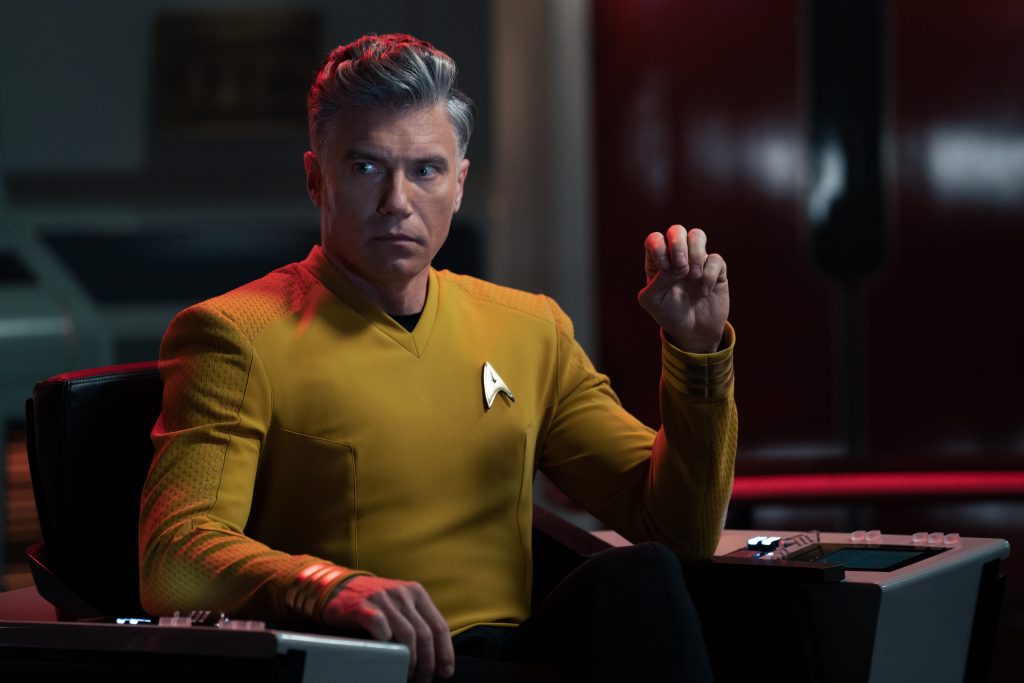 What's Next For Star Trek?
With all the exciting Star Trek Comic-Con Trailers & Details, it's easy to get lost in what is upcoming in the Star Trek Universe. Fear not! Star Trek: Lower Decks Season 3 will premier on August 25th 2022. However, we've also got Star Trek: Prodigy's second half of season one expected later this year. Star Trek: Picard Season 3 is also expected in early 2023. Season 2 of Star Trek: Strange New Worlds is expected to follow Picard. However, this is not confirmed.
Star Trek Day's year celebrations are presumed to take place this year. The yearly event takes place on September 8th and usually includes reveals or news from the Star Trek Universe. Additionally, Star Trek Universe usually has a presence at New York Comic Con, which will return in October 2022.
—
This article was co-written by Jack Trestrail and TJ Jeffrey
---
More from Trek Central
? – Ed Speleers To Appear In Star Trek: Picard Season 3!
? – Star Trek Should Take A Gamble And Leave Khan In The Past
? – End Of The Line For Star Trek Starships Eaglemoss?
---
Join the Star Trek conversation via our social media platforms: