We're forging into new territory now with Strange New Worlds Season 2 Ep 3. A preview scene from last week's episode gave us a good idea of what to expect. But for this week's episode 'Tomorrow and Tomorrow and Tomorrow', excitingly, little is known. And that's despite social media lighting up when Paul Wesley (who returns as James T. Kirk) and Christina Chong were spotted filming the episode in Toronto last year.
Each week Trek Central has brand new preview material for Strange New Worlds. It's time-travel shenanigans on the cards this week for 'Tomorrow and Tomorrow and Tomorrow'!
'Tomorrow and Tomorrow and Tomorrow' is written by a newcomer to the Star Trek family, David Reed (The Boys, The Magicians), and is directed by Amanda Row, who also helmed season 1's spectacular 'The Elysian Kingdom'.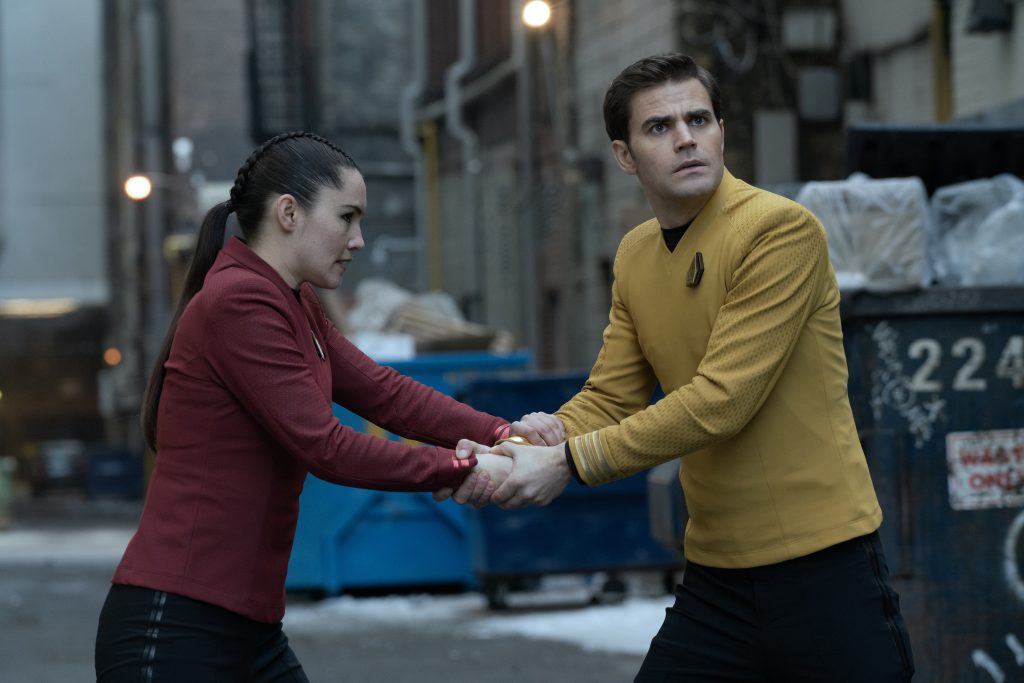 Preview Pictures
This week we have brand new preview pictures for Star Trek: Strange New Worlds Season 2 Ep 3. The biggest thing we can see from these preview pictures is the inclusion of Carol Kane's Pelia. We know that La'an and Kirk will be sent back in time, and I guess they will meet up with Pelia in the past. We did learn that Pelia is a Lanthanite, a long-lived species that lived on Earth.
She looks to run some sort of antique shop, a perfect cover for owning artifacts you've accrued over your long life! So she is looking to take up the Guinan-like role of this week's episode, similar to the Riker-Role that Captain Batel (Melanie Scrofano) took on last week. It'll be interesting to see what other connections will be in this episode considering the time. Sanctuary districts? Eugenic Wars? We'll have to watch to find out.
CLIP – Strange New Worlds Season 2 Ep 3
The clip for the episode gives us a more fascinating insight into how the story of the episode starts. It seems like we are having another Alt-Timeline Kirk, similar to the finale of last season. La'an comes across a man in a suit who has been shot by a bullet and says something has happened in the past, and La'an has to fix it. In some very nice continuity, he pulls out a device that shows a graphic almost 1:1 of the TCARS interface from the "Time Agents" in Star Trek: Voyager aboard the U.S.S. Relativity from the 29th century.
So this episode looks to be a mashup of Yesterday's Enterprise, a security officer finding herself on an alt-timeline version of the Enterprise. Also with a little of Voyager's "Relativity" with a Starfleet Officer being tasked by the Time Agents to fix an attack in the timeline.
Conclusion
This episode, just like last week, looks to be a trek staple. Time Travel to the modern day to help fix the timeline. Yet we have references to the TCARS system used by temporal agents from Voyager. I wonder if this episode might link as well into the Temporal Cold War from Star Trek: Enterprise?
It is fascinating how Strange New Worlds has continued to introduce Kirk, but an alt-timeline version of him. From the bad timeline of Pike remaining in command of the Enterprise during the "Balance of Terror" incident, to now Kirk being captain earlier than expected. It'll be interesting to see what other changes there are to this timeline that need to be corrected by La'an.
Where to Watch
New episode 'Tomorrow and Tomorrow and Tomorrow' premiere this Thursday, June 29 on Paramount+, with new episodes dropping weekly on Thursdays. Star Trek: Strange New Worlds streams via Paramount+ in the United States, United Kingdom, Australia, Latin America, France, Germany, Brazil, South Korea (via Tving), France, Italy, Germany, Switzerland & Austria. As well as CTV Scifi / Crave in Canada, & TVNZ in New Zealand. And from June 16 on SkyShowtime in the Nordics, the Netherlands, Spain, Portugal, and Central and Eastern Europe.
---
More From Trek Central
📰 – Star Trek: Strange New Worlds Season 2 Episode Titles & Details
🔥 – Seven of Nine – From Borg to Badass
🔍️ – Star Trek: Resurgence – Writers Interview
---
Join the Star Trek conversation via our social media platforms: