Titled "Surrender", Star Trek: Picard Season 3 Ep 8 seems to get straight to the point. Picard's third and final season stars are in a difficult place. However, will we see Jean-Luc Picard (Sir Patrick Stewart) and friends be able to retake their starship? With only three episodes left, the stakes are very high for the series. The plot is coming together, and time is running out for the heroes and villains of this high-tension story. Deborah Kampmeier directs this episode, while Matt Okumura is the writer.
The official synopsis, see below, tells us what might happen. Therefore, it does make me wonder if we'll learn more about Vadic's (Amanda Plummer) masters. Her mysterious boss is a very interesting plot point. However, we know nothing about them. The Frontier Day event is fast approaching in Star Trek: Picard, yet the real villains have not yet revealed themselves.
"Vadic forces Picard to make an impossible choice: deliver what he can never give or watch his crew perish. Their only salvation lies in the mind of an old friend and old foe."

Star Trek: Picard Season 3 Ep 8 "Surrender" – Official Synopsis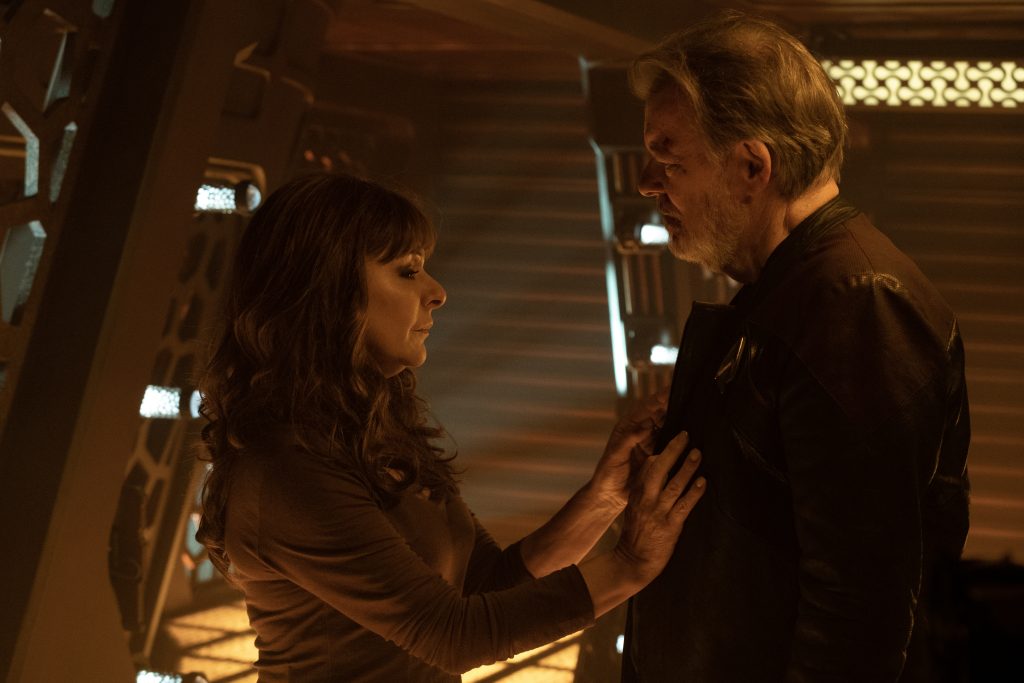 Star Trek: Picard Season 3 Ep 8 – Preview Pictures
This week's preview pictures give us something we've been wanting. Finally, we see Jonathan Frakes back in Star Trek: Picard. He's been absent, mostly. While yes, he did appear last week, he is technically not the real William T. Riker. However, this week also brings the first proper episode with Marina Sirtis as Deanna Troi. She's the last star of Star Trek: The Next Generation to join back up. Technically, she has appeared before via video links and flashbacks—also, her appearance at the cliffhanger ending of Episode 6.
The preview pictures also imply something obvious. This is the Titan crew retaking the bridge and ship. You can easily see the look that Seven of Nine (Jeri Ryan) gives Captain Liam Shaw (Todd Stashwick). It seems like the crew of the Titan is still separated around. While Vadic and her goons hold the bridge, other characters are spread around the ship. An example of this is Doctor Crusher (Gates McFadden) still in the medical bay. Jack Crusher (Ed Speleers) can still be seen here as well.
Returning to Shaw and Seven, the pair seem to share the look of them planning a counterattack. One of Star Trek: Picard Season 3's soundtrack titles is "Get off my bridge", and another is "Battle on the bridge". Both of these suggest some serious events taking place on the bridge of a starship. Therefore, It makes sense with Vadic on the bridge that some action will kick off. I'm all for this. Hopefully, we will see it in Star Trek: Picard Season 3 Ep 8.
Shutting Down The USS Titan-A
So you thought earlier episodes of Star Trek: Picard were dark? Well, I think this week's Ready Room clip sets a new bar, in my opinion. Captain Vadic basically executes the crew of the USS Titan. While Geordi LaForge (LeVar Burton) locks out Data/Lore (Brent Spiner), Vadic shuts down the ship from the Titan's bridge. Therefore, if I had to guess, expect to see some bridge retaking scene in this episode. Regardless, seeing young Ensgins being gunned down in the corridors is rather dark. It shows us Vadic is not messing around.
Episode Trailer
Conclusion
Notable absent from material for Star Trek: Picard Season 3 Ep 8 are both the characters of Worf (Michael Dorn) and Raffi (Michelle Hurd). It's entirely possible they could be back in this episode. We knew from Episode 6 that Worf vowed to seek and find William T. Riker. However, we've not heard anything from the pair since. Hopefully, this episode answers this question. It would also make sense to have the entire TNG cast reunited at the end of episode 8. Therefore, giving us the reunion just in time for the final two episodes.
Star Trek: Picard Season 3 airs on Thursdays via Paramount+ for those in the United States. Additionally, on Crave and the CTV Sci-Fi channel for viewers in Canada. However, new episodes air Fridays via Amazon Prime Video in international regions like the United Kingdom. Paramount+ also streams the episodes in select locations, such as Italy, Germany and France.
---
More From Trek Central
📰 – Strange New Worlds – Season 1 DVD/Bluray Boxsets
🔥 – SNEAK PEEK – Star Trek: Picard Season 3 Ep 5 "Imposters"
🔍️ – REVIEW: Star Trek: Picard "No Win Scenario"
---
Join the Star Trek conversation via our social media platforms: