Now that the dust has settled, let's take a look back on a First Contact Day full of surprise cast announcements, exciting trailers, and reveals, as well as some in-depth and thought-provoking panels.
---
It was an exciting day to say the least. Not much had been revealed in the build up to it with exception of the panels, with only two tantalising enough to offer some additional information on the many Star Trek shows currently in production. The Patrick Stewart special presentation was always expected to announce that filming had officially begun on season two of Star Trek: Picard and the last panel of the day which focused on Star Trek: Prodigy had a glint of expectation that we would finally see Janeway in animated form. What we ended up with however, was a plethora of trailers and a very welcome return of a major legacy character.
If you couldn't make the presentations and have not been able to check out the news we posted on Monday, fear not! We've gathered all the panels and reveals plus breakdowns, galleries and more below:
SPECIAL PRESENTATION
It all started with Patrick Stewart's special presentation in which we had the first official announcements that Star Trek: Picard season 2 had indeed begun principal photography.
As mentioned above, that was to be expected, however what quickly followed was a sneak peek teaser trailer that was filled with easter eggs and the reveal that John De Lancie will be returning to the role of Q in season 2. It was also revealed that Q returns to Picard during a "shattering" moment.
"Q's arrival is, as it often was, utterly unexpected, but also comes at a shattering moment in the episode, and I do mean a shattering moment. Which, whether it's directly connected to Q or not, I am actually still not quite sure." Says Stewart who follows up with, "The trauma of this moment hangs around Picard for quite a substantial part of the episode. And then there he is [Q]"
Check out the panel above and the teaser below.
STAR TREK: PICARD TEASER
You can also check out the Trek Central breakdown of the new Picard trailer below.
---
PANEL: REVISITING STAR TREK: FIRST CONTACT
The second panel was a look back on the making of Star Trek: First Contact, the most popular and well recieved of the Next Generation cast big screen outings. Featuring cast members Patrick Stewart, Jonathan Frakes, Brent Spiner and Alice Krige. The discussion focusing on behind-the-scenes memories and the film's importance 25 years after its premiere. The whole panel is a hoot with some great behind the scenes moments and stories. This is one of those panels that deserves to be watched in full.
---
PANEL: CREATING FIRST CONTACTS
Costume Designer Gersha Phillips (Star Trek: Discovery), Senior Concept Designer Neville Page, VFX Supervisor Jason Zimmerman and Make-up & Prosthetics Department Head James Mackinnon (Star Trek: Picard) come together in conversation about creating the incredible worlds of Star Trek, as seen in Star Trek: Discovery and Star Trek: Picard.
---
PANEL: WOMEN IN MOTION
The panel features Star Trek: Discovery's Sonequa Martin-Green, Picard's Michelle Hurd and Isa Briones, and Lower Decks' Dawnn Lewis. The panel takes a look back at how Star Trek: The Original Series actress Nichelle Nichols helped pave the way for women of color on television and her lasting impact on not only television, but science and culture. 
WOMAN IN MOTION TRAILER
It was revealed that from June 3rd, Woman in Motion will be available to stream exclusively on Paramount+. The documentary is already available internationally to rent or buy on-demand from the services below:
Available to Buy / On-demand from: iTunes, Amazon Prime US / UK
Just when we thought this panel was wrapping up, Sonequa Martin-Green sprung a surprise on us in the shape of a new trailer for Season 4 of Star Trek: Discovery.
Star Trek: Discovery Season 4 Trailer
Star Trek: Discovery Season 4 Trailer Screenshots
You can also see the Trek Central breakdown and deep dive into the season 4 trailer:
---
PANEL: SECOND CONTACT
The panel included Mike McMahan, creator of Star Trek: Lower Decks, Paul F. Tompkins, co-host of official Trek podcast The Pod Directive, plus The Next Generation's Brent Spiner and Jonathan Frakes. They discuss how some of the hilarious B-stories from past series like The Next Generation paved the way for new iterations of Star Trek, including Lower Decks, the Star Trek franchise's first animated comedy for adults. 
Again, just when we thought the panel was over, First Contact Day gave us yet another fantastic treat: Mike McMahan introduced a teaser for season 2 of Star Trek: Lower Decks. As well as this trailer came the news that Lower Decks had been renewed for another ten-episode 3rd season.
Star Trek: Lower Decks – Season 2 Teaser
Lower Decks Season 2 Trailer Screenshots
---
PANEL: FIRST CONTACT WITH STAR TREK: PRODIGY
Series executive producers Kevin and Dan Hageman were joined by Star Trek: Voyager's Captain Kathryn Janeway herself – Kate Mulgrew – who is reprising her role in animated form in Prodigy. The panelists discussed and teased what we can expect from the highly anticipated, upcoming CG-animated kids series.
During the final panel of the day we finally got the image that we'd all been waiting for. Following the release of the main crew of Prodigy at last months ViacomCBS Investors Day event, expectations were running high. To round-up the whole event, we got one final first contact: Captain Janeway in all her animated glory, with coffee cup in hand of course!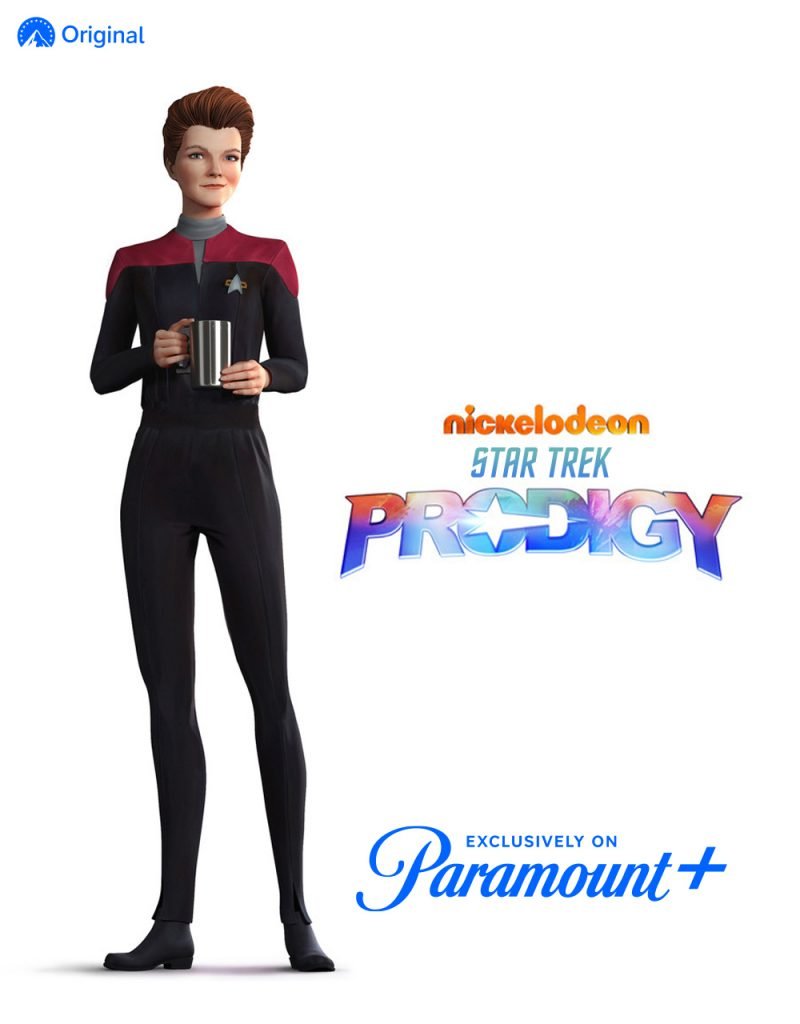 As well as getting the first official image of the new Janeway, we also gained more insight into the story and how she fits in.
The series will take place in 2383 and will be set in the Delta Quadrant, taking place after Star Trek: Voyager and Star Trek: Nemesis. Janeway herself will be a holographic character and classed as an 'Emergency Training Program', which makes a lot of sense now considering her character was described as a mentor to this motley band of rogue alien youths.
We also recieved a new update official synopsis
Star Trek: Prodigy will follow a motley crew of young aliens who must figure out how to work together while navigating a greater galaxy, in search of a better future. These six young outcasts know nothing about the ship they have commandeered – a first in the history of the Star Trek Franchise – but over the course of their adventures together, they will each be introduced to Starfleet and the ideals it represents.
---
NEW OFFICIAL EVENT – STAR TREK: MISSION
And finally, another big surprise: a new official Star Trek event is coming our way! It started with a tweet tease on Sunday, which many fans quickly guessed the answer to. The tweet delivered a video of the USS Discovery bridge with a blink and you miss hidden message, which turned into something of a treasure hunt. Many assumed that message of seemingly random coordinates were actually google map coordinates.

Those coordinates led to Chicago's McCormick Place Convention Center, leading the team at Trek Central to speculate, along with many others no doubt, that a new event could be coming our way. Seeing as how the annual Las Vegas event is no longer under the official banner, it seemed only a matter of time that we would be getting something new. This indeed was the case when at the end of the evening Wil Wheaton revealed that Star Trek: Mission Chicago was a go!
ReedPop, the world's leading producer of pop culture events, announced today that they are joining forces with ViacomCBS Consumer Products as the official convention partner for the Star Trek franchise. The partnership will kick off in 2022 with an all-new event that will serve as the ultimate destination for fans of the iconic franchise – Star Trek: Mission Chicago. Produced in partnership with ViacomCBS Consumer Products, Star Trek: Mission Chicago is a three-day immersive experience that will take place at Chicago's McCormick Place Convention Center from April 8 – 10, 2022.
Star Trek: Mission Chicago will feature celebrity guests, interactive exhibits, exclusive merchandise, photo opportunities, costume exhibits, autograph sessions, gameplay and other special surprises all set within the ever-evolving and expansive Star Trek Universe. Mission Chicago will give fans the opportunity to boldly explore the past, present and future of the franchise, while embracing the ideals of a diverse and inclusive future that remains at the center of Gene Roddenberry's beloved creation.
This has already garned a series of humerous exchanges between the Lower Decks gang with one fan asking Jack Quad (Bomlier) if he would go dressed as his animated counter part
It wasnt long until Mike McMahan, Tawny Newsome (Mariner) and Jerry O'Connell (Ransom) got in on the act.
So let's hope that at the first Star Trek: Mission Chicago, we get to see the live-action versions of the Lower Decks crew.
Stay tuned to Trek Central and we'll keep you up-to-date with guests announcements and news as and when they come in.
Also, from Trek Central:
---
Don't forget, you can also get involved via our social media platforms:
▶ Facebook – https://www.facebook.com/TrekCentral
▶ Instagram – https://instagram.com/TrekCentral
▶ Twitter – https://twitter.com/TheTrekCentral
▶ YouTube – https://youtube.com/TheTrekCentral