After a long delay, Picard and the La Sirena crew head back out for new adventures on Star Trek: Picard season 2. Engage!
SEASON 2 BEGINS PRODUCTION
While the news isn't official-official-official, tweets from Picard showrunner Terry Matalas (now deleted but captured below), and an Instagram today from Michelle Hurd to mark the event, pretty much seal the deal – season 2 has begun!
IT FEELS LIKE FOREVER!
Despite the fact it feels like forever and a day, Star Trek: Picard's premiere was just 14 months ago. Season one was filmed over the summer of 2019 in the care-free days before pandemics, social distancing and lockdowns. Season 2 was originally scheduled to start filming more than 6 months ago, but delay after delay pushed it understandably back.
Unlike its sister live-action Trek shows filmed in the less impacted Canadian city of Toronto, Star Trek Picard's production is US-based, at Santa Clarita Studios, in the heavily COVID impacted state of California. Some productions have managed to work with restrictions in the state, but many were shut down until recently.
So it's not surprising that while reassuring messages have been shared, no one was officially willing to put a firm date on renewed production on Picard season 2. Now the long wait is over, and the La Sirena is finally back underway.
Michelle Hurd (Raffi Musiker) posted to instagram a little while ago to express her excitement.
The post finally put to rest all the speculation and trepidation, after Picard season 2 became a bit of a Schrodinger's Cat, both in and not in production. Hurd was however, not the first official member of cast or crew to confirm the happy news.
Yesterday, new Picard showrunner Terry Matalas tweeted "Day One of many…" marking the first official day of production on season 2 one would assume. And he all but confirmed it when quickly deleting the tweet, after a rap on the knuckles by "Section 31".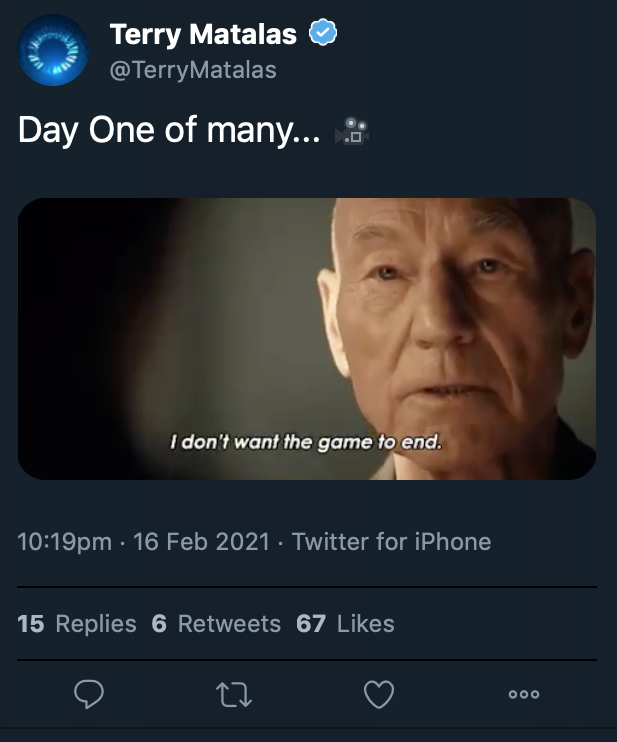 But nothing ever dies on the internet, the cat is firmly out and it's not going back in the box! We know it lives, and we're thrilled!
Season 2 of Picard is slated for 10 episodes again this season, and filming looks set to run through to the end of June according to various industry sites.
The news couldn't come at a more exciting time for the franchise. It's historic days for the Star Trek Universe, with not one, but 3 live-action shows about to be filmed simultaneously, with Star Trek: Discovery already underway since last November, and Star Trek: Strange New Worlds set to join them on Monday (all going well). Add to that the newly announced animated show Star Trek: Prodigy, confirmed to be in production a few months ago. And season 2 of Star Trek: Lower Decks (which is currently being produced), making it a staggering 5 separate Star Trek series simultaneously in production.
It's a great time to be a Star Trek fan!
We'll bring you all the latest news, interviews, updates and more, as and when they happen. So don't forget to join us on our social media channels and subscribe to our youtube channel, and join the conversation.
▶ Facebook – https://www.facebook.com/TrekCentral
▶ Instagram – https://instagram.com/TrekCentral
▶ Twitter – https://twitter.com/TheTrekCentral
▶ Youtube – https://youtube.com/TheTrekCentral
▶ Discord – https://discord.gg/f62Gbcu