It's Star Trek: The Animated Series' 50th Anniversary this year. To mark the occasion Paramount has created five new promotional shorts. The 'Very' Short Treks are a celebration of the classic, animated series. Canonistas need fear not! There's no debate. These 'Very' Short Treks are just a little bit of character-focused fun!
To 'Skin a Cat'
'Skin a Cat' – the first 'Very' Short Trek released – also happens to be the installment with the unannounced central character. It's a 'captain', but not quite the one you might have guessed. You wouldn't be wrong though, if you thought he was very Kirk-like.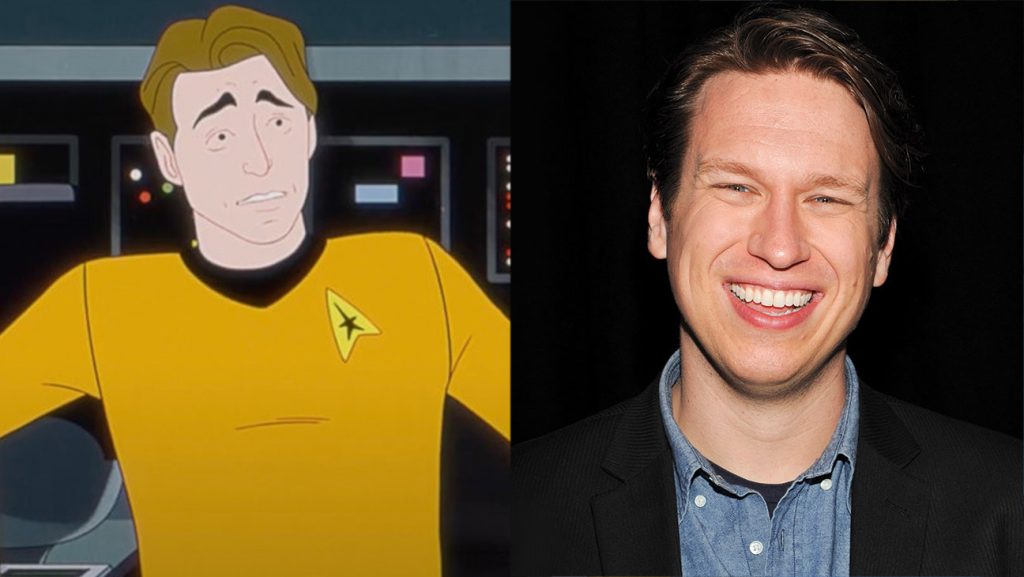 Comedian Pete Holmes takes the center seat as the Captain with a taste for putting his foot in it. I'm sure Paramount was hoping for more name recognition here, but when your fanbase is global, that is a risky hope. Recognition of the comedic style also leverages the humor. It's unsurprising that falls a little flat for those unfamiliar with its voice star. The substance of this short is all very Pete Holmes. It's right out of his comedic playbook. Intentionally awkward impersonations of pop-culture characters, to lampoon their absurdities. And 'absurd' is the word for this short's humor.
'Skin a Cat' also features Spock, voiced by Strange New Worlds' Ethan Peck. Plus voice actors Cristina Milizia (Knickersonian, Dream Woman, M'Ress) Star Trek: Prodigy's Bonnie Gordon (Computer), and Eric Bauza (Antedian, Ass Face, Screwhead).
Red Alert – It's a Dad Joke!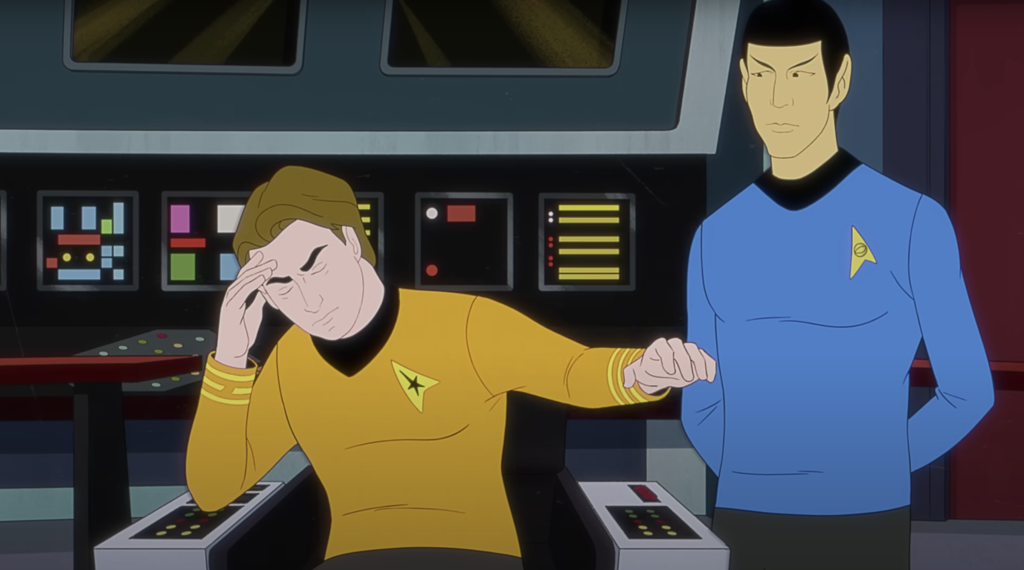 The short's simple plot is its central joke, a goofy, sort of Boomer-ish fever dream. "There's more than one way to skin a cat"! An unwise, and perhaps unkind choice of words when there's a Caitian – Trek's cat-like species – on your bridge. The Captain's colloquial speech whilst not intentionally offensive lands him repeatedly in trouble as he stumbles from one awkward moment to the next. You can almost hear a Boomer groan, "You can't say anything these days without someone being offended!".
Holme's Captain continues to land afoul of an increasingly absurd assortment of bridge characters, from Ensign Screwhead to Ass-face. Is this meant to poke direct fun at Trek's lower-rent aliens? Perhaps, but for me, it's more the animated equivalent of the unrelenting deluge of Trek memes the internet supplies. A trending 'joke' with the generic characters substituted for Star Trek ones. Nice try, often funny, but not really Trek in essence.
The final punchline attempts to throw a curve ball but doesn't quite hit the funny bone either. In fact, it's more bemused tumbleweeds. It's all very bland, relatively harmless fun.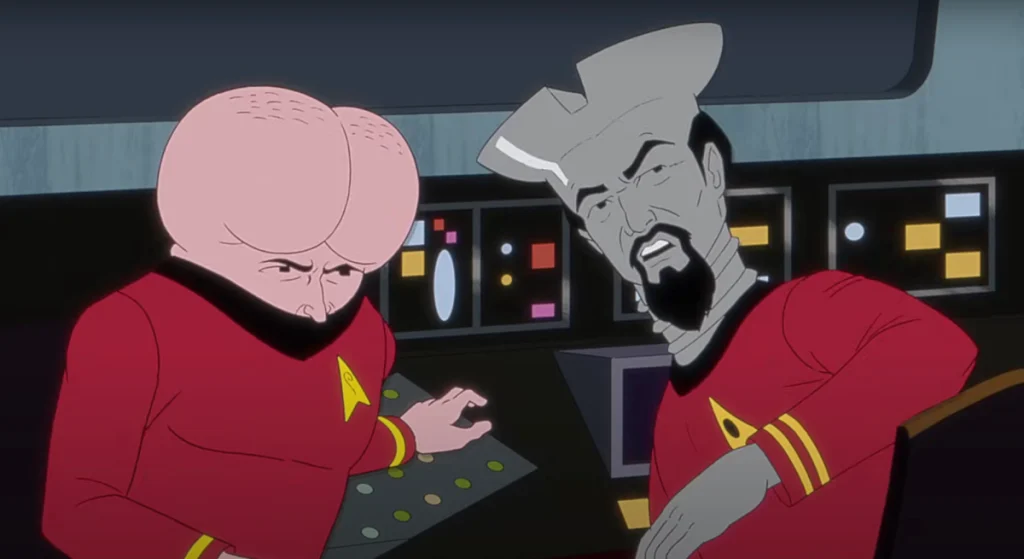 Chose your words wisely
As mentioned above, the heart of this short targets a major Star Trek quirk. Trek, while espousing, "strange new worlds, and new civilizations", rarely has alien, aliens. They're usually humanoids with flappy ears or bumpy foreheads. This obvious flaw has been explained in-universe. And we also have to accept that there are budget limitations and production constraints. But this is also one of my biggest complaints about Strange New Worlds. A brilliantly fun incarnation of Trek, that rarely, truly, ever gets "strange". Not to mention few and far between "new worlds", but I digress…
Its other more worthy take is that words can and do have the power to harm, through intention or ignorance. We should all be a bit more thoughtful, and use our words more wisely. Given the absurdness of where that joke is taken though, it loses its impact for me. The satire is more awkward Dad joke.
Clearly, when it comes to Star Trek comedy, the bar has been set very high by Star Trek: Lower Decks. Whether it's a deep cut, or a straight-up oneliner the show's writers know how to deliver the laughs. Hopefully, as the rest of Casper Kelly's upcoming 'Very' Short Treks are based around more familiar characters, jokes will be more on the mark!
More 'Very' Short Trek incoming!
The 'Very' Short Treks were first announced back in July at SDCC's Star Trek panel. Each will have a different central character, voiced by familiar names. Jonathan Frakes as Will Riker, Doug Jones as Saru, and Armin Shimerman as Quark. Star Trek: Voyager's Neelix is also set to feature, though we don't know if Ethan Phillips will be voicing his character. Details on the final 'Very' Short Treks' star were kept under wraps. Now we know that 'Skin a Cat' revolves around Holmes' parody Captain.
We also know that there are more Star Trek alumni lending their voice talents to the shorts as well. Those set to star are Gates McFadden as Dr. Beverly Crusher, Celia Rose Gooding as Uhura, Bruce Horak as Hemmer, Noël Wells as Tendi, and the legendary George Takei as Sulu.
Plus Connor Trinneer returns as Trip Tucker! Now don't get too excited. It's impossible not to still feel a little bitter about the character's offing in Star Trek: Enterprise. However, while this is technically a new on-screen Trip appearance, it's not a canon one. All the new 'Very' Short Treks are "definitely not canon". So don't expect Trip to officially be back from the dead, not yet anyway.
Next week's episode (landing Wed, Sept 13) is entitled "Holiday Party".
'Very' Short Treks Character Previews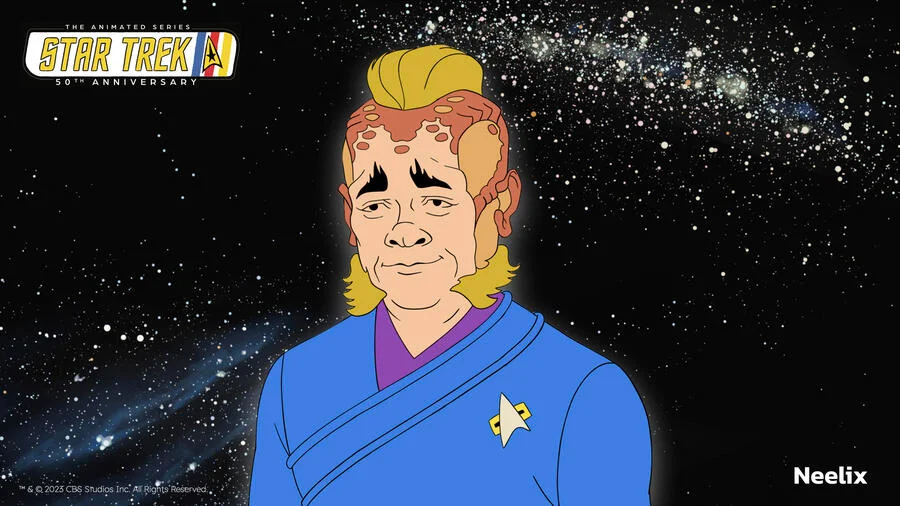 'Very' Short Treks' Episode Titles
September 8 – "Skin a Cat"
September 13 – "Holiday Party"
September 20 – "Worst Contact"
September 27 – "Holograms, All the Way Down"
October 4 – "Walk, Don't Run"
All episodes will be available globally on the Official Star Trek Website.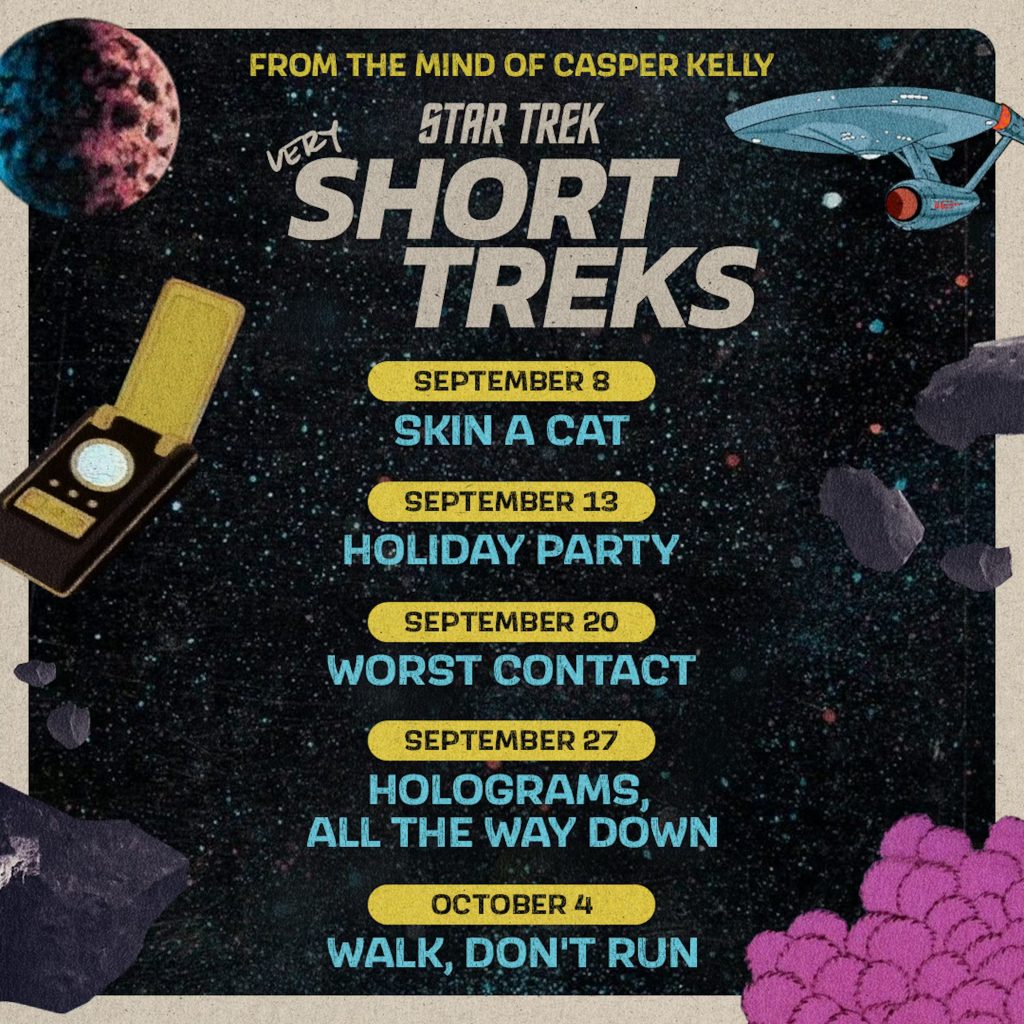 More From Trek Central
🚨 – REVIEW: Strange New Worlds – 'The Scorpius Run' #1
🔥 – Star Trek: Online Incursion Season Revealed
🔍️ – Master Replicas' Caretaker's Array Review
---
Join the Star Trek conversation via our social media platforms: