From Scopely Games comes the Kobayashi Maru Web Game and Contest, the ultimate test for Star Trek fans, can you beat the no-win scenario?
'With thousands of spectacular ways to fail, only a few will best the no-win simulation to earn prized memorabilia and more at KobayashiMaru.com'
Today a new game enters the Star Trek universe from developers Scopely. While the name might not be instantly recognizable, their games certainly are. Scopely are the minds behind some of the most popular mobile-based games on the market, games that include Scrabble Go, WWE Champions, The Walking Dead – Road to Survival and of course, Star Trek: Fleet Command to name but a few.
The latest game to come from Scopely will not be played on your mobile device, instead, it is web-based and promises a challenging experience to its players, just like the real simulation. The claim is that the Kobayashi Maru Web Game will be so difficult the chances of winning is 1 in 10,000. The game promises to be so difficult that Scopely has teamed up with CBS to offer some amazing prizes to those that not only do crack the code so to speak but for those that do it in the quickest time.
UPDATE: We now have the contest rules for the Kobayashi Maru web game along with more specifics on the prizes that you can win. The contest itself will run from today (11th February) up until the Thursday 25th February ending at 11:59 PM ET or 4:59 AM in the early hours of Friday morning UK time.
For a full list of the prizes and terms and conditions visit https://theconceptstudio.com/rules/kobayashimaru/
Leading mobile games company Scopely is launching Star Trek: Kobayashi Maru, a decision-driven web-based game that brings the iconic Kobayashi Maru test to life for the very first time. The Kobayashi Maru, according to Star Trek lore, is an "unwinnable" training simulation created by Starfleet Academy to measure character and resolve through thousands of no-win scenarios, famously beaten only by cadet James T. Kirk. Created by the team behind the #1 Star Trek mobile game, Star Trek Fleet Command, the Kobayashi Maru web game is fun to play, but nearly impossible to beat.

As part of this choice-based interactive experience, the player assumes the role of a Starfleet cadet facing the Kobayashi Maru for the first time. Only by choosing precisely the right path through endless perilous options will the player succeed where so many others have failed. With the odds of beating the Kobayashi Maru at around 1:10,000, the three fastest players to find the hack and defeat the simulation will win big prizes — including a CBS All-Access Lifetime Subscription and limited-edition Star Trek collectables. Adding to the nostalgia of Star Trek and to make failure fun, the game pays homage to the 1980s with incredible retro-inspired artwork and animation.
Kobayashi Maru Game Screenshots
Early Access
Trek Central was granted early access to Kobayashi Maru; I can confirm that the game is very difficult and I will not be publishing the time I spent trying to beat those Klingon bastards here. I will confirm, however, that the game is very enjoyable and could possibly become your newest addiction.
The gameplay on Kobayashi Maru is so easy to play, no keyboard bashing or joystick thrashing. This is a simple point and click-based interface in which you are offered suggestions by your crew and you make the choices that you think will solve the issues that crop up. Each option you take will either take you closer to success or closer to failure.
The Kobayashi Maru is timed and keeps a running track of your failures so if you do manage to win the game you will find a spot on the scoreboard and, if you're good enough, potentially in that top three winning spots.
The only real drawback from this experience is that I am unable to reprogram the simulation making me able to win. Kirk would be disappointed.
As part of our early access to the Kobayashi Maru simulation, we spoke to the developers to find out more details on this latest addition to the Star Trek gaming catalogue.
Trek Central: Can you tell us how the Kobayashi Maru game came about?
Scopely: We wanted to offer a novel experience that would be available to the wider Star Trek audience. When brainstorming different ideas with the writers at CBS, they really latched onto the idea of exploring the Kobayashi Maru. It's such an iconic part of Star Trek lore, we couldn't resist the opportunity.
Trek Central: Why did you decide to make Kobayashi Maru a web-based instead of like your previous games, mobile-based?
Scopely: Making it web-based really lets us hit a different part of the Star Trek fandom. Star Trek: Fleet Command is one experience in the Star Trek universe that's about establishing your own Independent base in a tumultuous Alpha Quadrant, exploring the galaxy, running missions for the major factions, building alliances, more.
The Kobayashi Maru simulation is a very different experience. Some may have described it as a "buffet of pain" that is "unwinnable" which will make you "ugly cry." But I hope a lot of people get as much a kick out of trying and failing in it as we did bringing the whole experience together. Getting to explore these different parts of the Star Trek universe is one of the things I love about working on this team — we recently expanded the universe in our mobile game Star Trek: Fleet Command to include The Original Series and Discovery, now featuring the past and future of the franchise in one place for fans.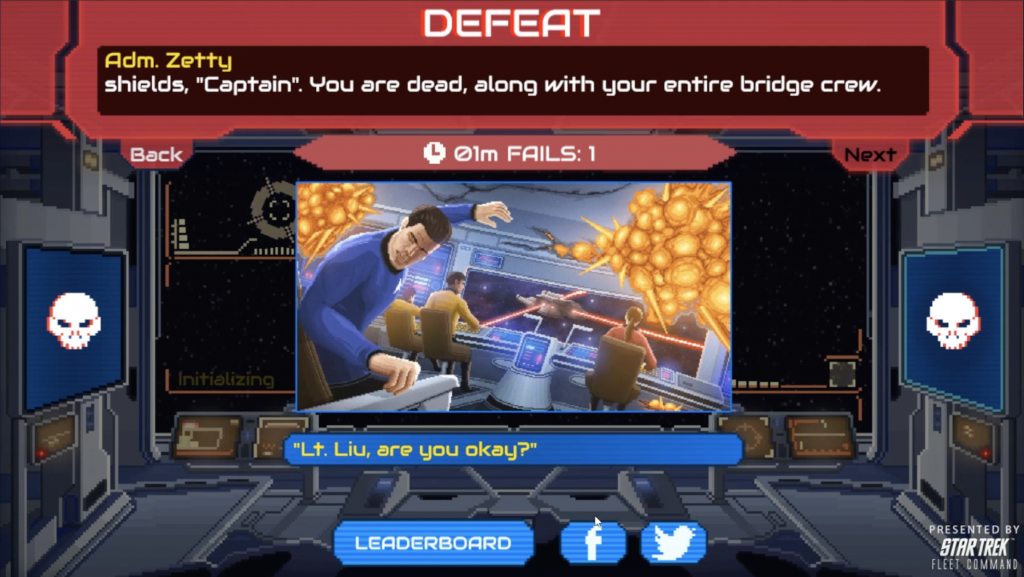 Trek Central: The Pixel-based animation on the Kobayashi Maru game is a great throwback, why was this route taken instead of a more modern graphic approach?
Scopely: We wanted to pay homage to those great adventure games from the '80s. Some of them were quite brutal in difficulty, so we thought that would be a good art style to tie into our Kobayashi Maru pain train. A lot of us played those games as young gamers, so making a tribute to one is really a dream come true.
Trek Central: Finally Kobayashi Maru is classed as unbeatable with 1 in 10,000 chance of winning, can you tell us how many levels players will have to face if they are to find the way to beat it?
Scopely: I wouldn't say it's about "levels" in the classical sense of progression. Without giving too much of a hint (hopefully!) the game experience is not just about how you encounter the Kobayashi Maru. There are things to be discovered in the story around the simulation itself; in your relationship with your crew members and even the simulation instructor himself. It's important for players to remember that this is a simulation designed to test the limits of your character and resolve: Think you can beat it in fewer attempts than the famous James T. Kirk himself? Good luck!
Star Trek: Kobayashi Maru is now available to the global community of Star Trek fans at KobayashiMaru.com.
You can also follow them on twitter https://twitter.com/kobayashimaru
About Scopely
Scopely is a global interactive entertainment and mobile games company, home to many top-grossing, award-winning franchises including Scrabble® GO, MARVEL Strike Force, Star Trek™ Fleet Command, Looney Tunes™ World of Mayhem, WWE Champions, The Walking Dead: Road To Survival™, YAHTZEE® With Buddies and Wheel of Fortune®: Free Play, among others. Scopely creates immersive games that empower a directed-by-consumer experience. Founded in 2011, Scopely is fueled by a world-class team and a proprietary technology platform that supports one of the most diversified portfolios in the West. Recognized in Fast Company's 'World's Most Innovative Companies' and #2 on Deloitte's 'Technology Fast 500' as one of the fastest-growing companies in North America, Scopely has achieved more than $1 billion in lifetime revenue by creating long-lasting game experiences. Scopely has global operations and games studios across Los Angeles, Barcelona, Boulder, Dublin, London and Tokyo with additional studio partners in seven countries across four continents.
Scopely has a history of thrilling Star Trek fans with Star Trek Fleet Command, which recently became the first mobile game in history to capture the entire Star Trek Universe. Just this month, the fan-favorite game added characters and storylines from The Original Series. As a genre-defining 4x strategy MMO, Star Trek Fleet Command players spend an average of 4 hours playing each day.
For more information, visit www.scopely.com.
More from Trek Central:
---
Stay up to date will all things Star Trek by joining us on our social media platforms.
▶ Facebook – https://www.facebook.com/TrekCentral
▶ Twitter – https://twitter.com/TheTrekCentral
▶ Discord – https://discord.gg/f62Gbcu