In 1998 Mainframe Entertainment pitched a CGI remake of Star Trek: the Animated Series with the hope of launching a new era for Star Trek in animation.
In 1993 Mainframe Entertainment was founded by Christopher Brough – an LA-based animation producer – and a group of British animators going by the name of 'The Hub' consisting of Gavin Blair, Ian Pearson and Phil Mitchell. Utilising CGI Animation technology they had pioneered in music videos such as Dire Straits 'Money for Nothing' and Def Leopard's 'Let's Get Rocked' the aim of the newly formed Mainframe was to create the world's first fully computer-generated animated series, a feat they achieved a year later when the TV series Reboot aired on ABC in the United States in 1994.
Reboot follows the adventures of a Guardian named Bob and his companions Enzo and Dot Matrix their goal, to protect the computer system Mainframe safe from the viruses known as Megabyte and Hexadecimal. Reboot ran for 4 seasons from 1994 to 2001 with a variety of spin-offs including games, comics, TV movies and a reimagining in 2015 with Reboot: The Guardian Code which finally aired on Netflix in 2018.
Reboot was a great success and won numerous awards including the Gemini Award for 'Best Animated Program' for three straight years and ultimately paved the way for Mainframe to team up with one of Americas biggest toy companies, Hasbro, to bring us the animated series Beast Wars, a brand of the Transformers franchise which launched in 1996 and ran for 3 seasons ending in 1999.
As it always does, success brings growth and on 17th April 1998 Mainframe opened a US office which was headed up by Dan DiDio; it was during this period of growth that Reboot co-creators Gavin Blair, Phil Mitchell and Ian Pearson, came up with another idea for a CGI animated series, based on a popular property that had been around since 1966. Star Trek.
Star Trek: The Original Series first broadcast on 8th September 1966 and ran for three years until it was surprisingly cancelled by the network, however, the show proved popular several years later via syndication. For our UK readers who may not know what syndication is; it's when a television series is repeated on different networks to the one it was originally broadcast on. A prime example on UK TV would be the likes of Only Fools and Horses or Red Dwarf, both originally from the BBC but continued to gain fans due to being repeated on cable networks such as UK TV Gold and Dave. It was this popularity that lead series creator Gene Roddenberry to revive the brand in 1973, albeit this time in animated form with 'Filmnation's' Star Trek: The Animated Series airing on a familiar date, 8th September. Running for two seasons spanning 22 episodes with most of the original cast coming back to voice their animated counterparts; the show proving a popular addition to the Saturday morning cartoon roster.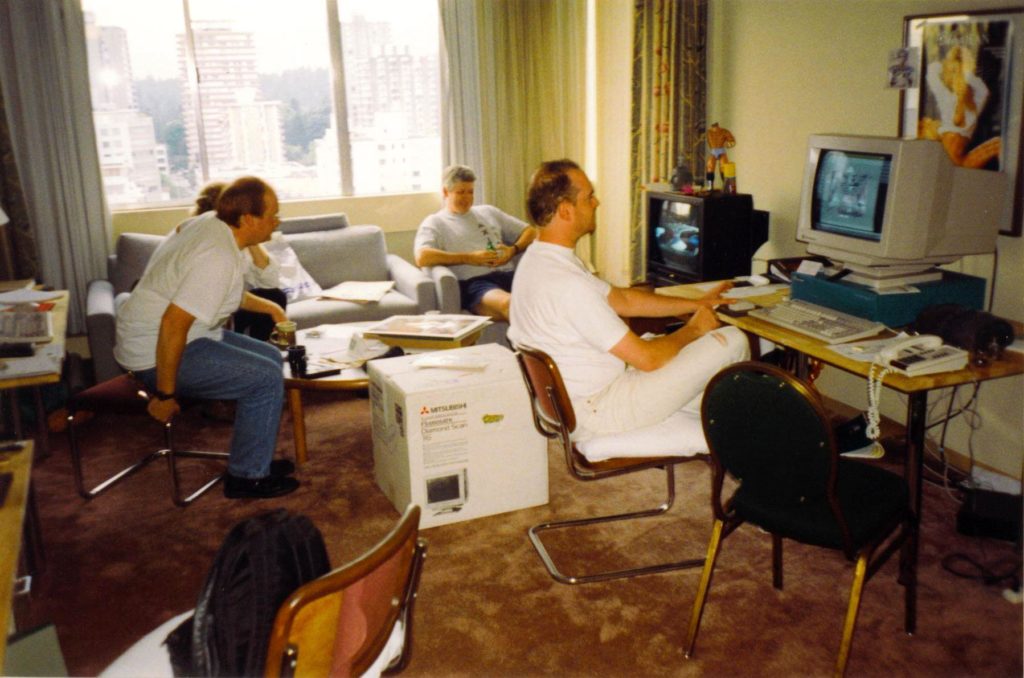 Blair, Mitchell and Pearson were all huge fans of Star Trek and while working on Reboot, Star Trek was always close by; often on the nearest TV screen, it was this love of the franchise that drove the trio to create their own unique stamp on the legacy of the show. What's surprising though, is that their idea and pitch, was not a new take for the original crew of the USS Enterprise, but a remake of the Animated Series that came before them.
Below is an excerpt from the original pitch document from 1998:
"Mainframe proposes to produce a television series continuing the original adventures of Captain James T. Kirk and the crew of the Starship Enterprise (NCC-1701). The new series will reunite the original 'young' crew by the use of modern technology and production methods developed by Mainframe over the last 5 years.
The new series will incorporate a 'virtual' cast performing in 3D computer generated sets, bringing together the advantages of new technology with the sensibilities of traditional film making.
In the early Seventies, 'Filmation' produced 22 one-half hour traditionally animated episodes based on the original 'STAR TREK' franchise.
It is our intention to take these 'Filmation' episodes and use them as a starting point to craft the new series. By using the original recordings of the core cast, carefully re-working the scripts, and rerecording all incidental characters, we believe that it is possible to bring the storylines up to the high standards expected of a 'STAR TREK' series today."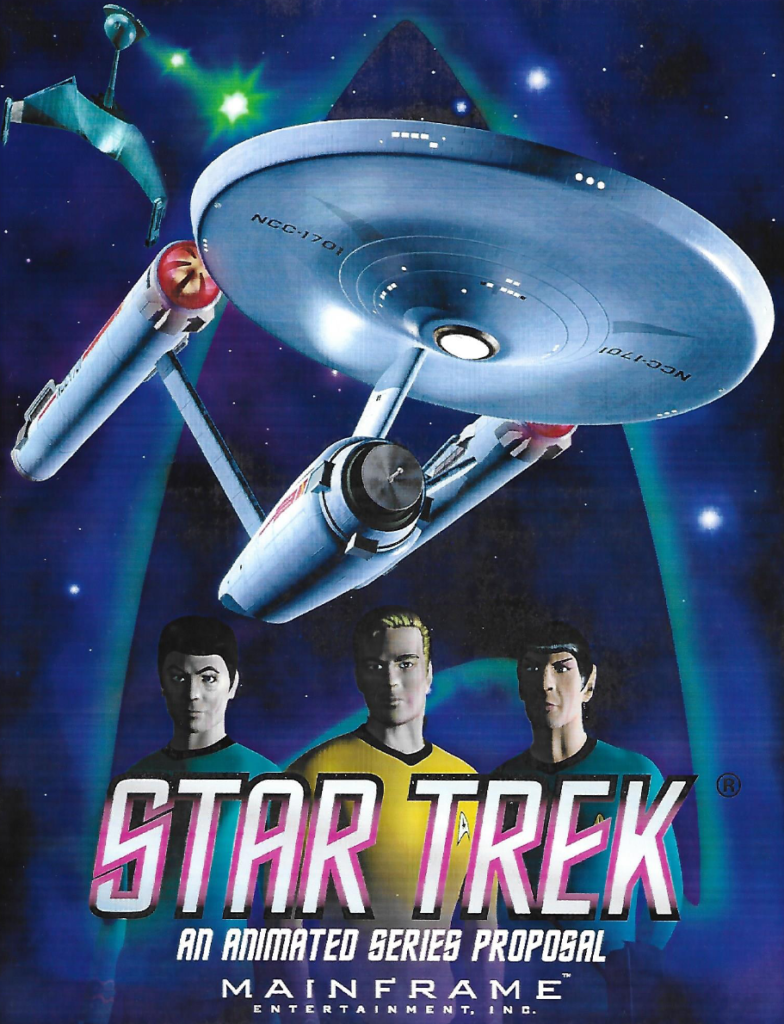 It's a very interesting approach to pitch, take an existing show and update it for a modern audience using the height of modern GCI animated technology with the hope of introducing Star Trek to a younger audience and potentially expanding the fan base without alienating those fans that came before. A clever concept as the original animated series from Filmnation included both Gene Roddenberry and DC Fontana as executive producers who brought many of the original writers on board, so the quality that long terms fans have come to love would still be very much present in the new incarnation.
But why not pitch a completely new series? There is some debate on whether Star Trek: The Animated Series is considered as canon – I for one, fall on the side that it is canon – with many fans accepting it as the fourth year of the USS Enterprises five year mission of exploration. If Mainframe wanted to do a new series, why not focus on new stories that could be set in the fifth and concluding year of Kirks mission and beyond.
According to co-creator Gavin Blair, the reasons were two-fold, cost and ease. The whole development for the remake was a side project and not allocated any kind of budget, with the majority of costs already tied up in Mainframes main projects Reboot and Beast Wars, all the while working on the GCI images of the crew in their own free time. All other key elements were already in place to help the team get this series off the ground. Major voice parts had been recorded by the original actors in 1973 and the scripts and narratives already planned and written out. With a few additions to the scripts and a few extra recordings needed, making it clear that all Mainframe would need to focus on if the pitch had been successful would be the animation itself. A wholly new and original series would have cost money and resources that Mainframe just didn't have at the time.
Before the initial pitch meeting, a trailer was made and to help create the likenesses of the cast of the USS Enterprise, rough 3D character designs were taken using a prototype 3D scanner and the Playmates Star Trek action figure toy line. Unfortunately, the trailer is not available to us, but we have screenshots that appear in the original pitch document to give us an idea what the show could have looked like. What followed was numerous meetings with executives at Paramount over the course of a year, including one that took place at Majel Barrett-Roddenberry's home and was discussed over afternoon tea. Attending those meetings on behalf of Mainframe were Ian Pearson and the newly appointed head of oversees development, production and U.S distribution, Dan DiDio. I am not privy to the notes of the meetings but it's said that Mrs Barret-Roddenberry was very keen on the idea and support what Mainframe was looking to do, as were the Paramount executives.

So what happened? It had the backing of the wife of the franchise creator, a key figure in its 33-year existence and a company with a proven track record of creating cutting edge CGI animation and it seemed to tick the boxes at Paramount. The style of animation being proposed by Mainframe would not have seemed out of place in the Star Trek: Universe and with its likely success could have lead onto the development of more original stories after the source material had been exhausted, including maybe a new animated series entirely based in other areas of the expanded universe. The simple answer appears to be down to licensing issues with Filmnation, unable to obtain the rights to the original scripts or recordings and with no financial backing to gain those rights the project was ultimately dead in the water.
It took 47 years since the debut of Star Trek: The Animated Series for another cartoon set in the universe of Star Trek to appear on our screens in the form of Star Trek: Lower Decks. I have always been surprised by that and never fully understood why it never happened. It seems logical for Trek to have had another stab at an animated series. Star Trek: Discovery costs around $8m an episode with Picard around the same. Set designs, crew, special FX all come at a huge cost but could be scaled down significantly if incorporated into a 3D / 2D animated series.
I can't help but think what might have been if this project had been given the green light. I was a teenager in the '90s and remember both Reboot and Beast Wars with fondness at a time when I was just being introduced to Star Trek via the Next Generation repeats on UK TV. A new animated series based on a franchise I was beginning to love would have only cemented that affection further especially as at this point, I didn't know that there had been an Original Series let alone an animated one and I think about how this project could have brought Star Trek to even more young fans.
---
What do you think, would you have liked to have seen the remake of TAS? Let us know via our social media platforms:
▶ Facebook – https://www.facebook.com/TrekCentral
▶ Twitter – https://twitter.com/TheTrekCentral
▶ Discord – https://discord.gg/f62Gbcu
Legacy content from trekthis.co.uk