If you've seen the most recent episode of Star Trek: Picard, you will have seen the biggest surprise of season 3 yet. Michelle Forbes has reprised her role of Ro Laren for the first time since 1994's "Preemptive Strike", the penultimate episode of Star Trek: The Next Generation. But why did Ro Laren's Star Trek Return take nearly 30 years to happen? She was treated brilliantly too. It's a welcome return, and we're all very happy to have her back, however briefly.
Who is Ro Laren?
Forbes, then an up-and-coming television actress, landed the role of Dara for the TNG episode "Half a Life" in season 4. Her performance impressed the producers so much that when they were creating the character of Ro, they offered her the part. The character was created to shake up the status quo on the USS Enterprise-D. Her backstory was there to create conflict and challenge the characters with her nuanced allegiances. She accomplished this through 6 guest appearances in the fifth season of TNG.
The character's troubled past, including growing up in Bajoran refugee camps due to the Cardassian occupation and a court martial for not following orders that resulted in 8 deaths, made for one of the better recurring crewmembers of the Enterprise. Her earning the respect of Picard (Sir Patrick Stewart) and Riker (Jonathan Frakes) and even developing a friendship with Geordi (LeVar Burton) gave the series a lot of heart.
Preemptive Strike & Deep Space Nine
However, during the production of the sixth season of TNG, the production also started on the spinoff Star Trek: Deep Space Nine. In the original drafts, Ro was the first officer aboard the station, working under Sisko (Avery Brooks), developing a lot of respect for Odo (Rene Auberjonois), and bickering with Quark (Armin Shimerman). Unwilling to commit to a series, wishing to work on films and avoid being typecast, Forbes turned down the role.
This character was later rescripted as Kira Nerys (Nana Visitor). As a DS9 fan, I often wonder what the series would have been like should Ro had been there instead of Kira. But this would not be the end for Ro's character. While not a regular, she made further guest appearances in seasons 6 and 7 of TNG. It was the last of which, in particular, "Preemptive Strike", which made the proper debut of the Maquis.
Ro was revealed to have undergone advanced tactical training at the recommendation of Picard. Sent to infiltrate the Maquis, she quickly gained their trust and became sympathetic to their cause despite her reluctance. Her running away from Starfleet and going rogue is among the biggest gut punches of the entire series. It's an episode that I rewatched before watching "Imposters", and it holds up very nicely.
Being a part of the Maquis, Forbes was offered a role on Star Trek: Voyager and turned it down, including guest appearances in Starfleet Academy flashbacks with Tom Paris (Robert Duncan McNeill). Given the conclusions of the Maquis storyline in DS9, the audience could assume that Ro had even died. She was never even mentioned in the series canon until Ro Laren's Star Trek Return in "Imposters".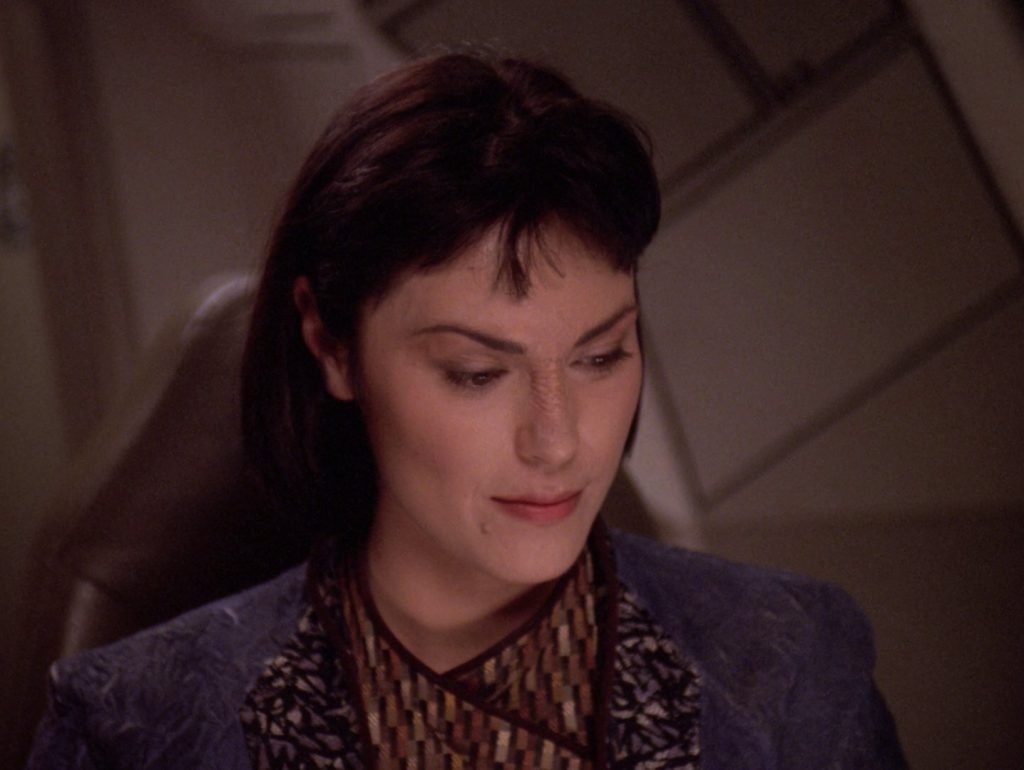 Forbes Through the Years
Even though she wasn't working in Star Trek, Michelle Forbes was never an out-of-work actress. She was nominated for a Saturn Award for her performance in Kalifornia, a 1993 road thriller film that starred The X-Files star, David Duchovny. Throughout the rest of the 1990s, she starred in Roadflower with Christopher Lambert, Black Day Blue Night with Gil Bellows, and Escape from L.A. with Kurt Russell.
Throughout the 2000s, Forbes shifted back towards television and television films, including major guest starring roles in 24, Prison Break, True Blood, and The Killing. She even returned to sci-fi with a guest role in Ronald D. Moore's Battlestar Galactica reimagining. Her 3 episode stint between Pegasus and Resurrection Ship is nothing short of a masterclass, with her character remaining a topic of debate among fans. Moore wrote 27 TNG episodes, including Forbes' "Disaster" and "The Next Phase".
Having turned down even guest reprisals, one could assume that Forbes never really embraced Trek, at least not initially. However, the amount of time that passed, along with her warming of the character, likely led her to accept the guest role in Picard Season 3. After her secret return aired, she publicly thanked the producers and recognised Ro's impact on her career via Instagram.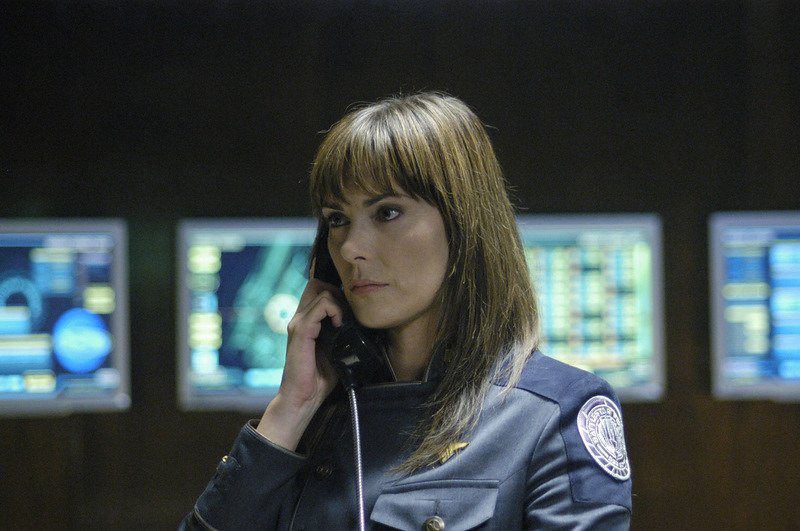 Ro Through the Years
Even though she didn't appear onscreen again until Imposters, plenty of novels tell her story beyond TNG. The relaunch novels, although non-canon to the series, offer an alternate take on what could have been. They tell the ongoing stories of all the 24th Century era characters. In this timeline, Ro never climbed her way up the ranks in Starfleet, which we saw in Picard.
Here, Ro never returned to Starfleet, remaining with her Maquis group. However, she had further adventures with the TNG and DS9 characters. This included her replacing Odo as the station's chief of security. It's really cool to explore this alternate timeline, finding Ro in the place where she was intended to be. Definitely check out the relaunch series for a fun alternate take on what could have been.
In the current IDW comic run, "Defiant", Ro is recruited to help Worf hunt down Kahless. The comic has just started, so there's not much more to say about it now. However, it does promise some very intriguing action for fans of the era. I would definitely recommend it as a comic to follow at the moment. It also features Worf (Michael Dorn) and Lore (Brent Spiner), who both have major roles in Picard Season 3.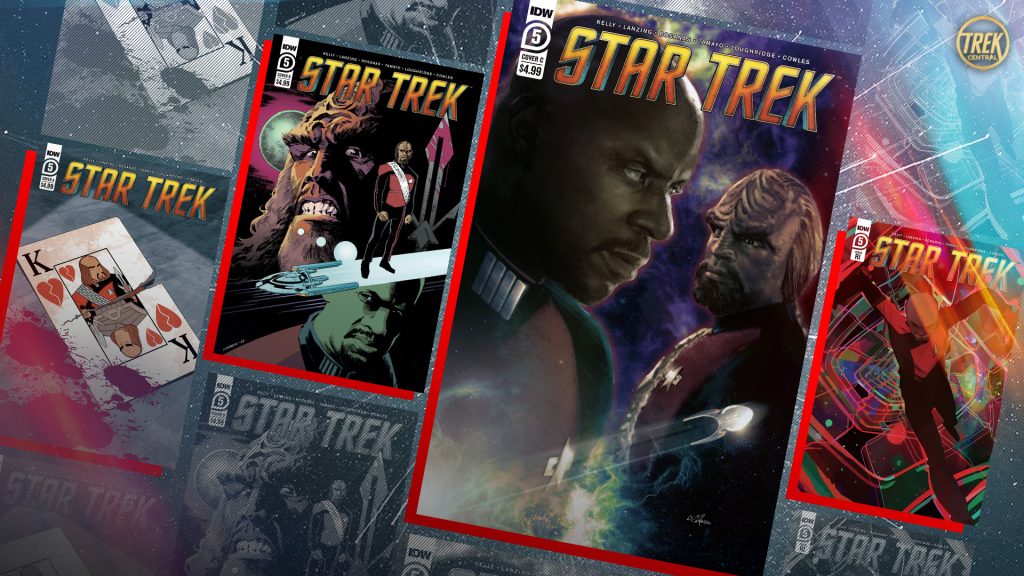 Conclusion
Ro Laren's Star Trek Return, and Michelle Forbes, managed to close off a 30-year-old plot thread. Even if it was only for one episode, it was nothing short of beautiful. Unexpected but still more than welcome. I really hope that Star Trek: Picard still has a few surprises up its sleeve. It would also be nice if future Trek projects also show such reverence to Trek. I wonder who the next big character reveal will be.
Star Trek: Picard Season 3 airs on Thursdays via Paramount+ for those in the United States. Additionally, on Crave and the CTV Sci-Fi channel for viewers in Canada. However, new episodes air Fridays via Amazon Prime Video in international regions like Australia and the United Kingdom. Paramount+ also streams the episodes in select locations, such as Italy, Germany, and France. For coverage of all things Star Trek, be sure to follow Trek Central!
---
More From Trek Central
📰 – INTERVIEW: Star Trek: Picard Showrunner Talks Season 3!
🔥 – NEW Star Trek: Picard Clip Starts The Season 3 Plot
🔍️ – Explore Star Trek: Picard's Stargazer
---
Join the Star Trek conversation via our social media platforms: