The journey continues for Captain Pike and his crew in Star Trek: Strange New Worlds 'The Scorpius Run' #2, as they race against time and each other to save their ship. The first issue of 'The Scorpius Run' introduced us to a space race in a new region of space, run by a seemingly all-powerful warlord. Stakes are very high here, with the Enterprise in a "win or die" situation. For a tie-in comic, it was unreal in its inventiveness and art design.
For me, Star Trek is all about exploring new worlds and meeting up with some cool new aliens. More so than any of the other comic series at the moment, this promises that in spades. Let's hope that the production team is able to keep their good streak in the second issue which is out today from IDW Publishing!
WARNING: There is some discussion of spoilers below for Strange New Worlds 'The Scorpius Run' #2. If you haven't read the comic yet, turn away now.
Flying the Ship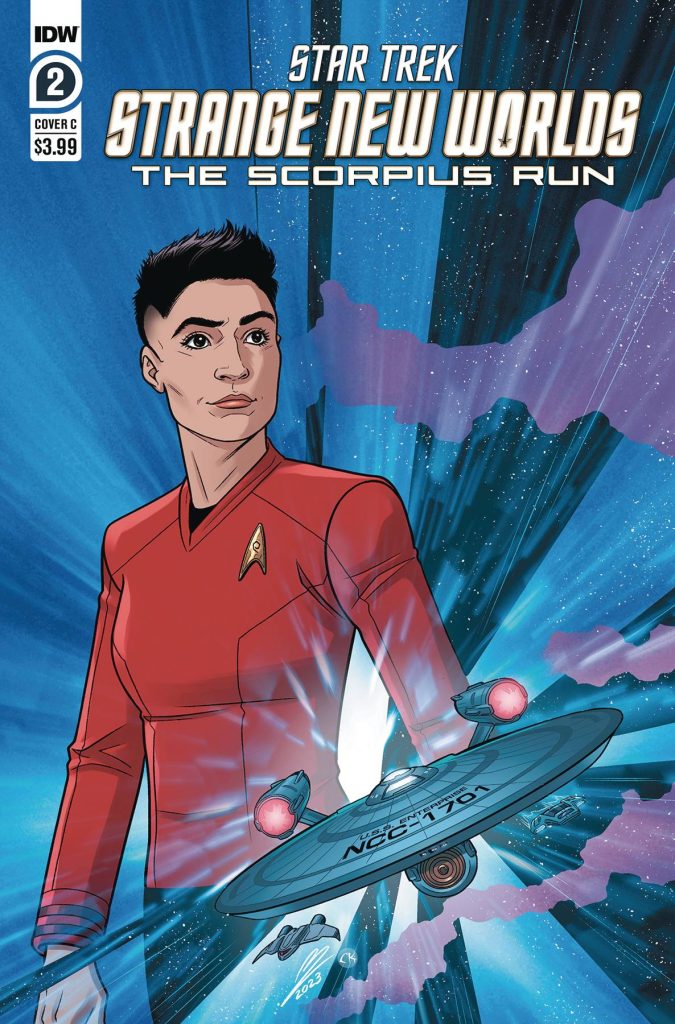 The second I opened Strange New Worlds 'The Scorpius Run' #2, I was greeted with a map. I've read a good few dozen of these now and am often given a summary or log of some sort. Getting this really puts me in the right frame of mind. This series feels very different compared to other Star Trek comics, which is something I really appreciate. A bit like the environments the crew are now inhabiting, it's totally alien and unfamiliar. Although, it does help to put names to these new ships and species, and remember where everyone is.
As far as introductions go, it's certainly doing a fair bit of leg work. I'm grateful for it too, because the opening page is a glorious bit of overwhelm for the eyes. Space is a lot more colorful than usual, and the ships are as alien as ever. I know I enjoy this, but there's something about how much is happening that I don't love. While the striking color clashes were certainly intentional, it's a little distracting compared to the rest of the book. Probably a bit more than it should be, but it needs a little excess.
Watching them maneuver a dangerous asteroid field felt like something out of The Empire Strikes Back, with some living asteroids to boot. While sure, it takes place in space, there's something so incredibly alien about how this environment and situation. Comics really are the only medium where this sort of thing would work, executing it in live action would be difficult to pull off. I hope we get some more of these crazy space situations over the next few months, the creativity on show here really is top-notch.
The Unwilling Exchange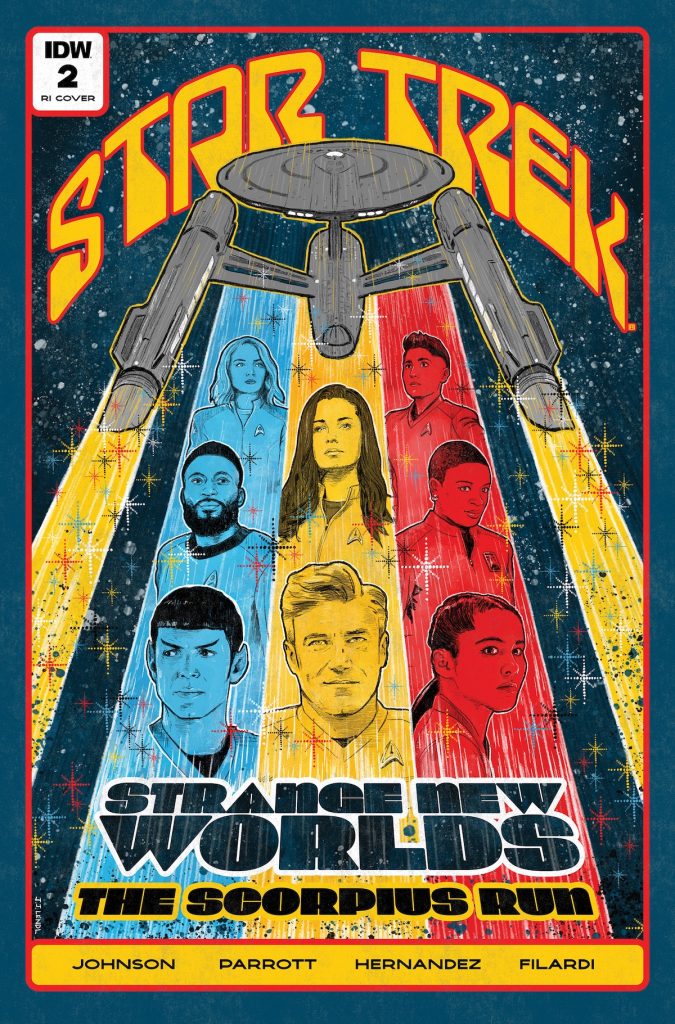 From the end of the last issue, we know that Spock and Number One have been placed on some of the other ships. While we know everyone will be making it out of the comic unscathed, it's a cool way to raise tensions. Number One is seen aboard a ship not dissimilar in command to the Klingon's ships. Given how unstable their captain is, she's not exactly safe aboard. Although given the ship's successful track record, she's probably in good hands.
Spock on the other hand we don't know as much about. He seems to be working with some aliens who control their ship mentally. While perhaps a little convenient that Spock was chosen for this position, it puts him in a unique place. He flashes through his life, where we catch glimpses of a comic version of some minor Strange New Worlds characters. It's also one of the comics' more moving moments. While visually intense, it's not as overwhelming and blends easily into the visual style and narrative of the comic.
After we see the alien ship destroyed after the Enterprise tries helping, the stakes are raised even further. Just how are their friends going to be saved? It's not as spelled out as last issue's cliffhanger, but things certainly got a whole lot more complicated. These dangers were just the beginning as well. Between the promise of a new area of space and the increased difficulty of rescuing their crew, I'll definitely be coming back next month to find out.
Preview – Strange New Worlds 'The Scorpius Run' #2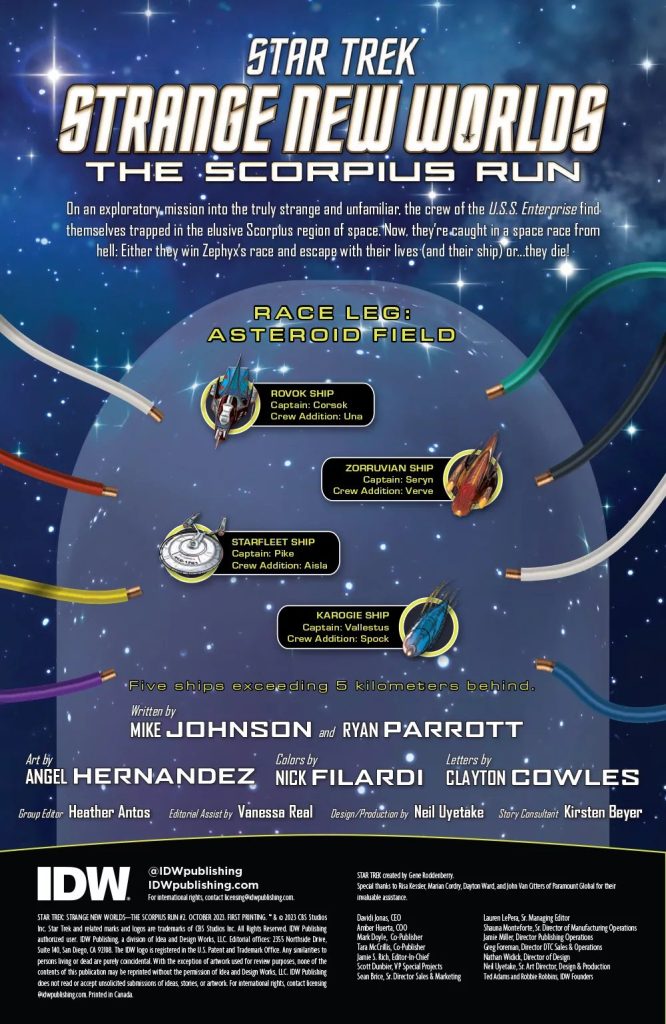 Conclusion
Strange New Worlds: The Scorpius Run #2 really raises the stakes after the epic first issue. Although we know what becomes of all the main characters, there's some really engaging work with the side aliens and the evil Zephyx to keep fans entertained. There's a moment between Pike and Aisla that really raises Zephyx's menace, with some genuine heart in there as well. We really expand the worlds of Scorpius Space here, and I hope that future issues are able to explore it even more broadly.
Overall, The Scorpius Run continues to be a bold, bright, and colourful continuation of Strange New Worlds. We know that the series itself tends to be dark, I mean just look at most episodes of the show. I'm sure the way forward then is far from clean and charming, and that the biggest dangers await them. So far, this isn't grabbing at nostalgia, or digging into establishes lore. It feels like the best of the recent episodes of the series, standing on its own amongst decades of lore. I'll definitely be picking up Issue #3 next month!
You can pick up your own copy of Strange New Worlds: The Scorpius Run #2 in all good comic book stores now. It's also available both physically and digitally from Amazon and IDW Publishing. For more reviews, news, lore, and more be sure to follow Trek Central for more!
Strange New Worlds 'The Scorpius Run' #2 Credits
Written by: Mike Johnson and Ryan Parrott
Art by: Angel Hernandez
Colors by: Nick Filardi
Letters by: Clayton Cowles
Group Editor: Heather Antos
Editorial Assistant: Vanessa Real
Design/Production: Neil Uyetake
Story Consultant: Kirsten Beyer
---
More From Trek Central
📰 – REVIEW – Star Trek: Prodigy Season One Blu-ray
🔥 – REVIEW – Star Trek: Lower Decks 'Empathalogical Fallacies'
🔍️ – REVIEW – Star Trek: Shaxs Best Day
---
Join the Star Trek conversation via our social media platforms: