The Day of Blood crossover story may be over, but we're not quite done with the story just yet! Out now from IDW Publishing is the one-shot 'Shaxs' Best Day', an interquel of sorts, telling the story of what Shaxs was doing out on his own a couple of issues ago. Shaxs is a hard character to get right and is often used on the show in small doses. This presents an obvious challenge, and with this being a longer one-shot it's even more difficult.
Here, he's alone and has the whole issue to himself. So can he actually carry an entire comic? And is it a worthwhile read for a wider picture of the Day of Blood crossover? Find out and read on in this review of the latest Star Trek comic book adventure!
Warning: There will be some spoiler discussion for the comic below! Read on at your own risk.
Writing & Style
If there's anyone I'd want writing a spinoff in the style of Lower Decks, it's Ryan North. His miniseries last year was nothing short of delightful, plus I'm definitely a fan from way back when he was writing the Adventure Time comics. North just understands the series, and he's absolutely nailed Shaxs' behavior and inner monologue. He's a fun comic relief character, and it's perfect for a comedy spinoff. This is potentially the funniest comic I've ever read, where I had to stop to appreciate what I was reading multiple times.
The fourth-wall-breaking author notes at the very bottom of most pages are a delight. A few of them genuinely made me laugh out loud. I'd particularly like to mention the first one, the one which appropriately attacks fascists. A lot of the Day of Blood stuff has focused on the dangers of radicalization and absolute rule. To use the comedy spinoff to break the fourth wall and call it out explicitly is genius. The others aren't quite so bold, but definitely keep up the trend of being hilarious.
The rest of the comic keeps a tight pace, dragging the titular hero from bloodbath to bloodbath. However, the fight scenes are all different enough, and he takes them down in various inventive ways. It's definitely clear why for someone who's such a combative figure this was the "best day". It definitely lives up to the title in this respect, and if you've got a good action soundtrack to go with it (I was listening to the God of War one at the time), it's epic. Comics are such a visual medium, but this one moves in ways I've never seen before.
Lower Decks-ness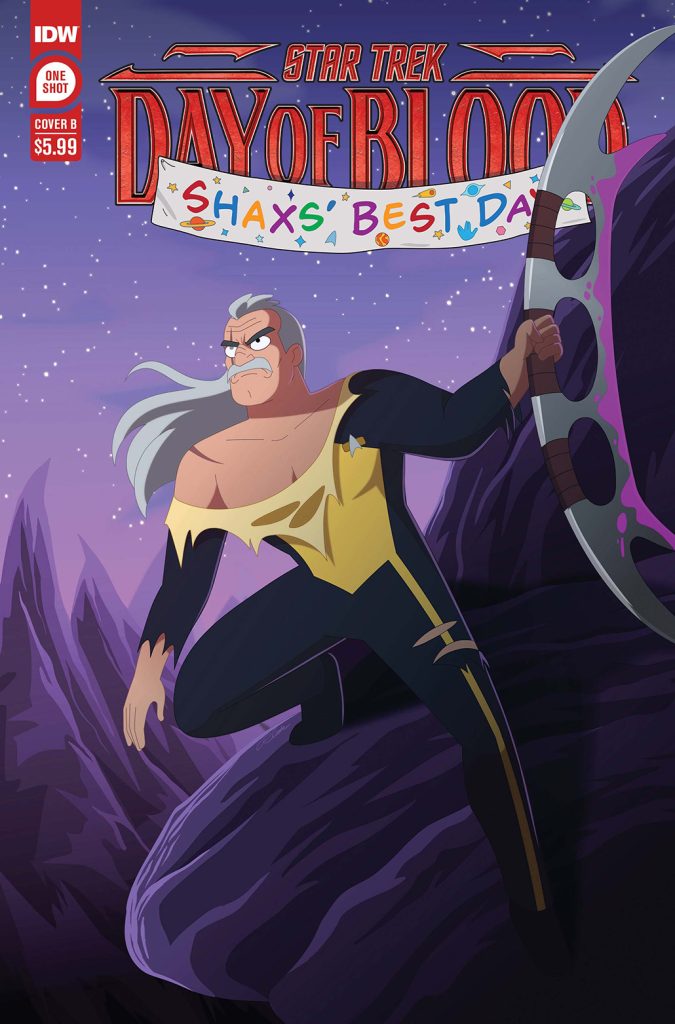 In a twist that shouldn't be too surprising if you've seen the cover, the comic looks very different from its sister series. Instead of looking like the realistic, bloody, and gritty Star Trek comics that have defined the crossover, this one just looks like an episode of Lower Decks. It's really fitting and helps the comic to stand out, with some of the series' other characters also presented in Lower Decks style. It also allows a lot of the jokes to work better, otherwise, it would probably just be senseless realistic violence, which is nowhere near as funny.
The comic nails the tone of Lower Decks as well. As much as this is very much set within the Day of Blood comic crossover, I'd totally buy that this is the sort of thing Shaxs gets up to when he's out of frame. The way he moves, how he speaks, the sort of combat approach he takes. It's the exact sort of thing we've seen him either do or suggest in the show time and time again. The comic doesn't exactly break new ground for him, but if you want to see him take the spotlight and have a good time, there's hardly anything better.
I particularly enjoyed the way the comic escalated, from some simple hand-to-hand combat to hanging off the end of a ship as it exits a planet's atmosphere. Yep. It may be a little longer than your average comic book but damned if it's not worth it. Re-reading it's an experience, really making you realize that we really did just go from there to here. Sure, it's a one-shot but I'd definitely love to read more Shaxs stuff in future comics down the line.
'Shaxs' Best Day' Issue Preview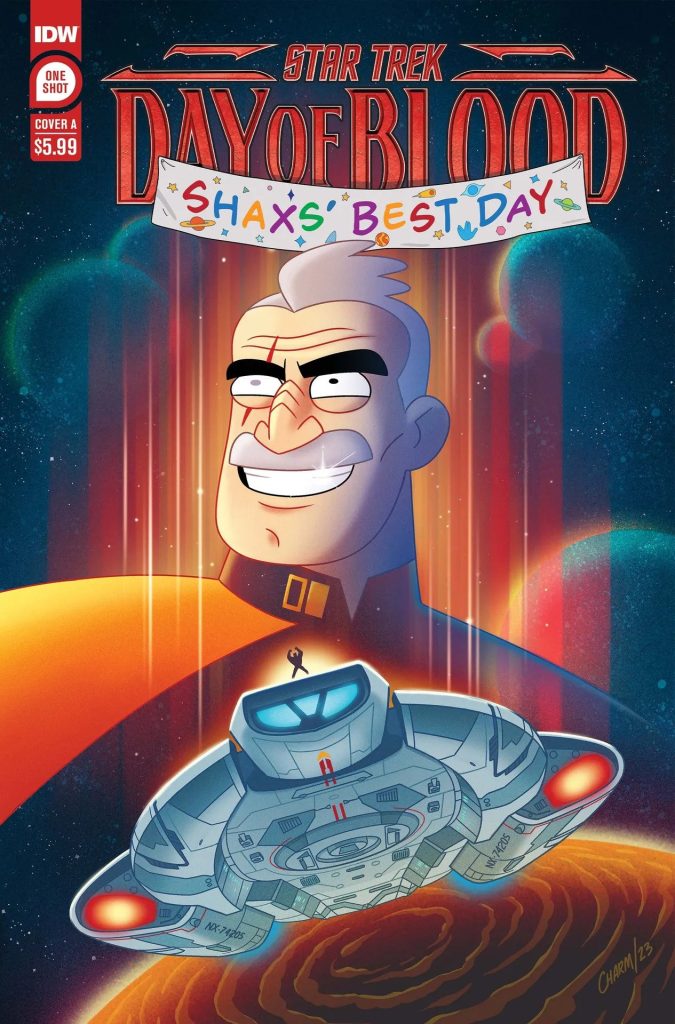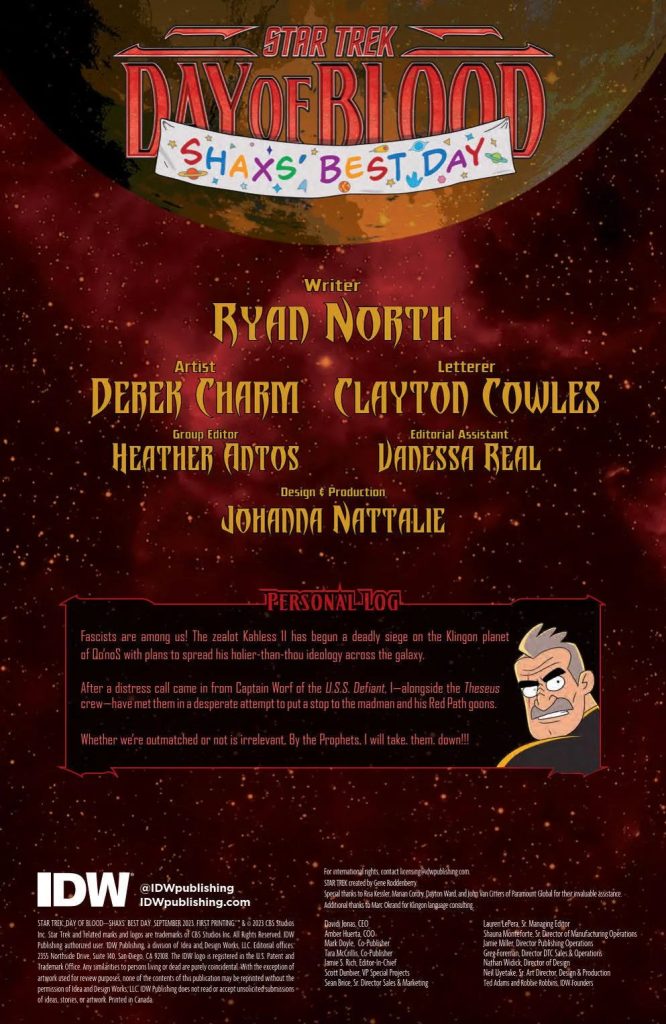 Conclusion
As a fan of Lower Decks and enjoyer of Shaxs from day one, this is the sort of thing I'd been waiting for. Letting Shaxs go wild is one of the show's consistently missed opportunities, so getting a spotlight on him just going crazy? Sign me up! This one-shot is a delight, a comedic triumph. It's also a real breath of fresh air from the darkness of the main crossover. Turning the violence more cartoon may not work for everyone, but it's a visually impressive funny distraction that ends up doing more than I thought it would.
I've discussed these comic series as a light version of a sort of big crossover legacy series, so it's refreshing to see the newer shows getting so much love. As someone who's a big fan of Lower Decks and Shaxs' character more broadly, there's a lot to love here. It really nails everything you'd want it to and I couldn't recommend a comic more heartily.
You can pick up your own copy of Star Trek: Shaxs' Best Day is out now in all good comic book stores! You can also order both physical and digital versions on Amazon or from IDW's online store. For all the latest news coverage, reviews, and all the Star Trek lore discussions you could ever want, be sure to follow Trek Central!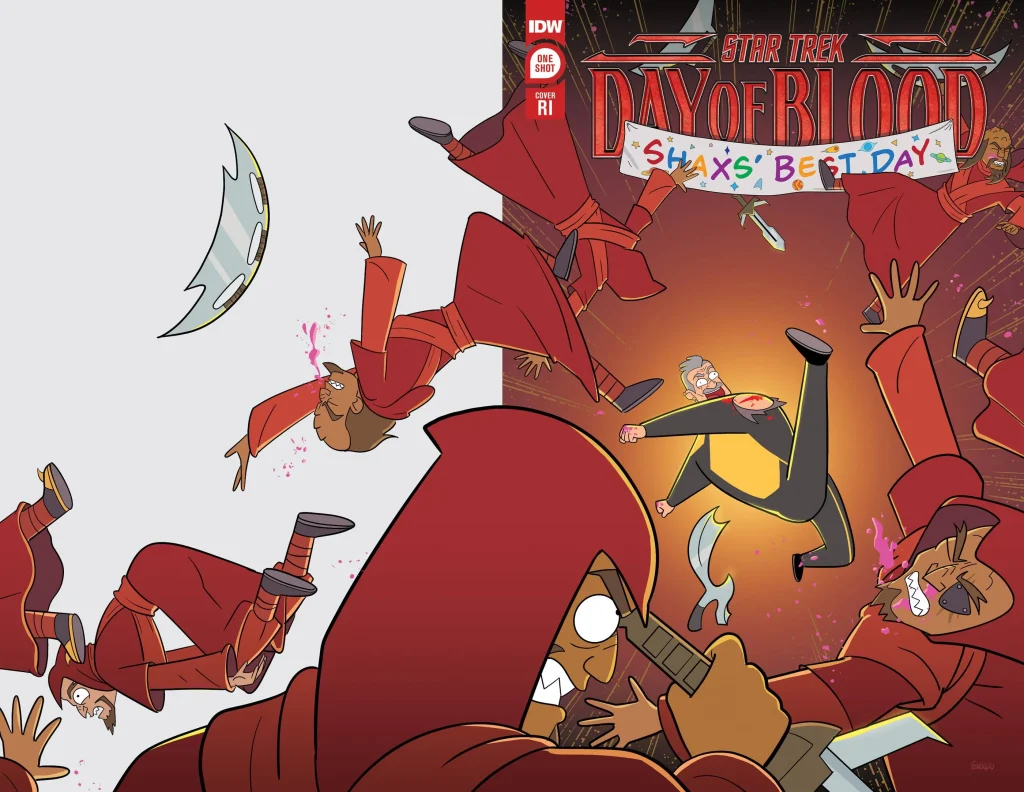 Issue Credits
Writer: Ryan North
Artist: Derek Charm
Letterer: Clayton Cowles
Group Editor: Heather Antos
Editorial Assistant: Vanessa Real
Design & Production: Johanna Nattalie
---
More From Trek Central
🚨 – REVIEW – Star Trek Issue #12
🔥 – REVIEW – Star Trek: Lower Decks 'Something Borrowed, Something Green'
🔍️ – NEW SERIES – Star Trek: Holo-Ween
---
Join the Star Trek conversation via our social media platforms: