Star Trek: Holo-Ween is the latest offering from IDW Publishing. It's a Star Trek: The Next Generation Halloween story for Spooky Season! And it has one of those concepts that's so adorably bizarre. The sort of premise that's best done in a comic book, and only with the TNG cast. While I'd struggle to call any of the Trek shows grounded, many TNG episodes are absolutely insane.
I'd love for this one to follow on in that great tradition, taking this beloved crew and dropping them in something so outlandish and fun. I've read too many serious comics of late, I need something that's just good fun. I'm a massive horror fan, and Halloween is just around the corner. Not only is this timely, but the whole thing is something I find very appealing. Plus all 4 issues are out in October! A new issue drops every Wednesday, from October 4, with the final issue #4 released on October 25!
I have been incredibly fortunate and have been given the first issue of this upcoming miniseries to review. Now without further ado, let's dive right in and talk all things Star Trek: Holo-Ween.
PLEASE NOTE: While this preview will be as spoiler-free as possible, there may be some very minor spoilers here.
The Horror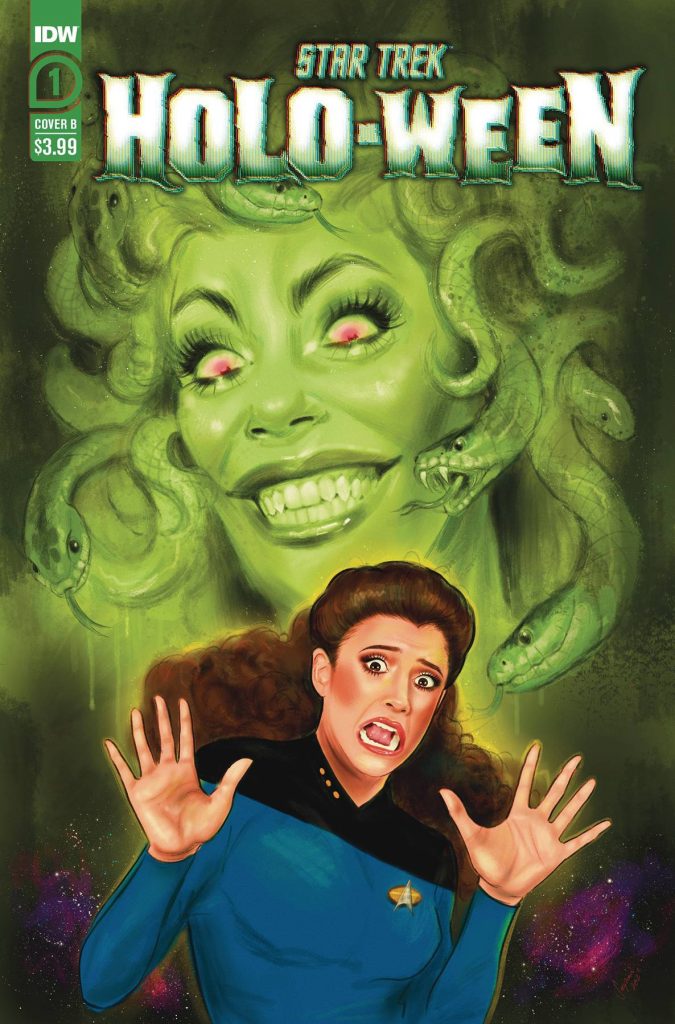 There are plenty of Star Trek episodes that grapple with horror and fear. So far Star Trek: Holo-Ween is on the same level as something like "Remember Me". There are a few frightening visuals, some of which are the sort of thing I'd want to decorate my house with. It's not scary, if anything it's just a lot of fun. If you've ever wanted Star Trek dragged through a Halloween decoration store, this is the comic for you!
The holodeck's involvement is very much in the title. It's such a fluid medium for Star Trek stories and I can't wait to see what this series does with it. As you can probably tell from Star Trek: Holo-Ween #1's cover, there's a lot of emphasis on the 1890s program from "Elementary Dear Data". It's the perfect setting for some pretty spooky setpieces. What that does going forward, especially with the tease of the Borg on the cover, remains to be seen.
There's a reveal, one that's foreshadowed from the first speech bubble, but I don't want to explicitly spoil it here. Needless to say, if you're a longtime Star Trek fan, you'll probably be overjoyed at the opportunity to see a classic sci-fi revenge story. It's not an angle I saw coming at all, and it opens up a whole new dimension for the rest of the series. Beyond silly goofy fun, it's got a basis in something that (as a Trek fan) I find quite cool.
The Enterprise D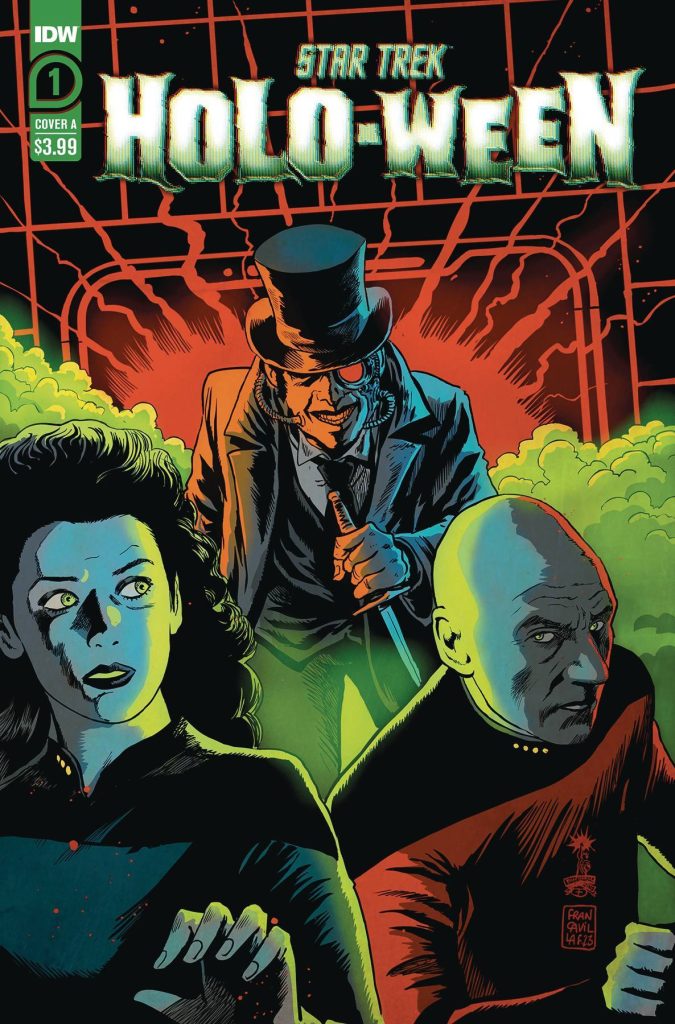 I can say pretty confidently that this looks like a very contained story. We're probably not going to see anything outside of the Enterprise, and I'm okay with that. As I said, the holodeck has the power to create any setting that the plot needs. That being said, the USS Enterprise D is also just a timeless ship. As the final episodes of Star Trek: Picard proved, seeing the characters that inhabit the ship together on it is magical.
While for obvious reasons this doesn't quite reach those same emotional highs, there's a lot of sentimentality. Unlike the Strange New Worlds runs, or the flagship Star Trek and Star Trek: Defiant series, there's a lot of nostalgia here. It's also more important that stories like this, with the older characters in the older settings, are a lot more original and out there.
This is an era we haven't seen like this for nearly 30 years, and Sequeira understands how important that is. He gets these characters' voices not only individually, but even in the way they interact with one another. Scenes in the ready room or the bridge feel ripped out of episodes of the series. It's honestly a wonder to behold, and I can't wait to see what the rest of the series does. Between the cliffhanger and this faithfulness, they've got all the right pieces for something truly marvelous!
Star Trek: Holo-Ween #1 Credits
Writer: Chris Sequeira
Artist: Joe Eisma
Colorist: Charlie Kirchoff
Letterer: Clayton Cowles
Design & Production: Neil Uyetake
Group Editor: Heather Antos
Editorial Assistant: Vanessa Real
Conclusion
Don't let the cover and Halloween theme fool you into thinking this is on the scarier or gorier end of the franchise. It couldn't be further from that. It's all the right amount of goofy and charming, with a few seasonal Halloween scares as well. Time will tell how many horror tropes the story leans into, but I'm really happy with Star Trek: Holo-Ween #1 so far.
Sequeira has done something genius. If you're a Star Trek fan and into horror, you're going to read this. If you're not into horror and want some seasonal fun to read while you gorge on candy, I cannot recommend anything better. The whole thing's also TNG almost to a fault, the Enterprise is recreated perfectly, and the characters' voices just leap off the page.
If this is just a taste of things to come, I'm very very excited to see what direction this series takes. It's a mad monster party with a little bit of murder on the Enterprise, and I didn't know I needed it. Turning the Enterprise into a kingdom of horrors isn't exactly a totally new concept, the ship kills red-shirts every week, but this does it so well.
Issue Previews
SPOILER WARNING: Just like our spoiler-lite review, previews of the upcoming issues all contain plot details. So skip if you don't want to be spoiled!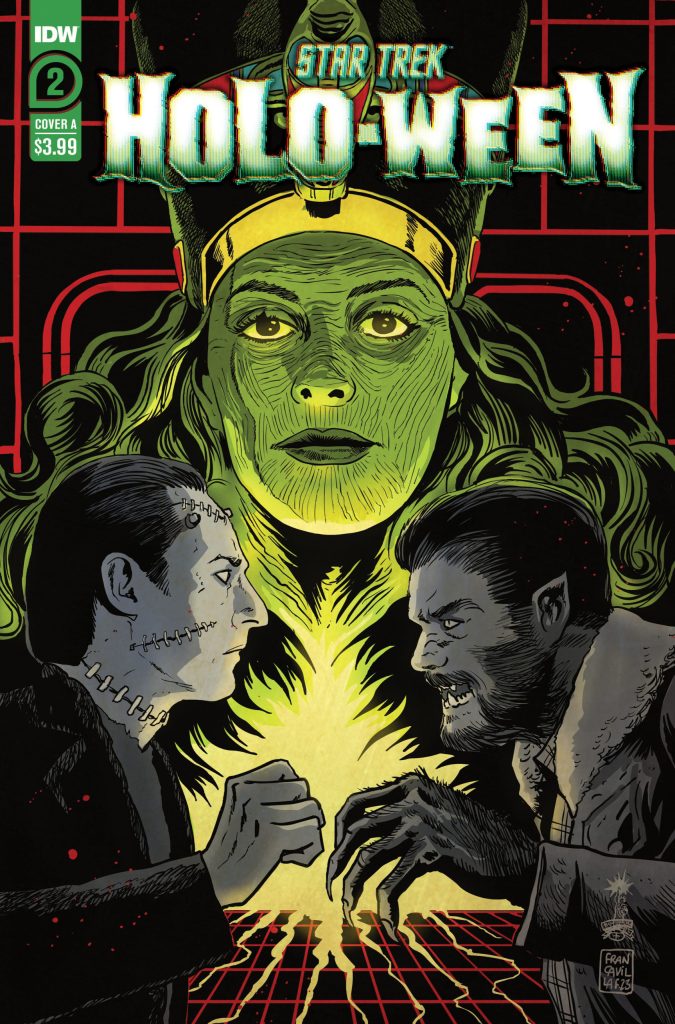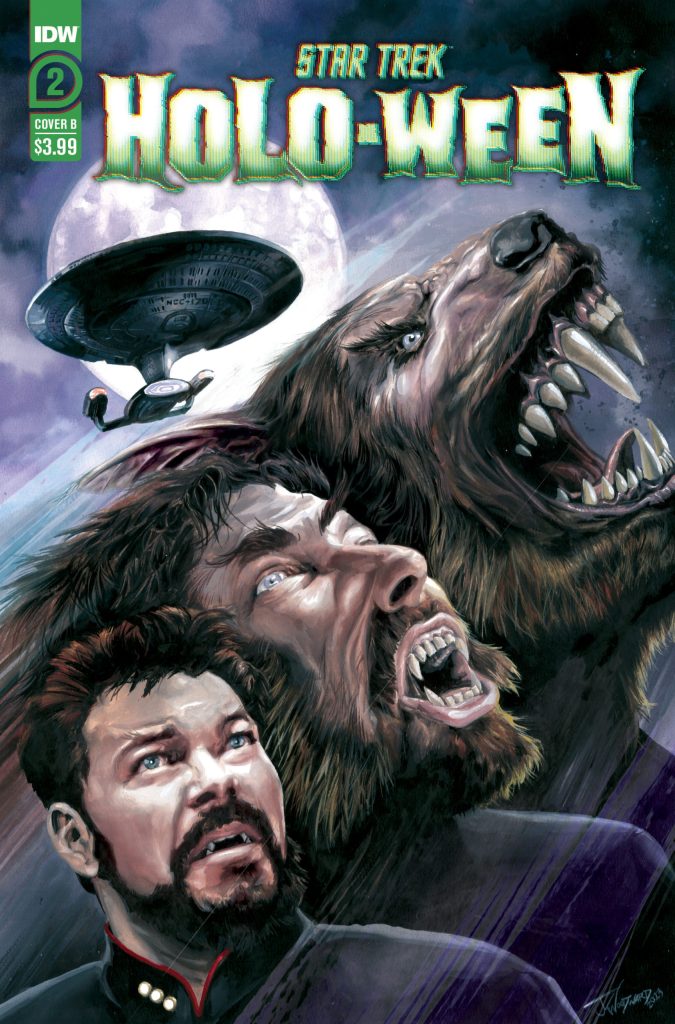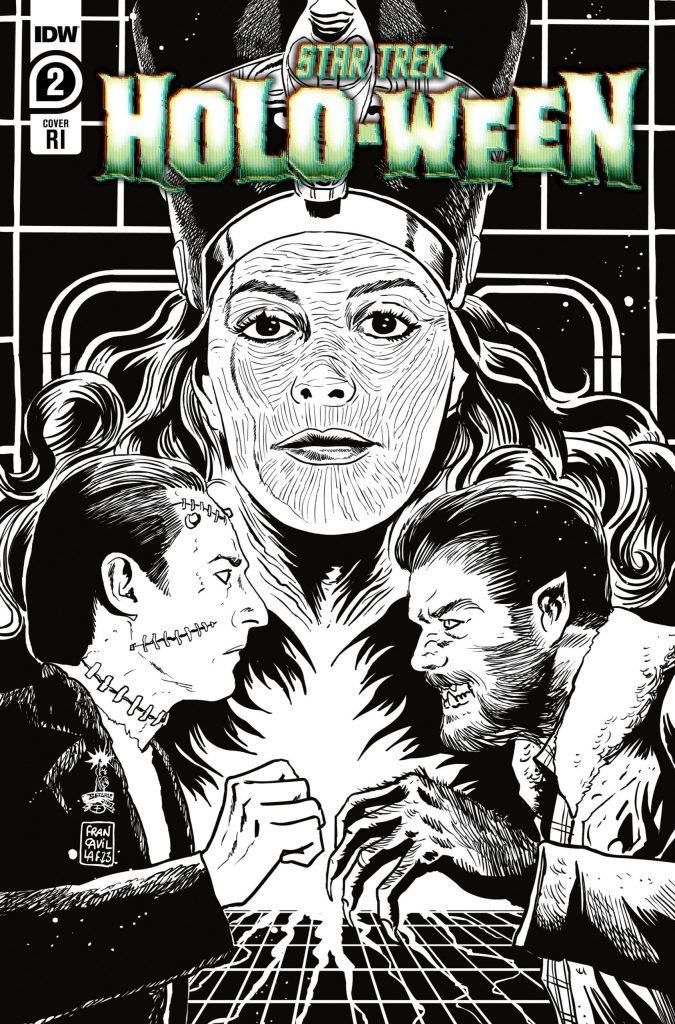 In issue #2: Redjac—posing as JACK THE RIPPER—has infiltrated the Enterprise-D and taken control of the holodeck, luring unsuspecting victims and feeding on their fear. Not to mention Redjac has turned Data into a monstrous incarnation of Frankenstein. With more and more crewmates falling victim, Captain Picard and his crew decide to fight fear with fear and turn themselves into classic Terran monsters to confront Redjac.
Release Date: October 11, 2023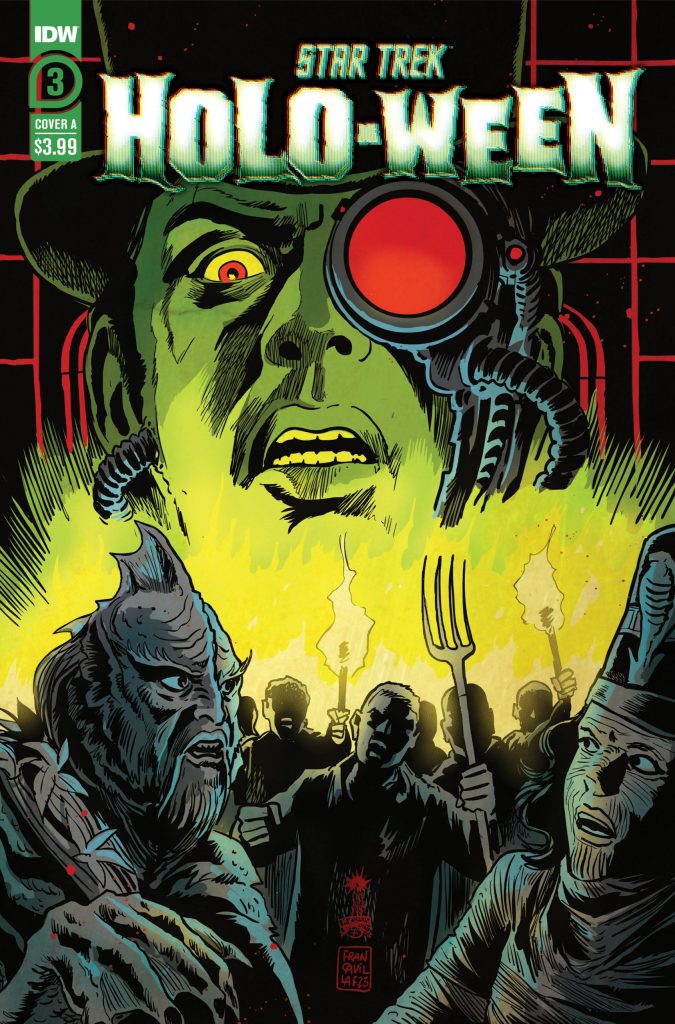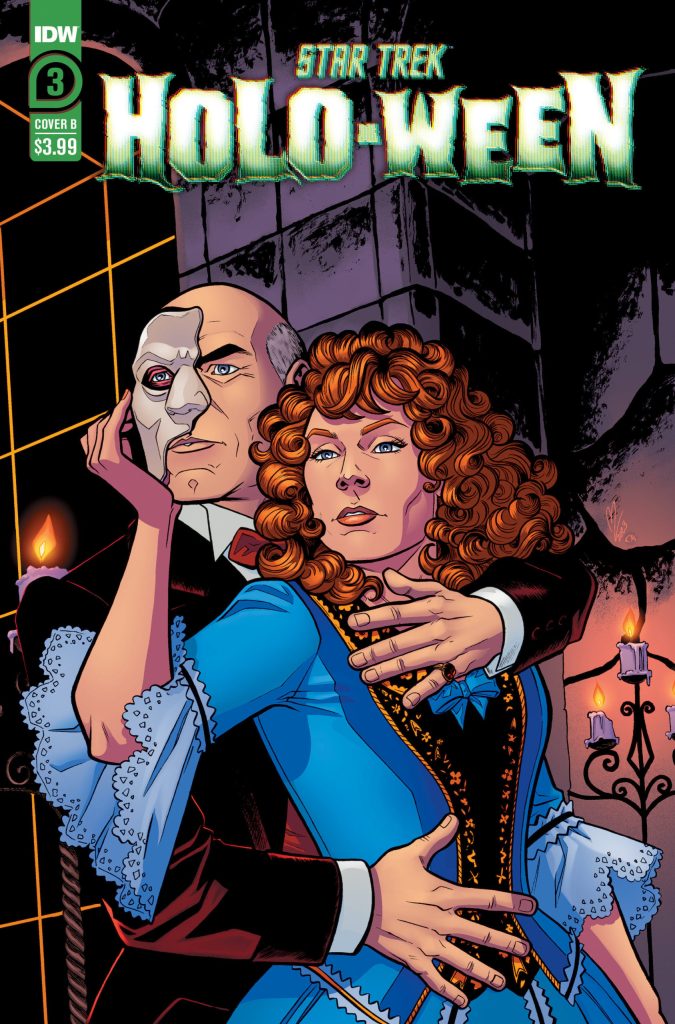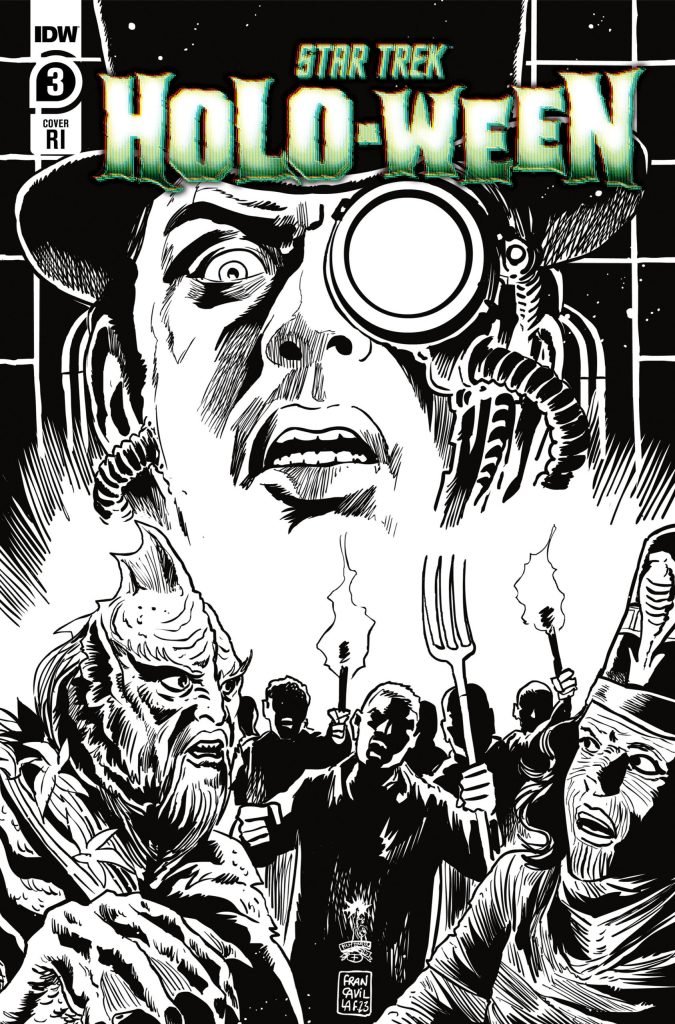 In Issue #3: The fight for the holodeck is on! The Halloween "away" team, consisting of Troi as the Mummy, Riker as the Werewolf, Picard as Mr. Hyde, and Worf as an amphibious Klingon Mkr'an are being chased by a mob of crazed, Redjac-controlled crew members. Meanwhile, Dr. Crusher and Commander La Forge monitor their crewmates' neural outputs in a frantic attempt to keep them from entering irreversible states of psychoses and fully integrating with their monster personas.
Release Date: October 18, 2023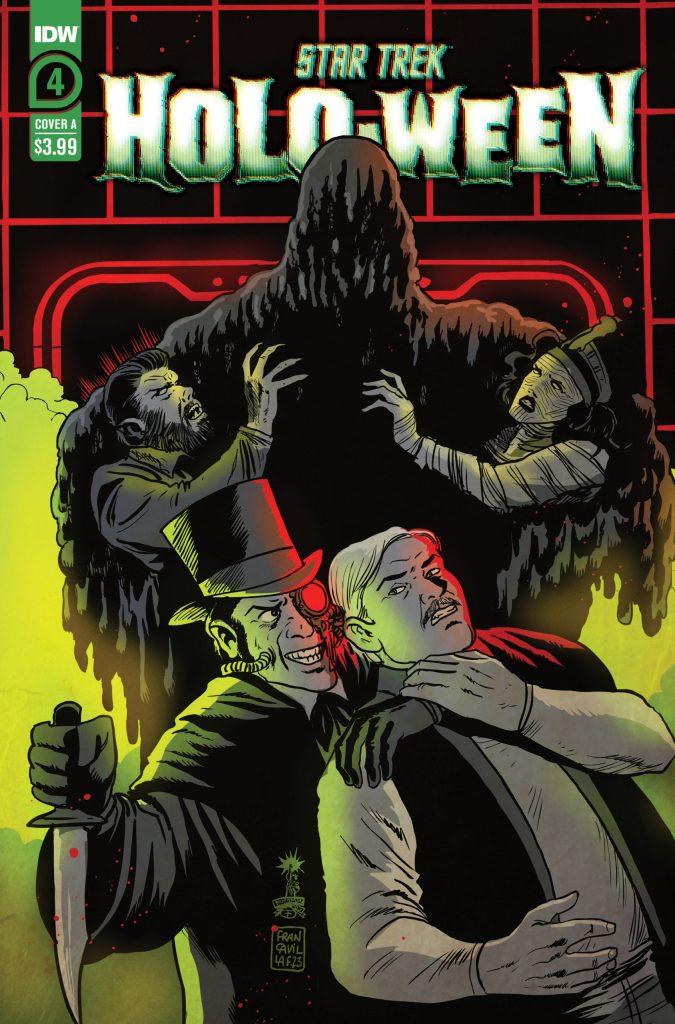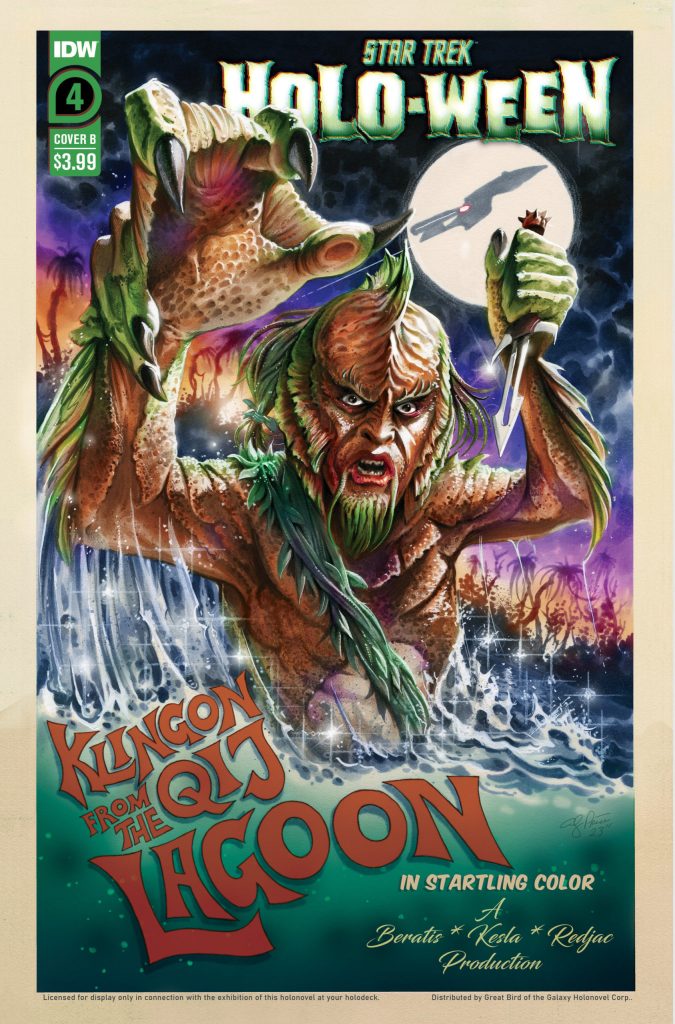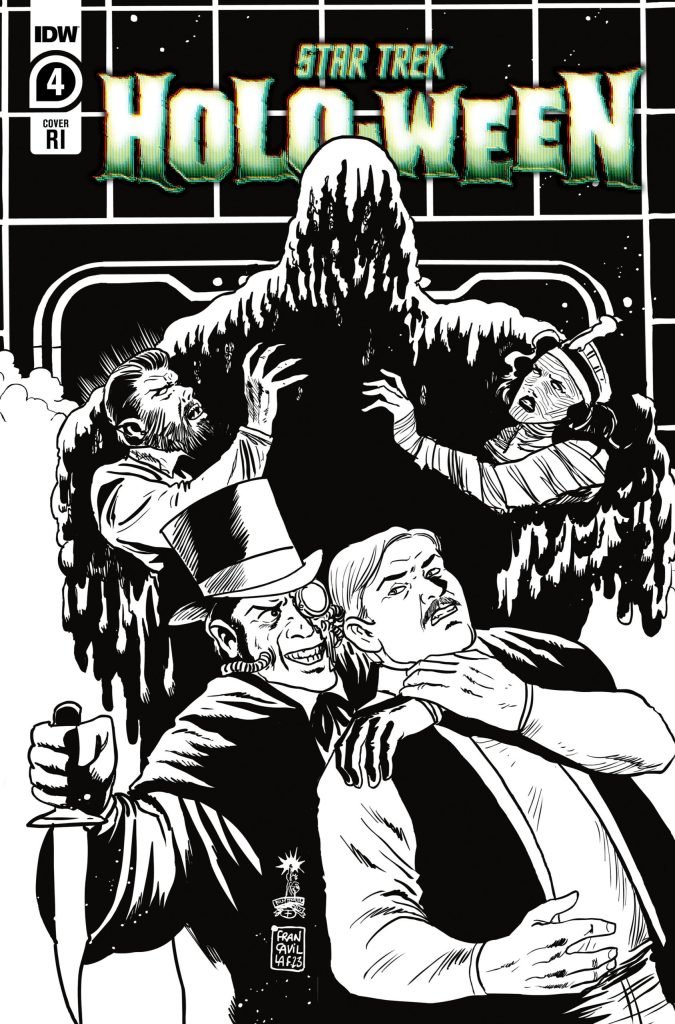 In Issue #4: It's the final issue of horror on the holodeck! Redjac pulls in a creature to join him in terrorizing the crew. Step one, feast on the fears of the U.S.S. Enterprise-D crew. Step two, reduce entire worlds to gibbering terror! Can our heroes overtake these evil entities before they lose themselves to the monsters within?
Release Date: October 25, 2023
---
More From Trek Central
🚨 – REVIEW – Star Trek: Lower Decks "In the Cradle of Vexilon"
🔥 – REVIEW – Star Trek's 'Very' Short Treks
🔍️ – EXO-6 Archer & Shran review
---
Join the Star Trek conversation via our social media platforms: