After an all too short time, Season 4 of Star Trek: Lower Decks has ended today. The tenth and final episode, entitled "Old Friends, New Planets" from writer May Darmon. They've previously worked as an assistant to showrunner Mike McMahan on previous seasons. Although this marks the first Star Trek: Lower Decks finale not to be penned by McMahan, he did write last week's penultimate episode. It's not their first writing credit, though, with experience on the hilarious Solar Opposites.
In this small shake-up, can the series still go out with traditional Lower Decks insanity? What does Nick Locarno (Robert Duncan McNeill) have planned? And just what's in store for the Lower Deckers next season? All of this and more in this final review of Lower Decks' fourth season.
WARNING – Spoilers below for Star Trek: Lower Decks "Old Friends, New Planets". Avoid reading ahead if you've not seen the episode.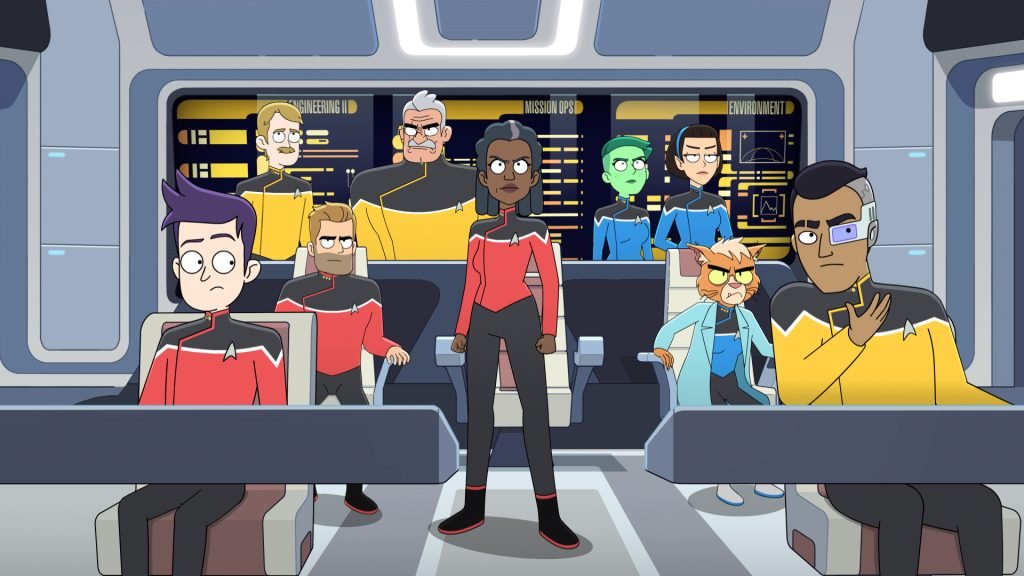 Class Reunion
Opening up your episode with a flashback scene is an interesting choice, especially when you go 13 years back. It's such a lovely moment, though, with probably the most shocking moment of the episode. We frequently see big characters in non-speaking roles, but that's not quite what's happening here. Not only do we get the aforementioned Voyager alum, but Wesley Crusher (Wil Wheaton) and Sito Jaxa (Shannon Fill) have proper speaking cameo roles!
It took me by surprise, was genuinely surprised to hear from them both. Even though Wheaton previously appeared in the second season of Picard, it's always nice to see him, especially as the more normal human Wesley from Star Trek: The Next Generation. On the other hand, Fill hasn't been active as an actress since 1995 and remains known for her appearances on TNG. Seeing her was a real, genuine shock, even if it was incredibly brief.
I spoke last week about how the setup and use of Locarno pays homage to the Academy episodes, the sort of stuff that Lower Decks was birthed from. Actually, having those characters onscreen and receiving the Special Guest credit they rightly deserve was a thrill ride—such a sweet scene. Returning to Starfleet Academy is always nice, and it helped to ground the episode in Locarno's ambition and his connection to Mariner (Tawny Newsome).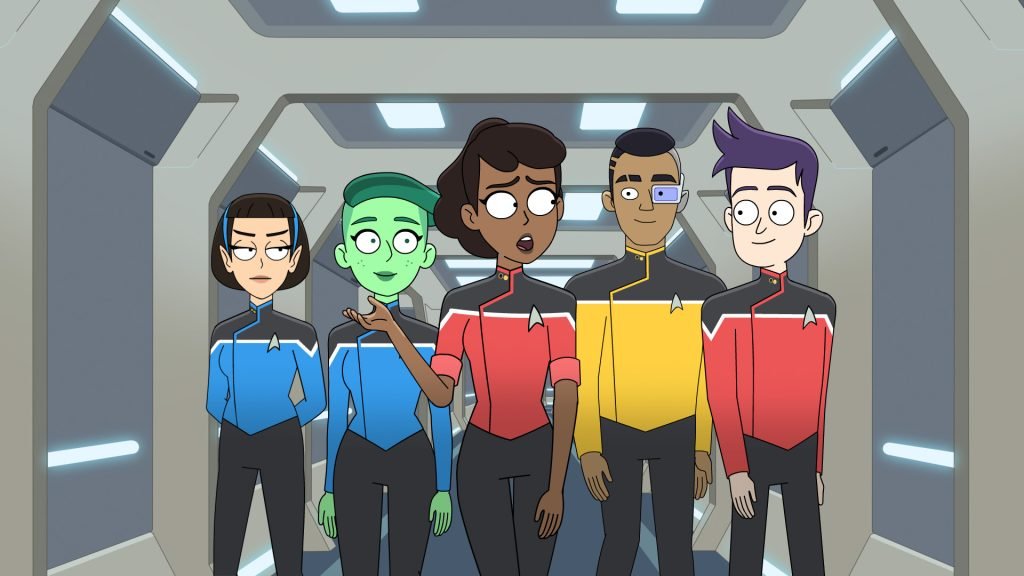 Locarno's Fleet
Well, we know what Nick Locarno's up to! He's trying to put together an autonomous collective, rebelling against an 'oppressive' command structure that pushed him out of the Academy (and got someone killed, but Locarno doesn't care). The whole thing is basically an extreme version of Mariner's general disdain for authority. It's such a hilarious extreme that she's totally repulsed by the idea, seeing Locarno's attitude as power-hungry.
At least the lines of the Ferengi making deals with that now less mysterious alien ship make sense now. It turns out he was trying to recruit lower-deck officers from around the quadrant, building up a fleet and inciting rebellion. I wasn't sure where they were going with the whole Locarno thing last week, but this ties the arc together rather nicely. While I still think the earlier scenes were a little too similar, there are no plot holes, and it all ties together nicely.
By the episode's end, most of that fleet is in the wind. It makes you wonder if we'll see them again or if they'll form a real collective. Knowing they're not Federation members, the chances of them posing a big threat like the Maquis are slim. Anything goes, and we have a potentially scary new group flying around the Star Trek universe. We've got at least one more season of Lower Decks on the way, so we'll have to see if any of this gets picked up later.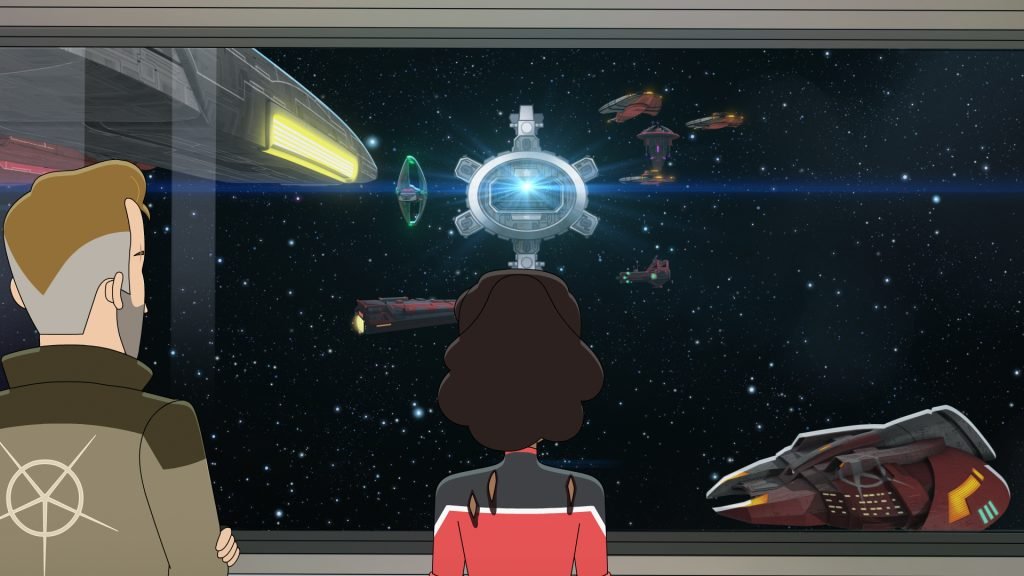 More Ships, More Problems
Of course, the Cerritos is only one ship. One ship that can make a difference, if only they had permission to try. This is where Freeman (Dawnn Lewis) establishes herself as a true Trek captain by disobeying orders and being insubordinate. It's fun, and as the audience, we immediately excuse it to fight the big threat. There's something very classic Star Trek about the gesture, including gambling their own ship in hopes of reinforcements.
The arena fight with Migleemo (Paul F Tompkins) was delightfully funny. I adore much of Tompkins' work, so seeing Migleemo used quite so often this season has been great. There's something about his line delivery and the fact that the character is a giant bird that makes it so appealing. Him selected as the champion warrior of the Cerritos had me laughing hard. Though the Orion warrior's allergies made it make sense and then made it even funnier. It's interesting in all the proper scenes. This sticks out to me the most.
That battle scene is a crucial turning point in the episode, too. It lays the seeds for Tendi's (Noël Wells) story at the end of the episode and gives the Cerritos the firepower they need to save Mariner and stop Locarno. It also does something that I'd love to see it come back to for a flash-forward or a finale: it puts Boimler (Jack Quaid) in the Captain's chair. It's only for the mission, but he'd obviously make a great captain. I hope this is a taste of what's to come in the future because it feels like the natural endpoint for his character.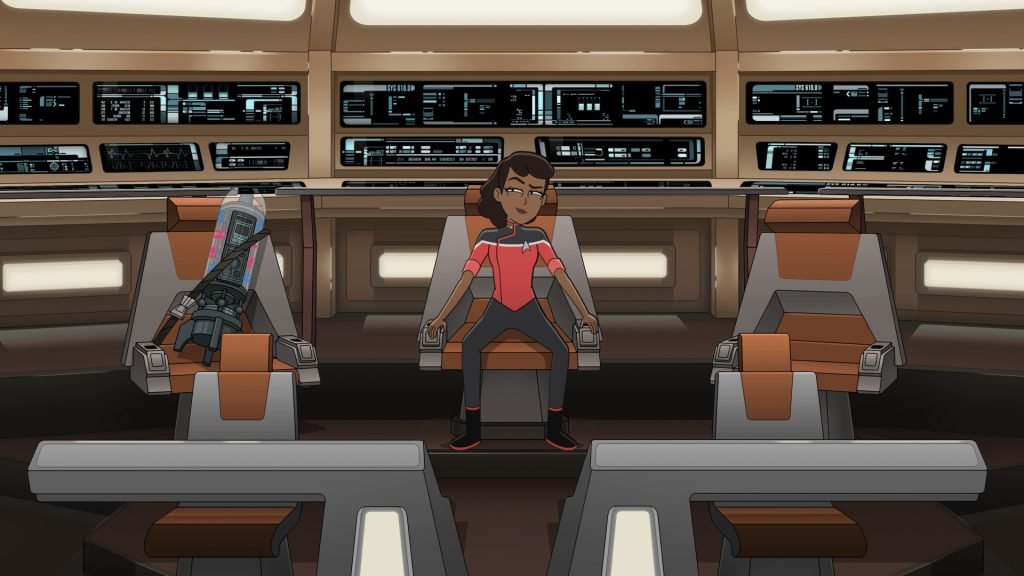 Re-Genesis
Despite the fact all the promo material was based on StarTrek: The Voyage Home (the posters have been doing the Original Series movies sequentially; it's cool), there are a lot of very obvious callbacks to Star Trek: The Wrath of Khan. Using the Genesis Device, we saw on the Ferengi ship a blind fight through a purple nebula, it's basically a copy of that movie's climax. It's rather apt, too, as Locarno, like Khan (Ricardo Montalban), finds that his drive for revenge and over-confidence is his own undoing.
Also, it wasn't a "joke" per se, but the ships navigating this nebula being an exact mirror of the battle between the USS Enterprise and USS Reliant was genius. As someone who's seen Wrath of Khan way too many times, I recognised it immediately. It also felt vaguely thematically worth it, so it's not just nostalgia for the sake of it. Although, if you're going to borrow elements from other Star Trek, you can't go wrong with what's probably the best movie in the franchise.
The firefights between the ships were also very well animated across the board. It felt much more three-dimensional than usual, creating some jaw-droppingly good effects. The sequences around the Trinary Shield are easily the best the series has ever looked. As with the rest of the season, some very high bars have been set. From guest cast, special effects, humour, and even episode concepts. Season 5 has much to live up to if it wants to be as good (or improve somehow, assuming it's possible to get better than this).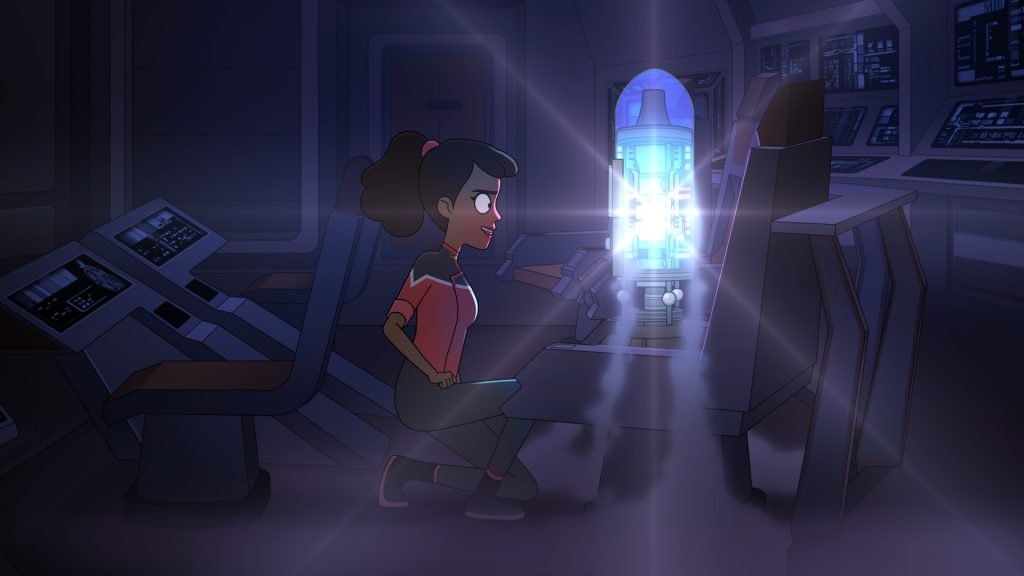 Bringing the Season Together
It's a little unusual for the episodic Star Trek shows to come together like this has. Threads from just about every episode have come together in this finale. There was no filler here, rather ten separate stories informing a larger narrative. Sometimes, it was a joke callback; other times whole characters. As a viewer, it was something that I found incredibly satisfying. It's not totally distracting, but I felt very rewarded for tuning in every week.
This is something that was particularly obvious in the return of Tendi's family from "Something Borrowed, Something Green". It wasn't like the Mark Twain conflict resolution callback. They were properly instrumental to the plot of the episode. Tendi offering herself to them felt like a natural follow-on from making peace with her family earlier. It wasn't something I saw coming, but it was a nice little game-changer.
The finale's big cliffhanger wasn't as tragic as I feared. Everybody's left alive, but our Lower Deckers are interrupted before they get their chant going. Robbed of that final experience, it made seeing them bond properly the other week in "Caves" much more bittersweet now. That final lingering shot, with the Orion ship and the Cerritos warping in opposite directions, was quite emotional. It was a very emotional way to wrap up a really well-animated explosive finale. Still can't get it out of my head after a few hours, bravo.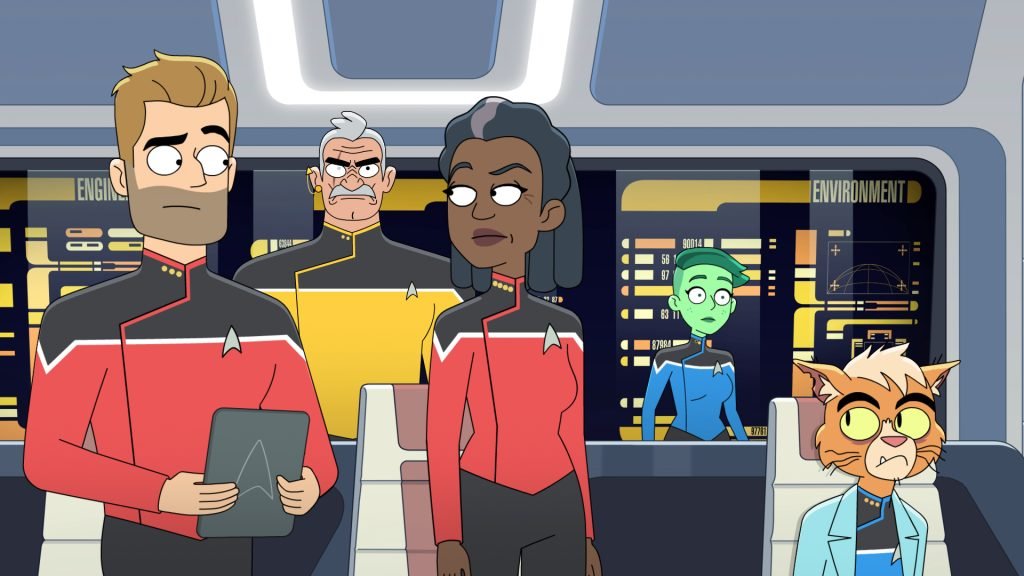 Conclusion – Looking To Season 5
The departure of Tendi was fairly predictable and not really surprising after the midpoint of the episode. That didn't really affect how emotional it was, though. It reminded me of the end of "No Small Parts", where Boimler accepted an assignment on the USS Titan. However, this feels potentially a little more permanent. Not sure how they're going to address this in Season 5, not that she's totally out of Starfleet.
Although perhaps with T'Lyn (Gabrielle Ruiz) sticking around for a while longer, the show may try to move on without her for an episode or two. Sadly, it'll be a while before this is addressed, though Season 5 is already confirmed. For now, however, we're looking back on what has probably been the strongest season of the series to date. Lower Decks has really hit its stride with Season 4. It sets a very high bar for the show moving forward. I find myself really excited about what the Cerritos crew are doing next.
You can find Star Trek: Lower Decks streaming every Thursday on Paramount+ in the US, Latin America, UK, Australia, Germany, France, Italy, Austria and Switzerland. Each episode is also broadcast on the CTV Sci-Fi Channel in Canada. The season will also stream in South Korea on Paramount+ later in the year when the service arrives there. For more reviews, news, and general geeking out about Star Trek, follow Trek Central!
---
More From Trek Central
📰 – REVIEW – Star Trek: Prodigy Season One Blu-ray
🔥 – REVIEW – Star Trek: Lower Decks 'Empathalogical Fallacies'
🔍️ – REVIEW – Star Trek: Shaxs Best Day
---
Join the Star Trek conversation via our social media platforms: