Star Trek Issue #11 – Part Three of the ambitious Day of Blood crossover has just been released from IDW Publishing. The series follows Klingon Emperor Kahless' followers rioting and pillaging through the Klingon homeworld. This Day of Blood isn't just limited to Klingons though, caught in the fray are the crews of the USS Theseus and USS Defiant! There's been quite a lot going on these past few months, and as far as Star Trek comics go, this run has been wild.
Here we are with part three though, a little over the halfway point (it's so much harder to count when there's an odd number). All these teams the combined crews have split into, are they going anywhere? With a total blackout on communicators and transporters, they're left isolated, alone, and grounded. How do they survive the horrors of the Qo'noS system? All of these and more in this review of the latest part of the first-ever Star Trek comic book crossover: Star Trek Issue #11!
WARNING – This review contains some spoilers for the events of this comic. If you've not read the comic, you should turn back now. You have been warned.
Kobayashi Maru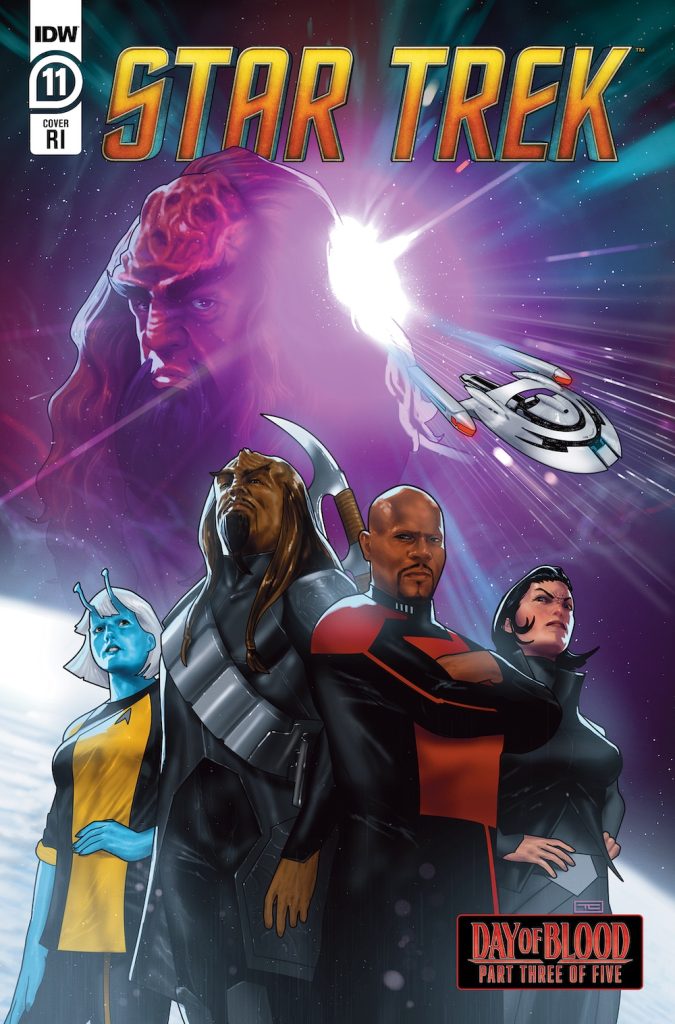 The opening half of this comic picks up the teams on the ground, with Sela trying to get the override codes for the transport inhibitor on the planet. Not only does she get arguably her coldest material yet, but she gets to swing into action in a way that she literally couldn't have onscreen. The magic of comics for me is fantastic action spectacles like this, in just five panels over a page there's insane gymnastics and martial arts as well. I love it, and given how Sela's been ignored by a lot of other current media, it's about time!
The more interesting discussions though actually happen within the actual communications hub. There's been plenty of discussions over what it means to wear the uniform, and what to do with a no-win scenario. Ro's a character who, with her history in the Maquis, hasn't been tested quite as much as this. It's a challenge to her leadership resolve and her risk-taking capabilities. She and Sela represent a pursuit of full-bodied heroism in the face of Kahless' reign of terror – the perfect threat to unite these disparate characters.
Discussions like this are nice, although some of this first half was a little too text-heavy for my tastes. The bits around Martok's legacy as a warmonger, whether his recent actions have made enough of a difference was another real highlight. The text wall on pages like this really helps to accentuate the visual elements like the slap, but it feels like a lot of reading for the medium. Still, this is (lore-wise) the coolest series out there for 90s Star Trek fans, so it's not like they're talking about uninteresting things at all.
Some Action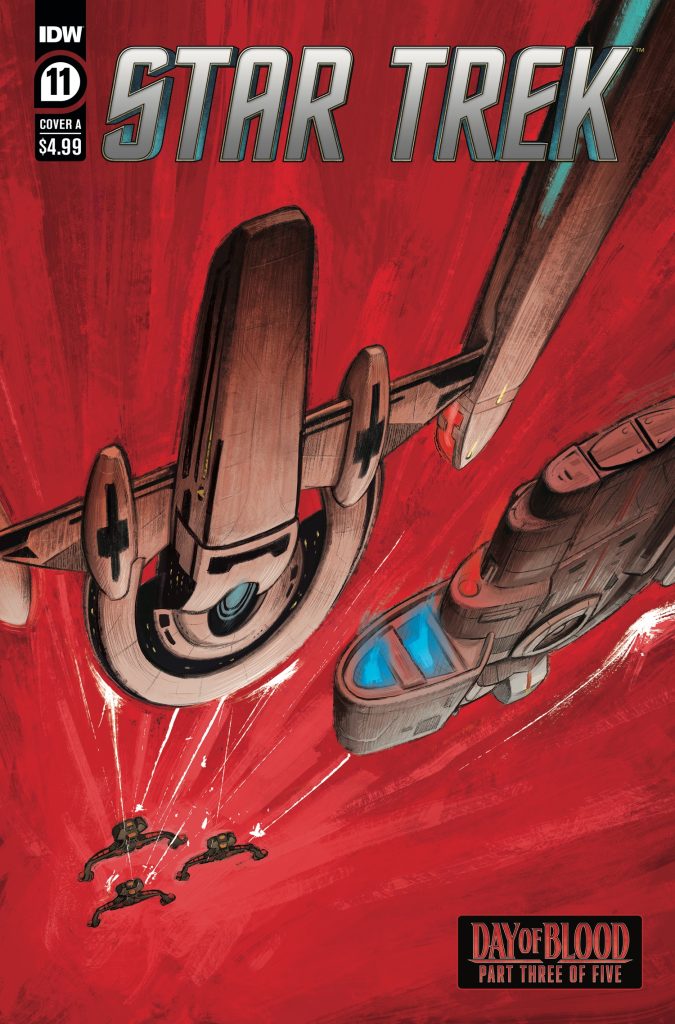 It's not really a Star Trek action extravaganza until the crew is on the bridge, at their battle stations, and firing at the enemy. Thankfully, there's plenty of that here too. It all looks rather desperate for the crew on the Theseus as well – the distraction they were employing is done, and they're not equipped to out-fly the new Birds of Prey. It's quite a lot to take in, but after last week it definitely makes sense. Among other things, there's also another callback to the Protowarp from Star Trek: Prodigy here!
Seeing Spock and Scotty together on a 24th Century bridge will never get old. That being said, the real highlight for me was seeing Torres and Paris on the Defiant. They don't quite get the personal moments they got a few weeks ago, but their ship is far more familiar and in desperate need of repair. The repair arrives, rather hilariously and suddenly, from Shaxs! I was wondering how the upcoming Shaxs' Best Day Ever would fit in. If his small presence here is anything to go off, it'll be both hilarious and delightful.
Ships aren't the only big source of action here though. I already singled out Sela's work as the biggest highlight, and it is, but that's not all. Toward the end, we also get flashes of Data and Lore, who get some of their best discussions in ages. Watching Data discuss his homicidal feelings toward Lore was amazing, and Lore's escape has me on the edge of my seat. That's not even the real cliffhanger though! Worf's only on the last 2 pages, but this more than makes up for it. There he is, face to face with his own radicalized son!!!
Star Trek Issue #11 Preview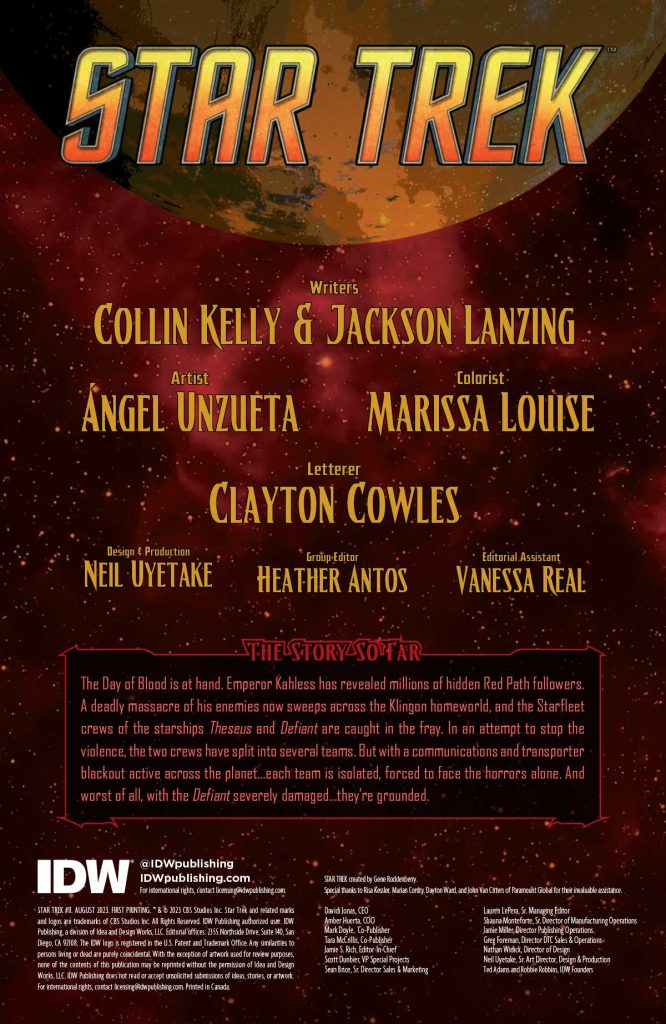 Conclusion
So… Lore's escaped, things barely look survivable for those still on the ships, and Worf's about to come face to face with Alexander. Given how recent comics have framed him and Sisko as different types of fathers, seeing how they treat that will be a real highlight. With stakes that high, you'd think this was a penultimate issue. That was unreal, and I am so excited about where this series is going. We'll know soon, the story continues in Star Trek: Defiant #7! If this is any indication, it's going to be another jewel in IDW's Star Trek crown.
You can pick up your own copy of Star Trek Issue #11 out now in all good comic book stores. It's also available both physically and digitally from Amazon and IDW's website. For more Star Trek news, reviews, and all sorts of lore discussions, be sure to follow Trek Central!
Issue Credits
Writers: Collin Kelly & Jackson Lanzing
Artist: Angel Unzueta
Colorist: Marissa Louise
Letterer: Clayton Cowles
Design & Production: Neil Uyetake
Group Editor: Heather Antos
Editorial Assistant: Vanessa Real
---
In the next issue…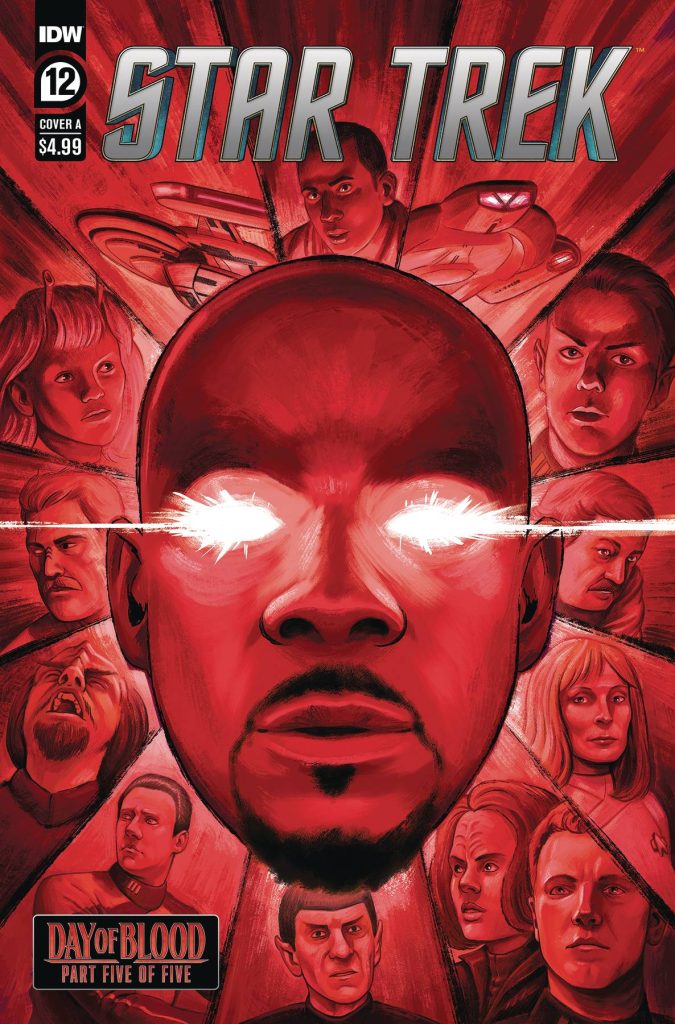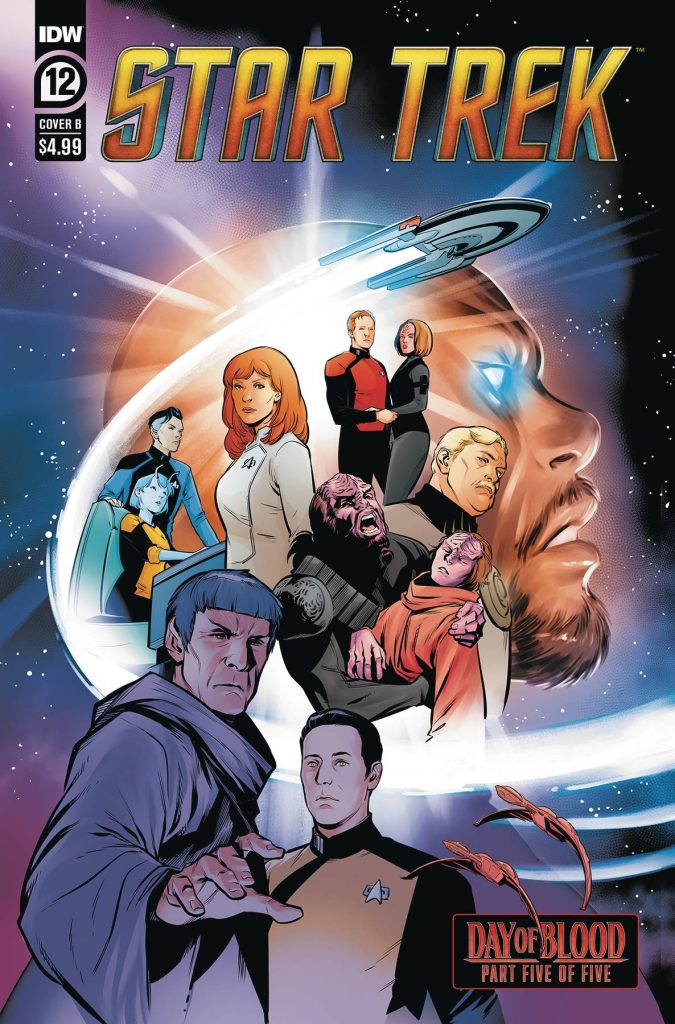 Issue #12 (Day of Blood Part 5): The crossover event between Star Trek and Star Trek: Defiant comes to a thrilling conclusion! Using powers bestowed upon him by the Prophets, emissary Benjamin Sisko withstands the god-killing weapon for now, but forces of the Orb of Destruction wear on him with each passing moment. Meanwhile, Worf agonizes over a fatal wound of his own that he can never hope to heal. What will become of our heroes? What will become of the universe? Can the crews of the Theseus and Defiant stop the God killer once and for all?
Release Date: September 27, 2023
---
More From Trek Central
🚨 – REVIEW – Star Trek: Strange New Worlds "Hegemony"
🔥 – REVIEW – Star Trek: The Motion Picture – 'Echoes' Issue #4
🔍️ – Where Is Star Trek: Strange New Worlds Season 3?
---
Join the Star Trek conversation via our social media platforms: