Now available from The Noble Collection; Kirk, Spock, McCoy and Uhura from Star Trek: The Original Series in bendable form. You can also pick up the famous Tri-Dimensional Chessboard.
A new set of Star Trek collectable figures has been released and available from Bendyfigs. The new line introduced in December 2020 (not to be confused with the figures produced by NJCroce) are available for purchase on The Noble Collection website.
The Noble Collection is a London based creator of props, replicas and products based on licensed collections from film and TV. Other brands include DC, Harry Potter, Game of Thrones and The Lord of the Rings
The Star Trek Bendyfigs figures reach 7.5 inches tall, complete with stand and accessories. Initially available are Captain Kirk, Mr Spock, Doctor McCoy and Lieutenant Uhura. Images of the figures are below.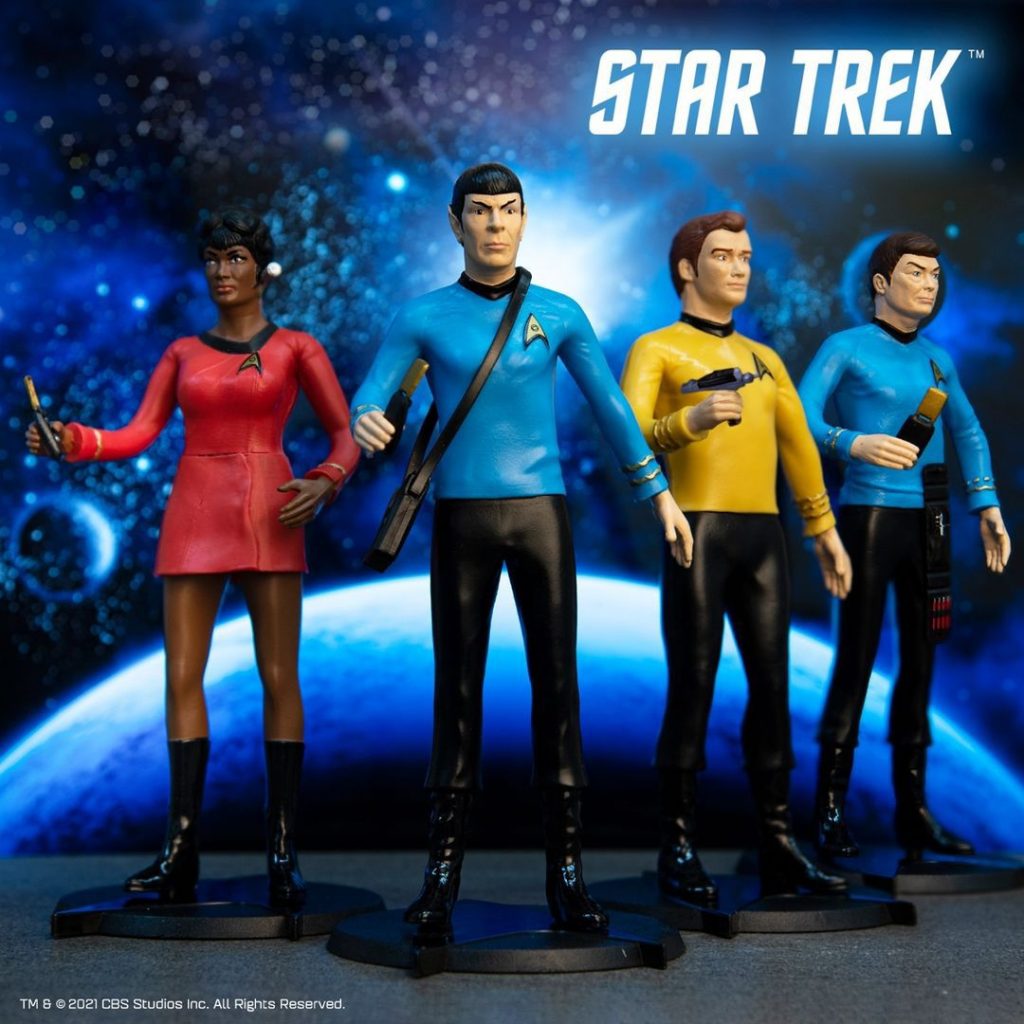 You can purchase the figures now from The Noble Collection website and are priced at £13 ($18 / 15 Euros)
https://noblecollection.co.uk/product-category/star-trek/
Also available from the Noble Collection is a replica of the famous Tri-Dimensional Chess Set first seen in the Original Series episode 'Where No Man Has Gone Before'.
Description

A replica of the Star Trek Tri-Dimensional Chess Set first seen in Star Trek: The Original Series of the 1960s. The series created a devoted fan base that has grown in the 54 years the franchise has continued.

Stands 33.5cm in height and 16cm in width with 32 pieces.

The playing area is spread across seven interconnected acrylic boards, mounted on a Zinc alloy base emblazoned with Starship Duty Insignia, Command Division.

A rule book is also included.
The chess set will set you back a hefty £140. ($194 / 160 Euros)
https://noblecollection.co.uk/product/star-trek-tri-dimensional-chess-set/
---
What are your thoughts? Are these figures something you can add to your collection? Let us know via our social media platforms:
▶ Facebook – https://www.facebook.com/TrekCentral
▶ Twitter – https://twitter.com/TheTrekCentral
▶ Discord – https://discord.gg/f62Gbcu