Star Trek Issue #6 has just been released by IDW. Concluding the second arc of their Star Trek crossover saga was always going to be a tall order. With the God City T'Kon en route to Earth, the stakes are high, and the setpiece for an epic finale is within their grasp. But does this issue take advantage of that? Is the stage set for the end of this series, or is the future unclear? Let's find out as we delve into Star Trek Issue #6!
Written by Collin Kelly and Jackson Lanzing, the duo take on the mammoth task of juggling an epic space chase with Sisko's very cerebral, identity-driven story. The transition to the next chapter is brought to life brilliantly by artist Ramon Rosanas and colorist Lee Loughridge. The status quo of the series is shaken up, with a lot of work done on Sisko. With the main cast all being legacy characters with hundreds of episodes behind each of them, it's difficult to find unexplored territory for them, but they succeed in this brilliantly.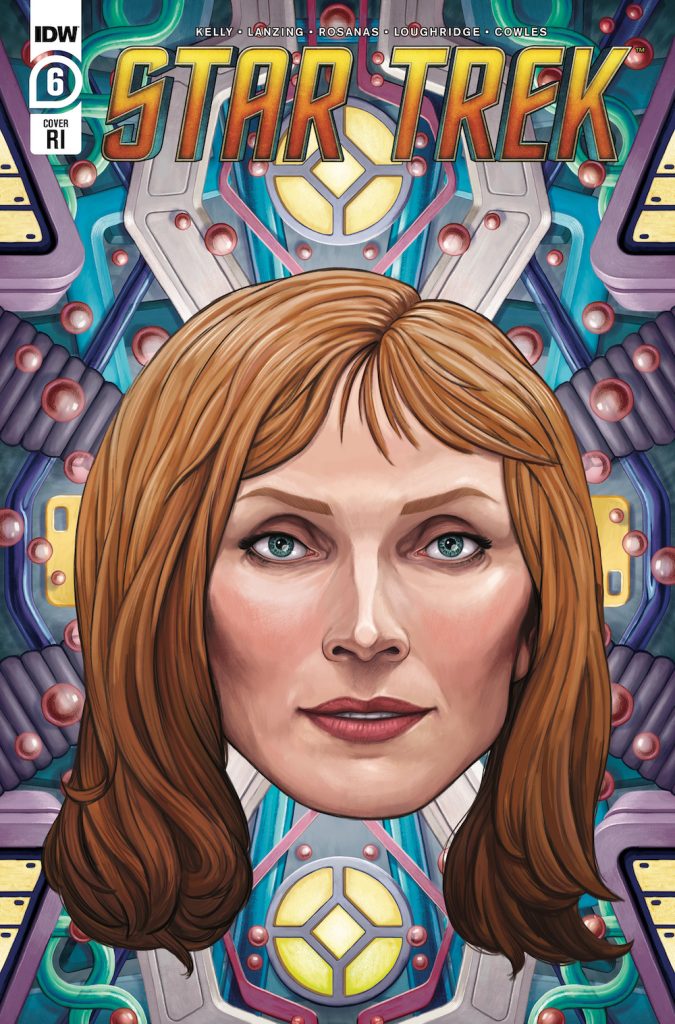 Sisko's Identity Crisis
It finally feels like the series is exploring the ramifications of Sisko's return from the Celestial Temple. Stranded on T'Kon, Jake and Dr. Crusher are perfectly arranged to bring the best side of our Emissary out. The human one. Relegated to doing the bidding of the Prophets since his return at the start of the series, he finally begins questioning the motive. Was he sent to die? Was he sent as an assassin? The lettering work by Clayton Cowles where Sisko and T'Kon question everything is amazing.
Our Emissary missed the birth of his daughter and the death of his father. He hasn't even reunited with Kasidy since his return. Benjamin missed out on so much, and as he begins crying, so does the reader. I've never cried at a comic, but this me closer than anything else. As many questions as we have about why Jake is even on the Theseus, it's perfect that he's alongside his father now. Crusher is also able to connect due to her experiences with losing Wesley.
It's the best part of Star Trek Issue #6 for me. The fact it ends up ending the threat with T'Kon and being integral to the plot is what makes it that much sweeter. As someone who's wanted Sisko to come back for a long long time, it would be really hard to top this. If it never happens onscreen (and I still really think it should!), I'll still be happy with this story in mind.
Android in Command
If there's one thing we didn't get enough of a glimpse of across Star Trek: The Next Generation, it was the command skills of Data. This issue comes in full force, as Data leads the USS Theseus in pursuit of T'Kon. The way he gives orders is mechanical (as you'd expect from an Android), but enhanced by his ability to remain calm and clear under pressure end up saving the day. Watching him order around the Theseus' bride crew, especially Scotty, was awesome.
There's a nice blend of established and fresh characters around the bridge. Obviously, it's Tom Paris and Scotty who get the most attention, but unlike its Defiant counterpart, there are some other characters at play here. Speaking of, we see a Proto-warp drive in action. A secret project between Scotty and B'Elanna (who's also in the Defiant comic!), achieving speeds that allow the ship to catch up. Paris also references the event of "Threshold", which was an interesting, almost humorous choice. Very unexpected, but very welcome.
The battle scenes aren't as long as you might want them to be, though. Sisko is the one who gets just about all the attention. However, the fast pace of the scene on the Theseus more than makes up for its relative brevity. Next thing you know, Sisko's back in command, and the arc is over.
Diplomacy and the Road Ahead
While T'Kon originally posed an existential threat, in true Star Trek fashion, the hopeful, diplomatic ideals of the Federation endure. It's not clear what the future of T'Kon might be if anything. Being so powerful, there's a chance we could see it return to put an end to Kahless' reign of terror. Outside of that though, it appears as if T'Kon's story purpose has been served.
Dr. Crusher, due to her interactions with Sisko, gets promoted to first officer. I don't know how long that post will last, but it's nice to have a mix of 90s Trek characters hanging around together. And, as Sisko points out, that's the biggest strength of the Theseus. They may all be different parts from different ships, different series, and for some events different centuries. They make quite the team combined!
The next step forward for the series however is going back to the beginning. They're going back to DS9. With Sisko now properly back, his reunion with Kasidy (and maybe even more familiar faces like Kira and Quark) is sure to break me. There's also a tease of a character from Lower Decks appearing next issue. If Kira's around, I'd love to see her interact with Shaxs again. There's also a tease of the mysterious "Day of Blood" event, could this series be coming to an end? Hopefully not, because this is some insanely good Star Trek!
Issue Preview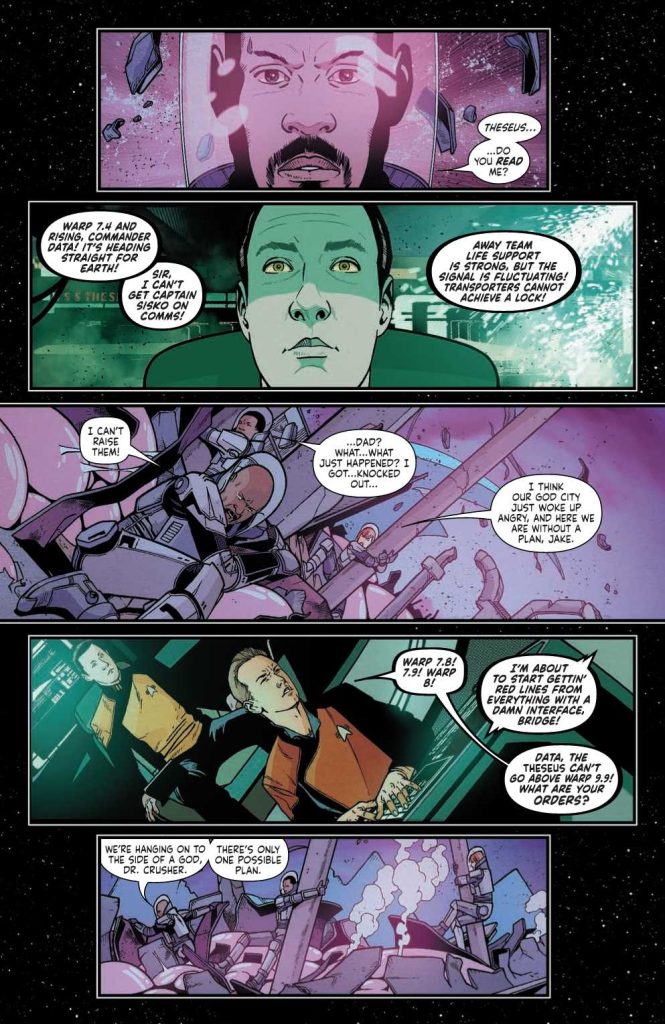 Conclusion
While a little constrained with the use of TNG characters in a pre-Nemesis setting, this initiative is really making the best of everyone else. It's the DS9 and VOY legacy spinoff series that everyone (myself included) keeps campaigning for. This series is easily the most fun I've ever had with a Trek comic. It would be remiss of all of you to not check it out, especially before what looks to be the big event crossover or conclusion. Give it a read!
You can find Star Trek #6 in all good comic book stores. Additionally, it's available both in print and digitally from Amazon and IDW's website. For coverage and reviews of IDW's ongoing Star Trek comic ranges, be sure to follow Trek Central!
---
Star Trek Issue #7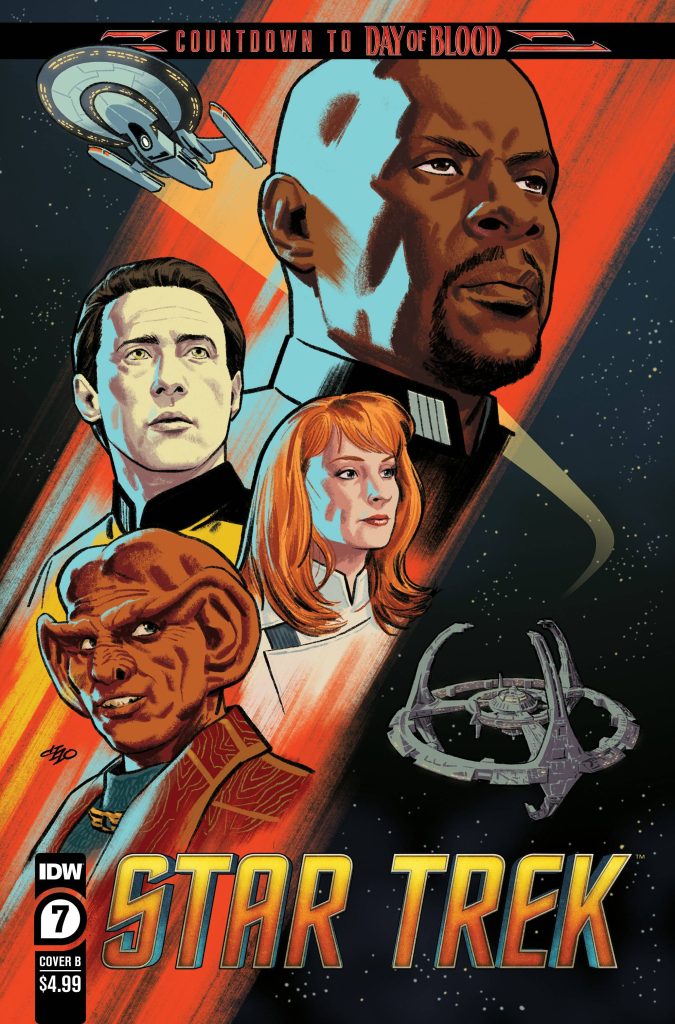 In the next issue: Continuing Benjamin Sisko's quest to stop celestial genocide in "The Red Path," the second arc of the critically acclaimed Star Trek flagship comic series continues! Sisko returns to Deep Space 9, and it's the family reunion we've all been waiting for or is it? Meanwhile, the crew of the U.S.S. Theseus meet a familiar face from Paramount+ hit show Lower Decks.
Release date: April 26, 2023
---
More From Trek Central
📰 – REVIEW: Star Trek: Picard – Surrender
🔥 – BREAKING: Star Trek: Starfleet Academy Show Announced!
🔍️ – Explore Star Trek: Picard's Stargazer
---
Join the Star Trek conversation via our social media platforms: