Following the exciting announcements during the ViacomCBS Investors Day presentation event, Executive Producer and overseer of the franchise Alex Kurtzman and Head of Programming Julie McNamara offered some insights into Star Trek's future.
ViacomCBS held its investors day presentation on the 24th of February, showcasing everything the future holds with a strong focus on its upcoming rebranding of CBS All Access into Paramount+, due to launch next week on March 4th.
From a Star Trek point of view, it appears that there are some very exciting times ahead. Last October at the New York Comic Con, Alex Kurtzman revealed that they had already mapped out plans for Trek through to 2027. We know now that there are currently 5 different shows in production: Star Trek: Strange New Worlds, Star Trek: Discovery season 4, Star Trek: Picard season 2, Star Trek: Lower Decks season 2 and Star Trek: Prodigy, which had its first big reveal during the presentation.
Along with our first look at Star Trek: Prodigy, viewers were also shown a short video narrated by Alex Kurtzman showcasing the franchise and its current expansion. The video can be seen below.
However, the more interesting titbits came from outside the presentation from interviews Alex Kurtzman and Julie McNamara, head of programming at ViacomCBS, conducted with both The Hollywood Reporter and Variety in which they talked about the future of the Star Trek franchise.
The grand strategy is to have all Star Trek shows under one roof so to speak, and call Paramount+ it's home. Star Trek: Prodigy was initially intended to air on network television, but the decision has since been taken to move it to Paramount+ and following its ten-episode season 1 run, broadcast it on the Nickelodeon Channel. Speaking of the strategy to the Hollywood Reporter, Julie McNamara states:
"It reflects exactly what we're looking to do at Paramount+. In the early going for the new platform, franchises are incredibly valuable in driving people across the paywall and we know this. The addition of Prodigy is huge in that it's taking this franchise and expanding possibility of this hungry new demographic for Star Trek. It does speak to the highest execution of the kind of things we're looking to do at Paramount+. Part of what we've seen is our Star Trek fans on CBS All Access, it's interesting what they'll go to. They'll go to The Legend of Korra and pop around and find things that fit that particular — and I say this lovingly — nerd demo. Our hope and thought, in concert with [Nickelodeon president] Brian Robbins, is that by bringing those Trek fans and their children into Prodigy on the platform is great way of hitting those hardcore Trek fans. On the other hand, on the linear side, is hitting kids that may not be interested in Star Trek but do watch Nickelodeon and would be interested in trying something new on the network."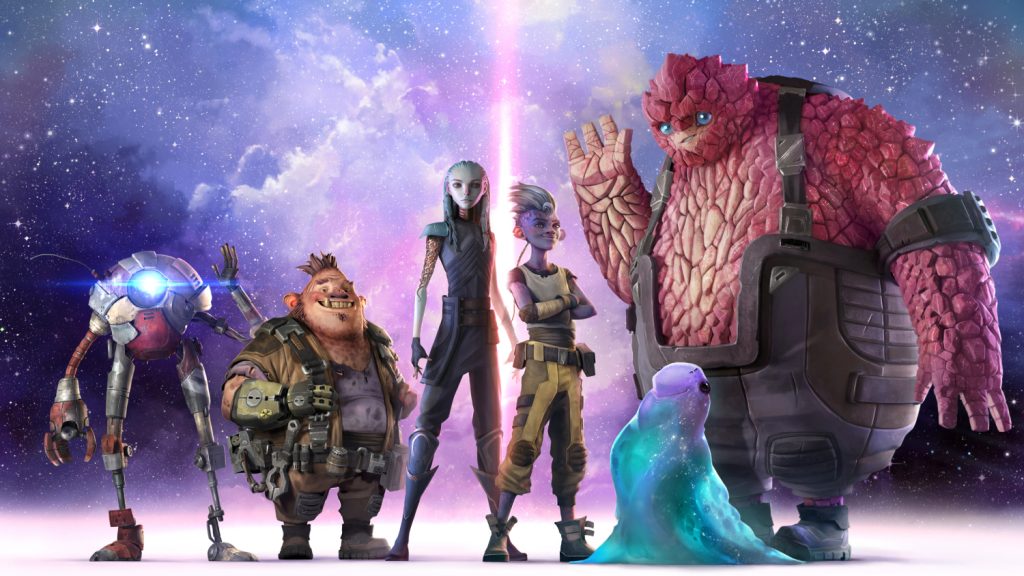 The idea of using Prodigy to introduce young people and children to the franchise is something that will certainly help the Star Trek's continued growth and it's that growth that Alex Kurtzman is particularly keen to see:
"There are other Trek stories to tell in the kids space. Hopefully, in success, this is going to be the first of many in that space. In our live-action world, one thing we hear a lot from fans is how much they've liked that we freed ourselves from canon in Discovery and jumped forward into a new timeline with a whole bunch of new worlds and new characters. What that speaks to more than anything is the spirit of exploration that is at the heart of Star Trek. Whatever we do next is probably going to be in different timelines and different areas of the universe that haven't been explored before; a show that hasn't been dedicated to them yet."
It's possible then, that we could see new incarnations of Star Trek breaking away from the traditional Starfleet perspective. In 2018 writer/director Nicholas Meyer (Star Trek: The Wrath of Khan & The Undiscovered Country) was open about his early development work on a Ceti Alpha V mini-series, focusing on the legendary character of Khan Noonien Singh. It was later shelved, but has been rumoured of late to be back in development. Plus there's the Starfleet Academy series, and interestingly both trademark names were registered by CBS in 2018 and are still currently active. However, if there is a determination to explore different timelines and areas of our universe, it could mean a shift to a more alien perspective. This is something Star Trek fans have longed to see, echoed by the excitement of seeing an all-alien character set for the upcoming Prodigy. The question is if there are more stories to be told in the Trek universe, will ViacomCBS be following the Star Wars or Marvel Cinematic Universe Model? Julie McNamara says discussions are taking place.
"We are in discussions about the next phase of the Trek universe beyond those five shows that Alex has built. We are invested in growing the universe of Star Trek. That said, it's important to make sure that we are curating these properly. We're always incubating a number of things together and then working out what the right cadence is and what the right next show is. Those are active and constant conversations. There are multiple things in the hopper right now that represent that next phase but we don't want to expand it too much, too fast to where anyone is ever saying, "It's just another Trek show." We don't want that."
There are more shows beyond the five that are already in production being discussed. As we learned yesterday, one of the shows that is still in that initial discussion phase is Section 31. It also appears that we won't be seeing any other of these potential new shows until some of the current slate has run its course as Kurtzman adds, it's not about quantity.
"Despite all appearances, we're not interested in being in the quantity business. I don't think that serves the Star Trek universe. We are interested in being in the quality business. It takes upwards of two years from inception to postproduction. Yes, we've thought beyond the five [shows]. Yes, we're having conversations about what happens beyond the five. But we have to make sure we're staying true to the way we've built the first five. Each show is incredibly different, offers a specific thing, they're not all targeted at the same audiences — but interestingly enough, they tend to bring in the same audience. It's difficult to make something for everyone. You end up making something for no one when you take that approach. Do I see something on BET? Yes, because there may be a niche Star Trek show that's perfect for that. I want to make sure as we build this out that we're being thoughtful about creating a really interesting rainbow of colors, that each show feels different and you don't think, "I can watch Picard and not watch the others." Because they're all very different. That to us is more important — staying true to that approach."
It was revealed that the plan includes a bold release schedule of a new show each quarter with Julie McNamara stating:
"We're very careful about curating the pacing — the number of shows at any given time — and what those shows are, so that we make sure that it's always exciting when there's a new Trek show coming out. Whether there's a show that comes up that feels additive and we should add that into the mix, or waiting for attrition of another 'Trek' show, we feel good about where we are,"
So it's possible that if an idea comes along that is so good, it could join the current line up of Star Trek shows, but the likelihood is that we will need to wait to see what they have in store, and until a show has reached the end of its run. We know from past interviews that Alex Kurtzman already has a 7-year plan in place for the Star Trek franchise. With the opportunities now afforded to him and the Star Trek Universe team thanks to the emergence of Paramount+, it seems that those plans have now been extended.
Also, from Trek Central:
---
Don't forget, you can also get involved via our social media platforms:
▶ Facebook – https://www.facebook.com/TrekCentral
▶ Instagram – https://instagram.com/TrekCentral
▶ Twitter – https://twitter.com/TheTrekCentral
▶ YouTube – https://youtube.com/TheTrekCentral
▶ Discord – https://discord.gg/f62Gbcu