Following a Deadline Virtual Screening Event of the finale of Discovery Season 3, showrunners Alex Kurtzman and Michelle Paradise offered a little update on Discovery season 4 and some of the season's main story threads.
Star Trek: Discovery Season 4 is currently in production and its showrunners took part in a Q&A session with Deadline's Dominic Green following a virtual screening of seasons 3's finale, a finale that saw Michael Burnham (Sonequa Martin-Green) in the captain's chair, Saru off to Kaminar and a few questions still lingering.
During the Q&A, the question of 'what can we expect from Discovery season 4?' naturally came up and Alex Kurtzman was happy to offer some small snippets of information on what our intrepid crew under the new captain might be up too in season 4.
On the Federation:
"The Federation is coming back together but is not fully back together. The continued mission of bringing other worlds in and meeting the criteria and standards of what it means to be a member of the federation but also not to rob others of their identity, is something that we will explore."
On Michael Burnham
"Burnham, you know early on the process when we started breaking the story, developed a kinda central question, which is how does this episode (season finale) become another step in Burnham's understanding of what it means to be a captain? So, the stories where all filtered through what is this thing she's learning in this episode that grows, expands her perspective on that? And I do think that Burnham spent a lot of time thinking she had to be one thing or another and ended the season being rewarded with the captain's chair for being these two different things. And Vance basically says that you don't have to pick, you do things your way and that's why I want you in the chair, because you're always ultimately fighting for what's right. And I think Burnham is going to have to keep figuring that out, she's going to have to keep learning what that means. Her relationship with Book will be tested in many, ways for reasons that I won't tell you.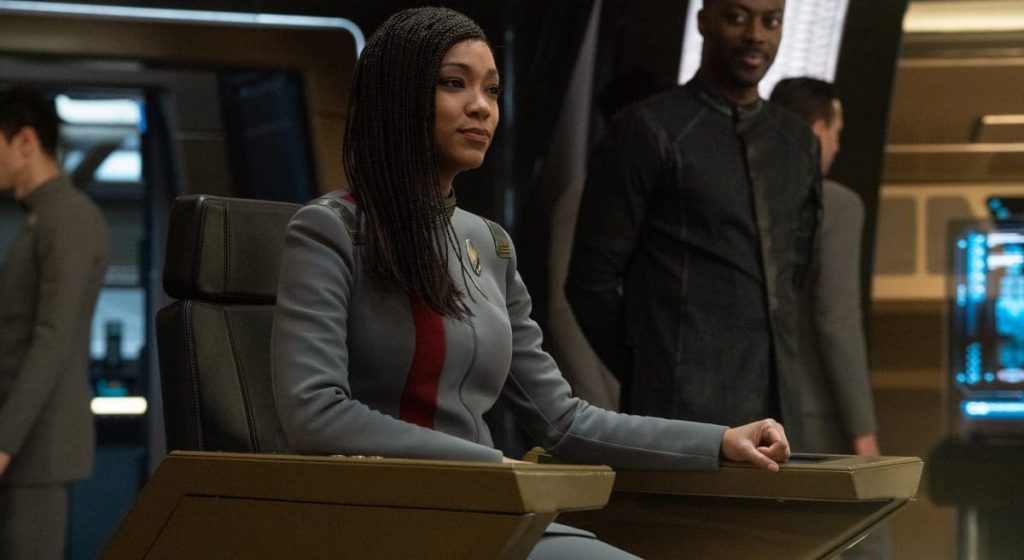 A New Threat
"We're actually exploring, diving deep into science in the 4th season, in a kinda new and interesting way. Without revealing anything there, there have been many kinds of villains over the course of star trek, what happens when the villain is not actually any kind of living breathing entity but something else, how do you solve that problem? We will be dealing with some of that."
Gray and Saru
Michelle Paradise expands on Discovery season 4 by talking some of the plot threads raised in the season 3 finale, mainly Gray being seen by Culber on the Kelpian ship and Saru's leave of absence to Kaminar.
"The one thing that is important coming off the finale that people know, is we made a promise in the finale to Gray, in particular, Culber promises we will find a way for you to be seen. We won't tell you how we do it, but it is important for people to know that we do pay off that story. So that is absolutely something we will resolve and Saru will absolutely be back, we can say that definitively, because at the end of season 3 he leaves to go to Kaminar and I think some people might be concerned that we're losing Doug [Jones], but we're not"
So, we now know that the issue of bringing Gray back, will be one of the main stories behind Discovery season 4, which is good as I feel he was really underused in season 3. The biggest take away from this for me, however, has to be the fact we are getting a new villain that is not of any form, a new kind of entity. That could be very exciting and introduce a classic Trek element to season 4.
Are you looking forward to Discovery Season 4, what are your thoughts following today's Q&A? Excited to learn of a new type of villain? Let us know on our social media and join in with Trek Central.
▶ Facebook – https://www.facebook.com/TrekCentral
▶ Twitter – https://twitter.com/TheTrekCentral
▶ Discord – https://discord.gg/f62Gbcu