Paramount+ has announced that Star Trek: Discovery Is Ending with its upcoming fifth season. Additionally, the fifth and final season has been pushed to early 2024. Therefore, it will debut later than expected. It's understood that filming is mostly complete on Discovery season 5. However, according to Variety, additional filming will occur in the coming months. Originally announced in November 2015, the series debuted in 2017 on CBS All Access, the former brand name of Paramount+.
Series star Soneuqa Martin Green shared some words about her time as Captain Michael Burnham. Additionally, series creatives Alex Kurtzman and Michelle Paradise have shared their thoughts on the end of Star Trek: Discovery. Leading up to the final season, Paramount+ will honour the show's groundbreaking storytelling over its last four seasons with year-long celebrations and appearances at key events in markets worldwide.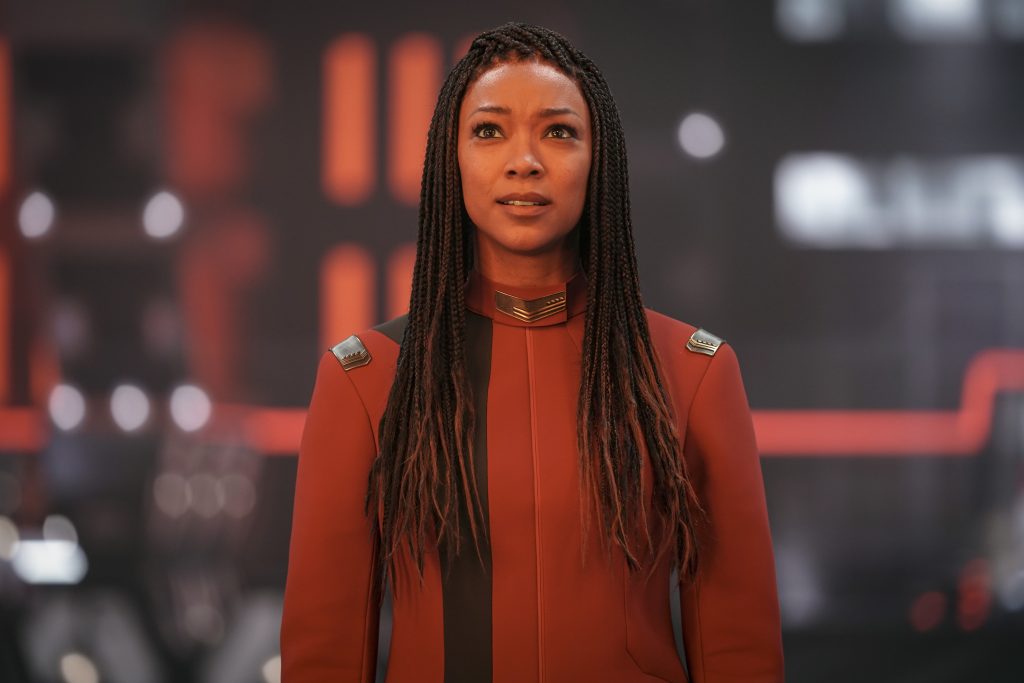 Discovery's Finally At The End Of The Line
Now that Star Trek: Discovery Is Ending, it begs the question of what the future of Star Trek will be at Paramount+. The streamer has recently noted they will be more cautious about what they spend. However, it's worth nothing that Discovery is somewhat pivotal to modern Star Trek as a whole. It helped announce then-upstart CBS All Access as one of the first original series for the platform. It also spearheaded the Star Trek Universe in streaming and spun out Star Trek: Strange New Worlds.
"I can hardly believe that this mind-blowing journey with 'Star Trek: Discovery' is ending, I'm astoundingly blessed by God to have played Captain Michael Burnham and to have taken part in a legacy alongside an extraordinary cast, phenomenal crew and remarkable writing team. To our most supportive partners at CBS Studios and Paramount+, who insisted on making television history, I'm deeply grateful. I'm also deeply grateful for the creative collaboration with our showrunners Michelle Paradise and Alex Kurtzman, as well as Olatunde Osunsanmi and the incomparable team of executive producers.

I will never forget how it felt to stand together as a show family, cradling the heirloom of 'Trek' with all those from the franchise at large and with the fans. The fans welcomed us into their hearts as we launched a new iteration of 'Trek' and an entire entertainment platform, and we'll never forget it. 65 episodes later, here's to the entire company of 'Star Trek: Discovery,' to the show and its fifth and final season, to its beloved fans and to all those who envision a better future. Let's fly… 

Sonequ Martin-Green On Star Trek: Discovery
The upcoming fifth season of Star Trek: Discovery will again follow Captain Michael Burnham. However, the crew of the USS Discovery will be working to uncover a mystery that will send them on an adventure across the galaxy. It's teased that the mystery will have something to do with an ancient power. Actor Callum Keith Rennie joins season 5 as Captain Rayner.
All Good Things…
Co-Showrunners, Alex Kurtzman and Michelle Paradise have reflected on the fact that Star Trek: Discovery Is Ending. It's important to note the series has seen 65 episodes with Michael Burnham and the USS Discovery. The pair reflects that, most importantly, this day would always come.
"As lifelong fans of Star Trek, it has been an immense honor and privilege to help bring Star Trek: Discovery to the world, The 'Trek' universe means so much to so many – including us – and we couldn't be prouder of everything Discovery has contributed to its legacy, particularly with representation.

If just one person sees themselves, or the possibilities for their future, in a new way because of Discovery, then we think we'd have made Gene Roddenberry very proud Of course, there would be no Discovery without Sonequa Martin-Green and the extraordinary team of artists, both in front of and behind the camera, who have brought this show to life.

Their passion and determination to make every episode special has been deeply inspiring; so too has their love and support for one another and their genuine love for 'Star Trek.' Discovery has truly become a family over the years – and we couldn't be more grateful to be part of it."

To the fans around the world, thank you for joining us on this incredible journey," they added. "Your love for these characters and your excitement for every episode, every season, has meant the world to us. We can't wait for you to see what we've been working on for this final season; we appreciate your patience in the meantime and trust us when we say it'll be worth the wait. We love you all! LLAP"

Co-Showrunners Alex Kurtzman and Michelle Paradise via Paramount+
Star Trek: Discovery brought record subscriptions for CBS All Access. It also became the most-viewed original series on both All Acess and the successor, Paramount+. Additionally, the series began an expansion of the Star Trek franchise and collected numerous accolades, including Primetime Emmy Awards. While the original premise was criticised, Discovery found a new home in its 32nd Century setting with the arrival of the 3rd season in 2020.
A Headliner For CBS Studios
David Stapf, president of CBS Studios, added:
When we first started talking about the return of 'Star Trek' eight years ago, we never could have imagined the indelible impact Star Trek: Discovery would have. The series brought back a beloved global franchise, and just like its predecessors, Discovery honored Star Trek's legacy of 'infinite diversity in infinite combinations,' representing the best of what we could be as humans when we celebrate our differences. I'd like to thank Alex Kurtzman and Michelle Paradise, who have led this show with heart, passion, and as fans themselves with vivid storytelling – always ready to push boundaries like those before them. And finally, I'd like to thank this talented cast, led by the brilliant Sonequa Martin-Green, whose leadership both onscreen and off has helped guide the way from day one.

David Stapf, president of CBS Studios via Deadline
What Is Next For Star Trek?
Star Trek: Discovery Is Ending. Naturally, we ask, what is next? Well, Paramount+ still has some Trek going on right now. However, with Star Trek: Picard also now ending it will leave them with only one active live-action show soon. Therefore, Star Trek: Strange New Worlds now takes the flagship role. The franchise is supported by two animated series, Star Trek: Lower Decks and Star Trek: Prodigy. Additionally, it has been reported that a "Starfleet Academy" series is in development. We'll need to wait and see.
Star Trek: Discovery is produced by CBS Studios in association with Secret Hideout and Roddenberry Entertainment. Alex Kurtzman, Michelle Paradise, Heather Kadin, Aaron Baiers, Olatunde Osunsanmi, Frank Siracusa, John Weber, Rod Roddenberry and Trevor Roth serve as executive producers. Alex Kurtzman and Michelle Paradise serve as co-showrunners.
---
More From Trek Central
📰 – INTERVIEW: Star Trek: Picard Showrunner Talks Season 3!
🔥 – NEW Star Trek: Picard Clip Starts The Season 3 Plot
🔍️ – Explore Star Trek: Picard's Stargazer
---
Join the Star Trek conversation via our social media platforms: