Is Star Trek setting up The Next Generation? No, I mean the one after the current one. While we've got the stars of Star Trek: The Next Generation back, the series may aim to set up its successor. Therefore, Star Trek: Picard "Disengage", episode 2 of season 3, plays a critical role in setting up the future. Ed Speleer's character of Jack Crusher is front and centre in this.
This week also marks the introduction of our villain, Captain Vadic, who Amanda Plummer portrays. We know she is the main villain of Star Trek: Picard Season 3. However, this episode marks her introduction to Star Trek and us as viewers. Therefore in the ranks of villains, we have to see how she holds up, especially as Vadic has previously been described as this "Khan-level" style villain.
Ed Speleers Is Jack Crusher!
Episode one started with Beverly crusher. Well, episode two starts with Jack Crusher. Yes, we very quickly get the name of Beverly's son after the last episode's cliffhanger. Later in this episode, spoiler alert, we find this is Picard and Beverly's son. So naming him after the late Jack Crusher is very sweet. Jack Crusher wasn't just Beverly's former husband and Picard's best friend. They loved him in different ways, so to name their son that, even if only Beverly did, works for them both.
The opening scene is a flashback and takes place two weeks before the main events of Season 3, but there is some very interesting stuff here. We really get to see Jack Crusher's character. He is taking the Eleos to a planet affected by Galarian Fever, and as a doctor, is willing to bribe people or do whatever to ensure the safety of those he deems his patients. Something he probably learned from Beverly.
We learn that Jack Crusher is a wanted man, but we find out he does these things for the right reasons. He provides medical support in war-torn lands. He steals to get medical supplies for his patients. He may be a thief, but he is a thief with a heart of gold.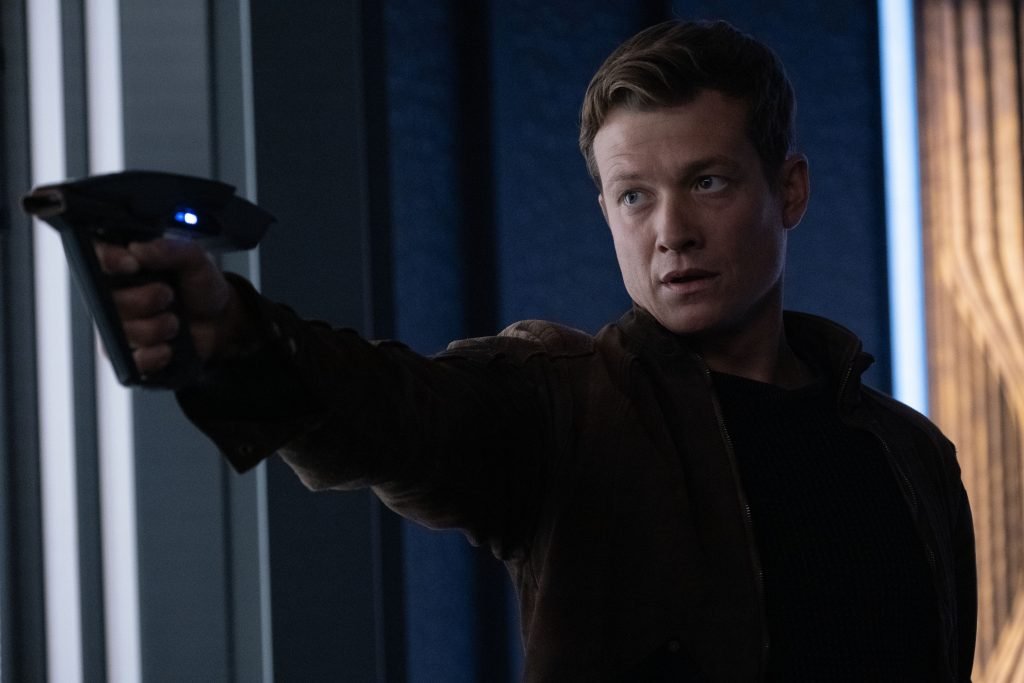 Amanda Plummer as Captain Vadic
Last week ended with the dangerous-looking Shrike warship looming over the SS Eleos. We finally met its captain this week, the very interesting Captain Vadic. From her first appearance, she is amazing. She acts so creepily in how she speaks and what she speaks as well. She knows way too much to be just a simple bounty hunter after Jack Crusher like she claims to be. She knows Captain Liam Shaw. She has read his psych evaluation and asks if he is "functional" right now, which probably hints at Shaw's backstory, which we will learn in future episodes.
She knows Picard, but who in the Star Trek galaxy doesn't, apart from that ensign in Season 1? She knows that Picard has a synthetic body right now as well.  She is a fascinating villain, and I adore that we will get more of her. From this episode alone, she cements herself as a great villain. She allows her ship to be scanned by the Titan for weapons, and the armaments on her ship are wild. Isolytic warheads, plasma torpedoes, so many photon torpedoes and probably the quantum tunnelling tech stolen from Daystrom.
She giggles, laughs and speaks in such weird tones that you can't help but be scared of what she is capable of. Amanda Plummer really sells Vadic as a villain, and I look forward to seeing more from her in the upcoming episodes. The end of Star Trek: Picard "Disengage" teases that the cat-and-mouse game is about to begin. While the next episode may be titled "Seventeen Seconds", it might be better to title it "The Wrath of Vadic". Just a thought as the Titan escapes into a nebula from its foe.
Worf Returns
As we suspected from last week, Raffi's secret handler is Worf. Worf returns triumphantly to rescue Raffi from a Ferengi broker, and murders many of his guards, even the Ferengi. We were told that Worf is more pacifist now, but you definitely can't tell her. I guess he prefers not to attack people, but to defend his operative, he is kinda forced to attack, maybe not kill, but at least attack.
I will question Worf killing the Ferengi. Sneed would have been a good source of information, knowledge about the stolen tech, and perhaps should have been apprehended instead of decapitated. While Worf's entrance was cool, much like Vadics, I felt it was somewhat underused. Yes, we've had this setup, and then he wanders off. Naturally, the story continues, but this is the downside of this whole "10 hour movie format". It means things like this feel a little odd sometimes until you get to the next episode. 
Raffi's Journey
Part of this episode returns us to Raffi, who, as we saw last week, failed to prevent a terrorist attack on a Starfleet building by someone using the quantum tunnelling tech stolen from Daystrom. Oddly, the building that was attacked was a Starfleet Recruitment Building, but I am sure the reasoning for this attack will be made apparent later in the story.
What is great about this Raffi subplot is how it very much links into Season 1 of Picard and in a way enhances Raffi from that season. We know in Season 1 that Raffi lost her husband and son due to the conspiracy spiralling into substance abuse. In this episode, we meet this very same ex-husband, Jae. What is cool is that his name was first mentioned in a Picard tie-in book, Second Self, last year, and he was a painter, so I love that we are getting some of that connectivity.
And with the introduction of Jae, we get a very interesting conflict for Raffi, which mirrors her backstory from Season 1. She is given the choice of her son or the conspiracy by Jae, who can get her in contact with Sneed, the Ferengi Brooker. Obviously, she chooses Sneed, because she knows how important stopping this conspiracy is, just like in season 1. Raffi is placed in terrible situations and always chooses the greater good, even at great cost. Actually, showing that in this episode, rather than through exposition in Season 1, makes it so much stronger, and as I mentioned, at least to me, makes Season 1 Raffi so much stronger.
Beverly Is Back, Somewhat
At the end of the episode, Beverly is finally up and walking, and we get this absolutely beautiful scene. From how Beverly and Picard look at each other, they converse. Beverly admits to Picard that Jack Crusher is his son just from how they look at one another, and that was fantastic to see.
Obviously, now knowing that Jack is the son of Admiral Picard, Shaw agrees with Picard not to hand him over to Vadic. In this episode and the previous one, we have come to think of Shaw as a bad person. But slowly, over this episode, we learn his priorities are the safety of his crew. He is willing to defend Admiral Picard's son, and there is a nice moment between Shaw and Picard where Picard touches his shoulder as a thank you.
Star Trek: Picard "Disengage" Final Thoughts
This episode was written by Christopher Monfette & Sean Tretta, and like the last episode, it was also directed by Doug Aarniokowski. The title of Disengage is very interesting, as with a good episode title, it has multiple meanings for the different facets of this episode. Raffi is told to disengage from the investigation. The Titan A tries to disengage from the shrike. And this isn't even discussing all the "disengaged" relations in this episode, Raffi and Jae, Picard and Beverly. There are multiple layers here.
Riker, this episode, just like the last episode, is truly amazing. I do think this is some of Frakes's best work as Riker. His little comments to Jean Luc in the turbo-lift "Do the Math Jean Luc" about thinking Jack is Picard's son. The speech of handing Jack over to the Shrike, "That man is wanted for trial, not execution, and we damn well know that's not a ship, it's a guillotine" is so amazing and expertly delivered by Frakes.
The acting in this episode is phenomenal, from Patrick Stewart, in his scenes with Ed Speleers in the Brig, was amazing. As said, anything Frakes did is great. Gates McFadden, as Bev, steals the scene without even talking looks. Even Todd Stashwick gives a reason in his performance of his character's previous actions. Helping to craft this new character into somehow three-dimensional and able to stand against these other characters who are so well established.
An Interesting Musical Score
The music score in this episode felt somewhat weird. Some musical themes landed perfectly, while others fell flat at certain points. An example of this is Worf's introduction scene. It feels like the music is trying to play the classic Klingon theme from Star Trek: The Motion Picture, yet the audio sounds somewhat flat and off. Perhaps this is just a different tone of the iconic track, but still, it was a little odd.
However, on the flip side, we have music that lands perfectly. The track during Beverly and Jean-Luc's meeting on the bridge is perfect. Even if it does give me a somewhat Star Wars feel to this moment. I've also commended using the mixtapes at the start of the episodes. While episode one was Beverly's choice of music, the second episode was Jack's style of music. The episode, at times, also looks quite over-contrasted, giving it a very weird look. Unlike last week's episode, I wonder if this was a reaction to people saying last week was too dark.
The Final Frontier Continues, Into The Nebula!
While Star Trek: Picard "Disengage" is not a perfect episode, it does good work. Overall this was a strong episode and helps to set up multiple interesting things for future episodes. We have some fascinating characters and interactions between the two, a ship hunt within a nebula and the return of everyone's favourite merry man. Obviously not a perfect episode. They can rarely be, but enough to be fascinating and keep me engaged, despite the episode being called Disengage.
Star Trek: Picard Season 3 airs on Paramount+ in the United States and on CTV Sci-Fi Channel and Crave in Canada. However, the series will be available on Amazon's Prime Video service for most international locations in the following days. For coverage of Star Trek: Picard Season 3, make sure to follow Trek Central!
---
More From Trek Central
📰 – INTERVIEW: Star Trek: Picard Showrunner Talks Season 3!
🔥 – NEW Star Trek: Picard Clip Starts The Season 3 Plot
🔍️ – Explore Star Trek: Picard's Stargazer
---
Join the Star Trek conversation via our social media platforms: