Co-Showrunner Michelle Paradise discusses Discovery season 2 and 3 in the latest issue of Star Trek Magazine.
Michelle Paradise was promoted to Executive Producer of Star Trek: Discovery in February 2019 and proceeded to oversee the change in direction for the show that saw the setting change to the 32nd century, a move that ensured Discovery could break free of canon issues and forge its own, unique path within the Star Trek Universe while still honoring and respecting what came before. Having been co-executive producer during season 2, Michelle states "it was awesome" to be named as a co-showrunner for the next instalments.
"I just go back to, "It's Star Trek." It was such an honour that Alex would ask, and so exciting to get to do that. I love the show. I love working with him. He's a wonderful human being in the world and just an incredible creative force, and to work with him on this has been an absolute treat and a privilege."
While the set up moved from a prequel series to one that is now treading a new, uncharted territory for the Star Trek Universe, Michelle Paradise states that they always want to honour the look and feel of Star Trek.
"I think, in terms of the look and feel of things, we definitely wanted to honour that this is Star Trek and it needed to feel like Star Trek, even though we were going so far into the future. At the same time, still honouring that, what does the future look like in 930 years? How does it feel? What are the new things that we see? What are the new technologies? Who are the alien species? How do the aliens we are familiar with change or shift alliances, or whatever that may be, 930 years later? So, there are all of those things."
Building on the success of season two, Michelle says
"It felt like in Season 2, and toward the end of Season 2, we really started to find our groove in terms of tone and character and those sorts of things. For Season 3, we really wanted to make sure that we kept that tone so that we have the fun exploration stuff and the adventure, that there's always science, and that we're also honouring each of our characters and their growth and emotional moments – the things that our audience has come to love about the characters."
In the interview with Star Trek Magazine, Michelle Paradise is quick to point out that a lot of thought and discussions go into issues relating to canon and past shows or characters, as season 2 introduced us to new versions of Pike, Spock and Number 1. Michelle says that it's a collaborative effort when ideas are brought forward to incorporate things like the return of the Enterprise or, as in season 3, the return of Voyager and is only done when it makes sense to do so.
"Oh, we're very conscious about things like that. We're very thoughtful – and those ideas, by the way, they come from all sorts of different places. Sometimes they come from the writers' room. Sometimes they come from our production team. Sometimes they come from our VFX team or our post team. Again, the people who work on this show love Star Trek and they know their canon. So, the opportunity to have a Voyager-class ship, or [specifically] the Voyager, of course we would do that to pay homage in some way to the series and the characters that have come before. It's not like every episode is about that, obviously, but when we can do those sorts of things, we like to when it makes sense. We wouldn't just do that."
Finally, Michelle Paradise touches on the season three finale and what that could mean for season 4.  
"Well, I think the finale is… I'm super happy with it. I'm really happy with how it turned out. I think we certainly wanted to wrap up the big mysteries of the season. So, we have an answer to the Burn. We know what that was. We know where it came from. We know that it is not going to happen again. One thing we always want to do every season is wrap up our big season mystery. And then, we ended with Burnham as captain. What does that mean moving forward? I think that's what people are going to be excited for this season to come, is getting to see what that looks like and what her adventure to come is. I'm excited to see that. I mean, I could tell you, but I won't!
The full Michelle Paradise interview will be available in the latest issue of Star Trek Magazine #79 which you can read when it's released on 9th February.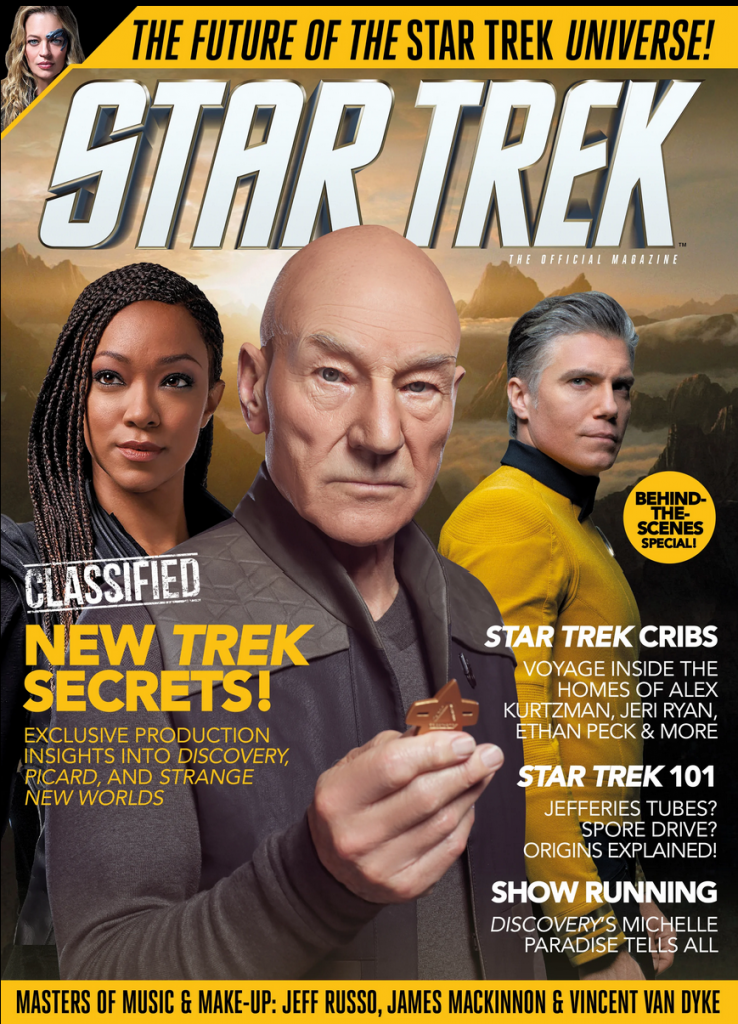 You can also check out some of our other Star Trek: Discovery news by visiting the below links:
More details on what is waiting for us in Star Trek: Discovery Season 4.
Alex Kurtzman Gives a Discovery Season 4 update
---
Stay up to date with all Star Trek news via our social media channels below.
▶ Facebook – https://www.facebook.com/TrekCentral
▶ Twitter – https://twitter.com/TheTrekCentral
▶ Discord – https://discord.gg/f62Gbcu