The Writers Guild of America has gone on strike to fight for better terms for its members. Star Trek: Strange New Worlds was due to begin filming its third season on May 2nd, the same day that strike action began. Without writers on sets and writers' rooms closing down, TV and Film projects have begun halting production. Canadian Film and TV Unions also stand in solidarity with the WGA, impacting US productions in Canada. Unfortunately, this means filming for Strange New Worlds Season 3 must have unavoidably been delayed.
SNW Season 3 filming delayed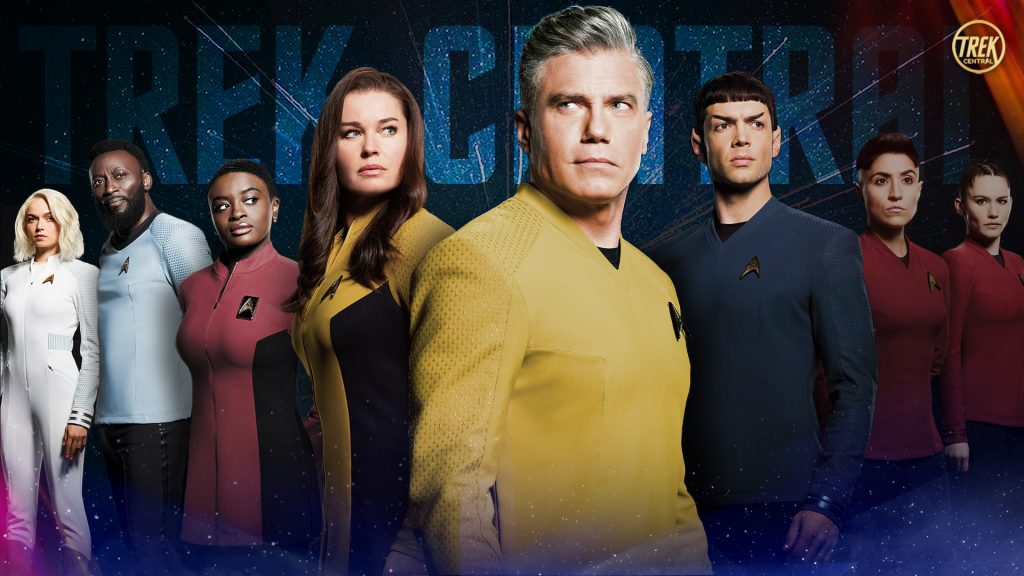 Strange New Worlds shot its first two seasons from February to July. This year, Strange New Worlds season 3 filming was due to begin on May 2nd, according to the DGC (Directors Guild of Canada). Its filming dates were removed on April 17th. Now, production notices are no longer listing the series entirely. This includes any listings using a new production codename.
Whilst SNW is an American production, it films in Toronto at the CBS Stages Canada. Productions in Canada are usually listed on the DGC hotlist. SNW Season 3 has been on this list for months, with filming dates from May 2nd to September 28th, 2023.
WGA members voted overwhelmingly for strike action on April 17th, and that same day production dates disappeared from the Strange New Worlds Season 3 listing.
New cast event appearances
We have also noted Strange New Worlds cast taking new convention appearances during June. This is something that doesn't usually happen during production months outside of official events. Anson Mount (Captain Pike) is attending the Phoenix Fan Fusion event on June 3 & 4. And Ethan Peck (Spock) will be at the Banff Media Festival alongside franchise boss Alex Kurtzman June 11-14.
Actors, directors, and crew are not on strike, but the WGA strike still impacts them and their projects. The last major WGA strike ran for over three months in 2007.
Sadly all signs point to Strange New Worlds Season 3 filming being postponed until the WGA's strike ends. Halting filming does make sense, as unsettling as it feels for a fan. SNW's writers are necessarily present on set during the filming of their episodes as standard. Paramount, therefore, looks to have taken the precautionary measure to pull filming as soon as strike action became inevitable. The inability to film piles necessary pressure on the studio to come to terms with the WGA so productions can get back to work. But it's a bit of a game of chicken too and leaves productions at risk of cancellation.
What is the Writers' Strike?
Members of the WGA, or Writers Guild of America, have gone on strike over union contract disputes with the Alliance of Motion Picture and Television Producers (AMPTP). With Unions worldwide standing in solidarity, many US productions are halting or postponing filming.
Bill Wolkoff has since confirmed he has left Star Trek: Strange New Worlds. In tweets and via updating his Twitter bio, Wolkoff clarified that he left the show because the writers were on strike. He confirmed that he loves the show and working on it, but it is up to the studios and companies.
The action puts pressure on the studios and their executives. The dispute is over what the WGA says is a decline in compensation for writers, despite companies consistently reporting billions of dollars in annual profits. And not only that but contract terms revolving around complex issues, including emerging AI technologies. Ultimately these complex issues could keep a strike going for quite some time.
How will this impact future Trek?
We are expecting Strange New Worlds season 2 to premiere on June 15. However, the utter lack of promotion does seem peculiar. With less than six weeks to go, Paramount has only released one trailer (only a matter of weeks ago). Plus, a sneak peek scene from last year and new character posters. This feels out of the norm, even for a show with significantly less promotion than its contemporaries, Discovery and Picard.
We also have new seasons of Star Trek: Lower Decks and Prodigy due for release. Lower Decks newly announced season 5 should not be impacted as animation unions renegotiated their contracts last year. Prodigy has 20 new episodes currently written and somewhere in the pipeline. So in terms of Trek, plenty is new; however, how fast they release is different.
Trek Series Set To Premiere In 2023
Star Trek: Prodigy Season 2 and Star Trek: Lower Decks Season 4 are due to premiere this year. Additional filming for Star Trek: Discovery was also completed before the strike action deadline, with season 5 due to arrive in 2024. However, if the WGA strike drags on, it may impact how Paramount schedules its Star Trek releases. This could mean a longer hiatus between season premieres.
And, of course, depending on how long it drags on, it could impact what Trek productions survive. And that includes those in pre-production or development. 2007 saw several TV shows bite the dust due to the strikes. While not filming, they could still cost money for things like their sets taking up valuable sound stage space. We would hope this financial pressure would lead to a swift solution, but that's not always the case. Those who make a living in production are also unable to work, which had a profound impact in 2007.
Hopefully, the AMPTP will work with the WGA to swiftly end the dispute. We do not want to see the financial devastation 2007 had for so many involved in Film and TV production. Many were irreparably impacted, from the crews to the small businesses in support industries. Strikes are usually a last resort; reaching this point is not a good sign. We hope the studios will come to their senses, and negotiate fairly for a swift resolution.
And as fans, we stand in solidarity with the WGA and the writers who create the shows we love.
---
More From Trek Central
📰 – Is Star Trek Legacy already in Development?
🔥 – NEW Star Trek: Strange New Worlds Season 2 Trailer Confirms Enemy Return!
⭐ – BREAKING: Strange New Worlds Season 2 Premiere Date & More!
---
Join the Star Trek conversation via our social media platforms: