The time is finally here, Paramount+ has arrived and with it, the Star Trek Universe. Well, some of that universe has actually arrived. Additionally, Paramount's content library including shows like HALO has also beamed down. As of today, you'll be able to watch the likes of Star Trek: Strange New Worlds in the UK & Ireland via the streaming platform.
In what has been a rather slow rollout by technology standards, the long-awaited streaming platform is now here for UK and Ireland viewers. However, is it all we have been waiting for? While June 22nd was the official launch date, the platform has come online on June 21st in the afternoon.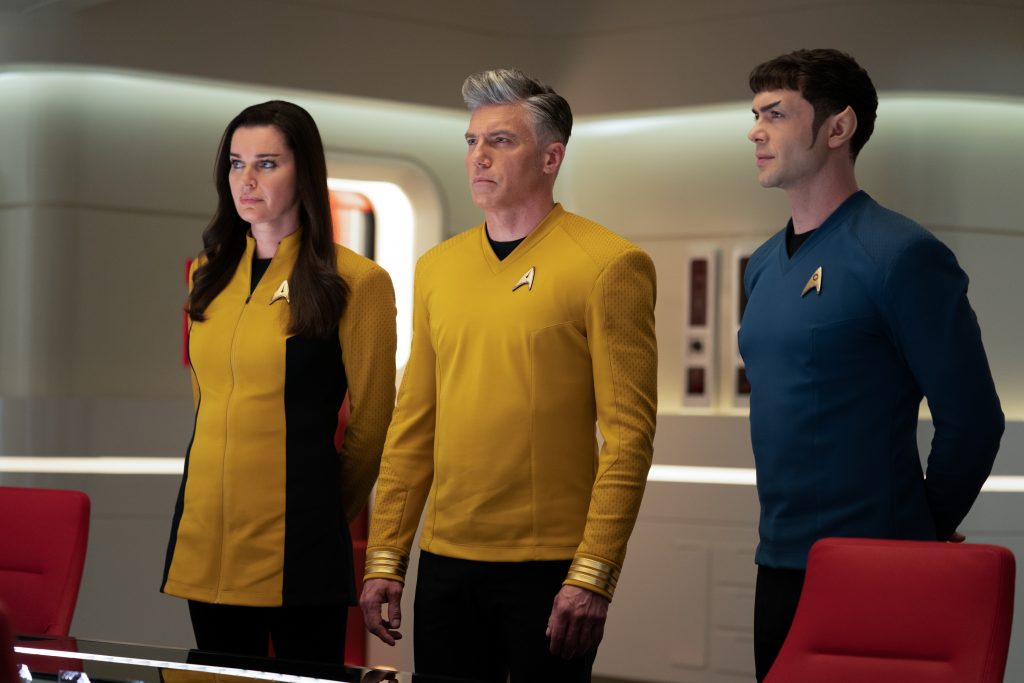 The Streaming Service
Paramount's "Mountain of Entertainment" has arrived. You can access the website from HERE and subscribe at the price of £6.99 GBP / Month. Additionally, there is an annual option for those wishing to subscribe. However, you are able to cancel anytime. Paramount is running the typical promotion of "Join now & get 7 days FREE".
If you're making use of a partner service like Apple TV, you are able to sign into Paramount+ using that. Additionally, the streaming service comes at no extra cost to SkyCinema users. Currently, the Paramount+ app is accessible on both the Google Store and Amazon Apps. Additionally, if you're making use of an Amazon Firestick for your TV, you can now download it.
Yesterday Paramount+ made noise in London for the launch of the platform. Celebrities such as Sylvester Stallone arrived on the blue carpet in the British capital to talk about upcoming content for Paramount. As mentioned earlier, there's a discount for signing up. One month of Paramount+ access costs £6.99, while a year membership is £69.90, which means signing up for a year will save you almost £14!
What Can I Watch?
You'll be glad to know that Star Trek is here! All the main series, such as Star Trek: The Next Generation and Star Trek: The Original series are on the platform. Additionally, the new animated series of Star Trek: Prodigy is on Paramount+ as well. This follows the launch of the series on Nickelodeon here in the UK earlier in 2022.
Nearly all of the Star Trek feature films are on Paramount+. However, Star Trek: 2009, Into Darkness and Beyond are not currently on the platform. This is likely due to other platforms holding the rights for them internationally right now. As such, we are currently unaware of when they will arrive.
HALO The Series, the adaptation of the iconic video game is also available to watch. Having just finished its first season, the series is one of the highest-streamed series for Paramount+ so far! "The Man Who Fell To Earth", another Paramount+ original which was advertised heavily at the launch event with actors and actresses is here to watch.
Missing Star Trek?
Look closely, you'll find some Star Trek content is missing! This is mostly due to other streaming platforms having international rights for the series. Such as Star Trek: Picard and Star Trek: Lower Decks. Amazon Prime Video currently hold the rights to both of these Paramount+ series for international distribution of this series. However, with the end of Picard with Season 3 in 2023, we're not sure how long this will remain that way.
You'll notice episodes of Star Trek: Strange New Worlds are currently missing. Currently, only the first 3 episodes of the series are on Paramount+'s UK website and apps. However, there are seven episodes released at the time of writing. The reason for this has not been fully explained. Additionally, each subsequent episode will be released weekly for Strange New Worlds. However, that leaves UK & Ireland fans behind on the series.
Once all is synced together, new episodes of Star Trek are expected to launch on the platform at the same time as the US counterpart. Similar to how Disney+ and other streaming platforms operate. However, as the next series in the pipeline is Star Trek: Lower Decks, that remains to be seen. This is due to the series in question being an Amazon Prime exclusive for International distribution. Such as the United Kingdom and Ireland.
Additionally, Star Trek: Short Treks are also absent from the platform. These stand-alone stories were used to test new formats for the Star Trek Universe. However, international distribution has always been a struggle for the short adventures. There is no communication on
---
More from Trek Central
? – STRANGE NEW WORLDS – Who Is Samuel Kirk?
? – REVIEW – Star Trek: Picard "Farewell" – 2×10
? – Everything We Know About Star Trek: Discovery Season 5
---
Join the Star Trek conversation via our social media platforms: