Reuniting old characters is something many shows are doing right now. We had a taster in Star Trek: Picard Season One. However, with the upcoming third season of Picard, we're heading for a big reunion. Though Star Trek: Voyager fans have wanted two characters to meet up for some time. With both of them now being prominent again in modern Star Trek. It's about time Admiral Janeway Reunites With Seven Of Nine!
Kate Mulgrew is back as Admiral Kathryn Janeway in animated form. She's playing versions of her character in Star Trek: Prodigy. The animated show is set just shy of 20 years before Star Trek: Picard. However, on the other end, we've got Jeri Ryan. She returned in 2020 for Picard Season One. Both of these characters have changed since they were onboard the USS Voyager. Many are asking for a Seven of Nine spinoff show.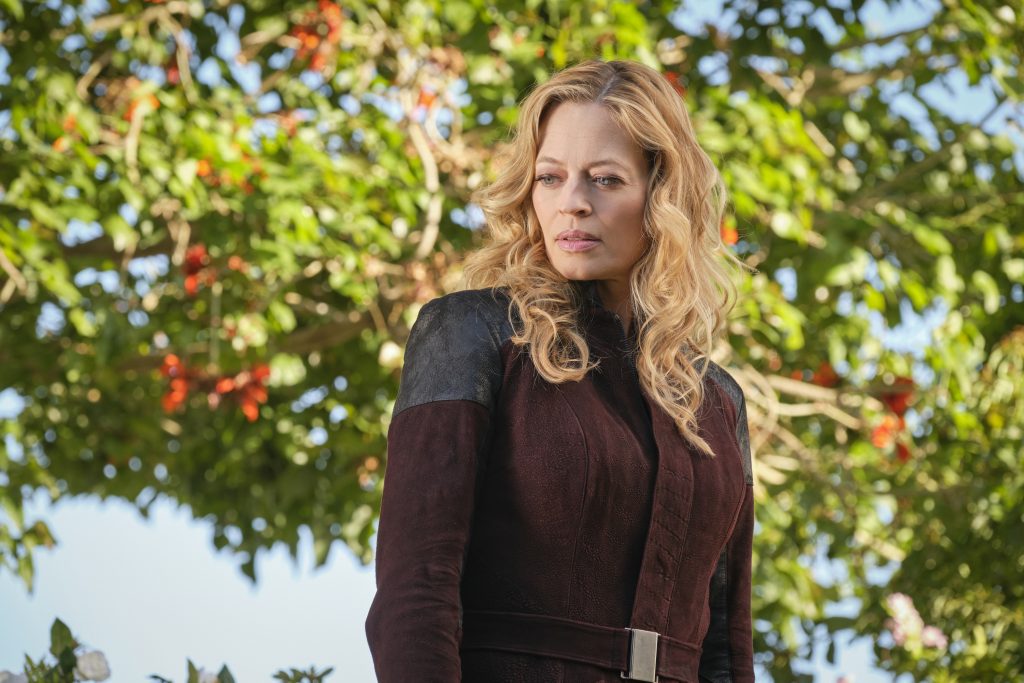 Janeway Meet's Seven of Nine, Again
While many are awaiting to see if Picard Season 3 will give us a live-action reunion, it's just happened in comic book form. The third and final issue of Star Trek: Picard Stargazer had an epilogue. With the main story element concluded, Seven is out and about with her Fenris Rangers. However, that does not mean she has waved goodbye to Starfleet fully. While Jean-Luc Picard tried to recruit her and failed, someone else had to have a go.
Janeway makes contact with Seven of Nine. The Admiral seems taken back by Seven not going to the door marked Starfleet. Therefore, might we presume Janeway will try and change Seven's mind? She does mention in the comic that she "just wants to talk". However, might we see a connection between this comic and Picard Season 3?
Looking at Star Trek: Picard Season 3, we can see Seven of Nine is in Starfleet. Following her acting-captain stint in the season 2 finale, she's been promoted to commander. However, she is no longer onboard the USS Stargazer. Instead, she's now assigned to the USS Titan-A. Therefore Seven is onboard the new hero ship of the upcoming season. But how did she get her? We must remember that the Picard comic occurs between Season 2 and Season 3.
Seven Of Nine Series
Fans have been asking for more Seven of Nine. Following Jeri Ryan's acting in Star Trek: Picard and with the series ending, fans don't want to let go of her again. However, many have asked for a spin-off series following Seven and Raffi Musiker (Michelle Hurd). Picard Showrunner Terry Matalas is the recipient of many of these fan demands. Currently, it does not look like there is much movement on this. However, might this comic be hinting at something coming down the line?
Lately, studios have been experimenting with "limited series". Disney and Lucasfilm have run some new Star Wars series as limited. An example of this is the Obi-Wan Kenobi series with Ewan McGregor. However, they've also got the upcoming Ahsoka series with Rosario Dawson. The idea behind the limited series is to tell a short story in a confined number of seasons. We currently have Andor airing, which is limited to only two seasons for storytelling.
Perhaps Star Trek is about to experiment with this? Paramount has already ventured into doing short stories. The "Star Trek: Short Treks" happened for a while. However, might we be looking at a limited Seven of Nine Star Trek series? The question is, how would this work? Well, for one, this comic might have given us the answer. Fans of Seven was originally asking for a Fenris Rangers-style series. Something different to shake it up a bit more.
Janeway's Live-Action Return
Currently, we only have Janeway in animation form. However, Kate Mulgrew has recently been very vocal about coming back as live-action Janeway. While Star Trek: Prodigy is Mulgrew's current Janeway home, the actress has been dropping hints. Kate Mulgrew has previously said it's really up to the fans if they want to see a live-action Janeway return. However, at NYCC 2022, we learned more. Franchise boss, Alex Kurtzman, revealed he had an idea for the return of Janeway. Perhaps fans will get the wish that Janeway Reunites With Seven Of Nine.
We don't know what that idea has been about. This aligns with Mulgrew saying there had been "conversations" about Janeway. It does mean that creatives have been looking at ways for Janeway to return. However, there is still the possibility of a cameo for the character in the upcoming third season of Picard. There is also the possibility of Janeway fitting into the next Star Trek series.
Of course, the logical approach might be to use both Kate Mulgrew and Jeri Ryan. A series with both of the Voyager-era characters would be fantastic. The Star Trek: Picard Stargazer comic book may have hinted at what we might see. Terry Matalas has said he is not just supporting the idea of a Seven of Nine spinoff, but rather spearheading it. Therefore might we be expecting something to be announced in 2023?
The Journey Begins
With Star Trek: Picard ending, we've got to hope to see more of Seven of Nine. Additionally, the wish for a live-action Janeway. Thankfully we've got Star Trek: Prodigy to fulfil our Janeway wishes. However, as Mulgrew pointed out, perhaps it is down to fans. We've already seen the power of the Star Trek fandom beforehand. Many became very vocal about Captain Pike (Anson Mount) getting his own spin-off. Eventually, Star Trek: Strange New Worlds was born. So anything seems possible these days!
Star Trek: Picard Season 3 premieres on February 16th 2023. But will fans get the wish that Janeway Reunites With Seven Of Nine? We'll need to wait and see.
---
More from Trek Central
? – Star Trek: Lower Decks – Issue #1 Review
? – Star Trek Needs To Learn From Star Wars!
? – Star Trek Picard Season 3 Trailer Reveals A New Enterprise!
---
Join the Star Trek conversation via our social media platforms: