The original USS Enterprise filming model used in Star Trek's first pilot episode 'The Cage' has been missing for decades. It was believed lost for good until a mysterious eBay listing was spotted by fans last week. The eBay listing has now been deleted, but fans believe it's the genuine article and are intrigued by it's reappearance. And Gene Roddenberry's son Rod Roddenberry, is holding onto the hope that the model will finally be returned.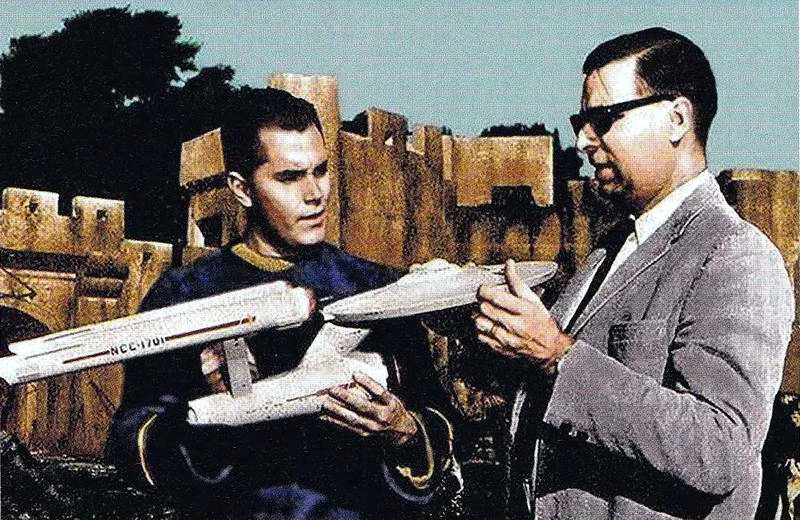 Missing ships…
It's certainly been an eventful few years for spaceship fans and movie buffs. With more than one long thought lost ship resurfacing.
The global Film and TV community was deeply saddened by the passing of legendary model designer Greg Jein in May last year. The auction of his private collection, however, raised many eyebrows. Most notably due to the discovery of the long-missing and suspected destroyed 'Red Leader' X-Wing model. This model was used in the filming of the original Star Wars back in 1977.
The model went missing during ILM relocation to the San Fernando Valley from San Francisco in 1978, after filming was completed. It was particularly notable because it was one of only four hero X-Wing models that had servo-controlled wings. It had not been since since the 70s. That was until, of course, the very same model turned up in the Greg Jein auction catalog. It turns out that this prop, which has now sold at the auction for $3.13 million dollars (£2.5m), had been sitting in a cardboard box in Jein's garage for nearly 50 years.
But what about the Enterprise?
George Lucas once said when talking about thematic parallels between his two Star Wars trilogies that 'It's like poetry, sort of. They rhyme'. It seems that real-life history shares Lucas' passion for narrative symmetry. Not even a month after the X-Wing's sake, Star Trek's own missing model mystery reappeared! Not only that but these answers were given to the world on the 31st of October – Greg Jein's birthday. Spooky!
Back in the 60s when Star Trek: The Original Series was filming there were multiple Enterprise models made. The first was a model that was 33 inches long but became known as the 'three-foot' model. Richard C. Datin Jr. built the first physical representation of the USS Enterprise. While it wasn't originally intended for filming, it ended up being used for all but one of the external shots in 'The Cage', including the bridge zoom-in. Its most famous appearance is within the title sequence where this model was used for all the 'whooshing' fly-bys. And it continued to be used in a number of episodes, right through to the end of the third and final season.
The three-foot model was altered to keep its appearance in line with the larger eleven-foot model throughout the show. You can clearly see some of these changes when comparing the now iconic images of Nimoy and Shatner holding the Enterprise. But there were also unintentional differences. The model was damaged before its final appearance in 'Requiem for Methuselah'. You can see that the hangar deck doors for example are missing in that episode.
What happened next?
Datin did a final service on the model after its last use which included preparing it for display by converting a microphone desk stand. Roddenberry was then given the model when the studio canceled The Original Series. The original USS Enterprise filming model remained in his possession for a number of years. It also returned with him to the studio in 1975 when he started preparations for a new Star Trek series (Phase II), taking pride of place on his desk.
This is where the story becomes a little hazy. One story is that Roddenberry lent it to somebody and forgot who. In 1997 Majel Barrett-Roddenberry said: "That particular ship was a real model and it was Gene's – he loaned it to someone and Gene forgot to get it back and it was never returned. It's a shame because it's a piece of stolen property and since it has historical value – it is quite priceless.". David Shaw recalled that the original USS Enterprise filming model was loaned to an effects house as a reference and went missing. Then yet another version of its loss came from Susan Sackett (Roddenberry's personal assistant). Sackett said that it was stolen and ended up on somebody's coffee table.
Lost since the 70s
We know that the model did go to an effects house. It can be spotted in the background of images of the Star Trek: Phase II model construction. We also know that it was on Roddenberry's desk prior to this. Rick Sternbach recalled seeing it in 1978 while he was involved in the production of Star Trek: The Motion Picture which is the last known sighting. After this, it vanished. Roddenberry also attempted to find the original USS Enterprise filming model in 1979 but was unsuccessful.
The Return of the (three-foot) King
Sternbach was the last person known to have seen the model, that is, until now. On October 31st an eagle-eyed fan spotted an eBay listing for a 'Rare Custom Star Trek USS Enterprise Spaceship By Richard Datin'. Using Datin's name immediately raised eyebrows and sent ship model fans into a frenzy. Going through all the images on the listing and comparing them to the original USS Enterprise filming model. Could it really be a match?
It wasn't long until people had managed to match up some of the unique aspects of the three-footer to the images on the listing. Such as the slight deformity on the deflector and imperfection under the saucer. Despite the damage, the model seems to have suffered in the decades since its last appearance. This seems like a true case of somebody finding an item and having no idea of its significance.
It was reportedly found in a storage unit that had belonged to filmmaker Burton Holmes and was purchased by the eBay seller. However, given that Holmes died in 1958 his ownership of the unit is suspect. Though relatives or friends could have been using the unit until recent years. Those who found the listing have reportedly already been in touch with the likes of Mike Okuda and Rod Roddenberry, who is asking for the seller to get in touch.
Listing images:
What happens next?
You can check out the images from the eBay listing above. We can only hope that the Roddenberry estate will manage to make contact with the seller and that this iconic ship will make its way back into the hands of its rightful owners. This is less likely to happen, however, if the model was stolen (again). I feel it's unlikely that it will appear at an auction again anytime soon. But it wouldn't be surprising if someone was willing to 'look the other way' so to speak, to get the model back.
It's hard to understate the significance of this model. The first ever physical representation of Star Trek's iconic USS Enterprise ever built. It's a unique part of an iconic franchise's history, and it belongs to be returned to the Roddenberry family.
What do you think? Has one of Trek's longest-running mysteries finally been solved? Or could this all be a hoax? If it is the legitimate model where would you like to see it end up?
---
More from Trek Central
🚨 – NEW SERIES: Strange New Worlds – 'The Scorpius Run'
🔥 – NEW SERIES: Star Trek – Picard's Academy
🔍️ – Where Is Star Trek: Strange New Worlds Season 3?
---
Join the Star Trek conversation via our social media platforms: