More footage revealed today during Paramount+'s Fist Contact Day celebration, this time from season 4 of Star Trek: Discovery. Sonequa Martin-Green introduced the first teaser trailer for the upcoming new season.
Following the Nichelle Nichols tribute panel that focused on the Woman In Motion documentary film at today's First Contact Day's series of panels, Star Trek: Discovery star Sonequa Martin-Green introduced the first teaser trailer. It featured footage from season 4 which has already been teased to be air at the back end of 2021.
First impression of the Star Trek: Discovery Season 4 Teaser: the uniforms have reverted to the classic colours seen throughout the history of the franchise and it seems that command is back in red. This is a welcome return.
A 5 light year wide gravitation anomaly is affecting the crew and causing chaos across the galaxy it would seem, and could be the series McGuffin such as the Burn was in season 3.
We will revisit the unified Ni'Var as seen in season 3 and there is a hint that both Federation and none Federation planets alike will need to join forces.  
Some spots from the Star Trek: Discovery Season 4 Teaser trailer: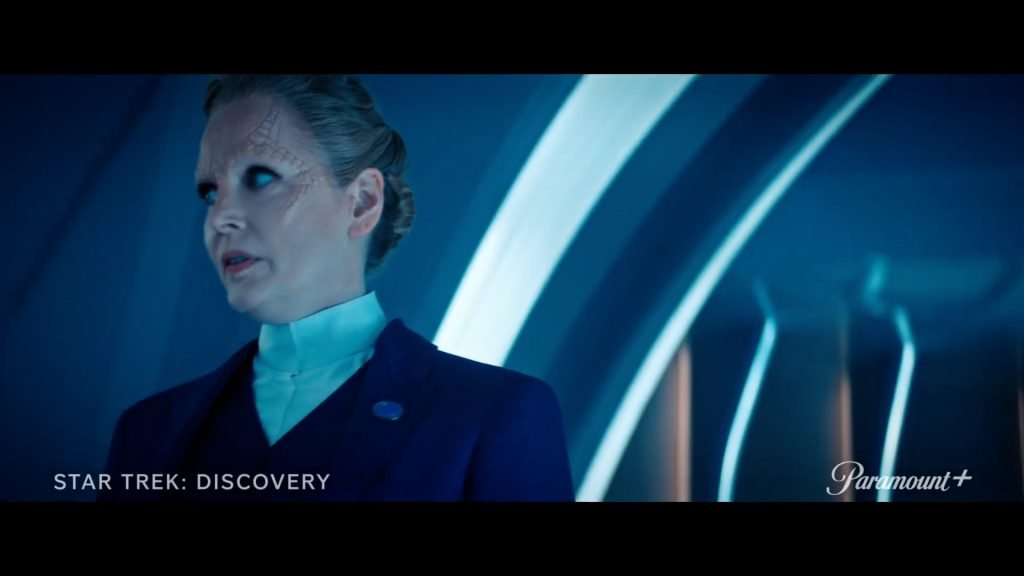 A Denobian, the first one seen in the franchise since Star Trek: Enterprise's ship Doctor Phlox, also, potentially Federation president?
Saru back on Discovery? That's him in the background (left) in command red. Is this before or after his diplomatic missions to Kaminar?
A Lurian as part of the Discovery crew?
If the Denobian is the Federation President, does this mean that Ni'Var is rejoining the Federation? It's a theory based on these two images featuring T'Rina, so it is possible!
---
What do you think about the new trailer? Let us know by joining in via our live feed from today's celebrations over on our Twitter and Facebook pages.
Also, from Trek Central:
---
Don't forget, you can also get involved via our social media platforms:
▶ Facebook – https://www.facebook.com/TrekCentral
▶ Instagram – https://instagram.com/TrekCentral
▶ Twitter – https://twitter.com/TheTrekCentral
▶ YouTube – https://youtube.com/TheTrekCentral
▶ Discord – https://discord.gg/f62Gbcu