Star Trek: Enterprise Season 4 Episodes 18 and 19. Original Airdates: 22nd April 2005 and 29th April 2005 Written by: Mike Sussman (Both parts) Story by: Manny Cotto (Part Two) Directed by: James Conway (Both Parts)
In the best Next Generation movie, Data proclaims about the Phoenix that 'it is a historical irony that Dr. Cochrane would use a weapon of mass destruction to usher in an era of peace'. It is not exactly applicable here, but there is a degree of irony at play here.
That is that after being constantly on air since late 1987 with Star Trek: The Next Generation's 'Encounter At Farpoint', the seventeen year run of Star Trek under Rick Berman was cancelled without much fanfare. That happened during the production of 'In A Mirror, Darkly'.
Ironically with this episode's filming marking the metaphorical axe swinging for the franchise (at least on television until 2017) and arguably, Star Trek: Enterprise responds by making one of its finest episodes ever (outside of 'Shuttlepod One' or 'Similitude').
'In A Mirror, Darkly' is a little short of genius. A sequel to a plot point abandoned almost as soon as it was introduced almost four decades previously (which would be readdressed again thirteen years later in Star Trek: Discovery), the disappearance of the U.S.S. Defiant in Star Trek: The Original Series classic, 'The Tholian Web'. The ship is merely spoken about in part one and plays a starring role in part two. The episode is set in the mirror universe throughout both parts, the only time any episode can lay claim to that.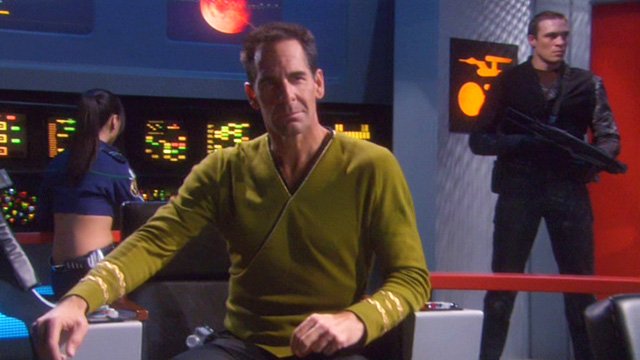 It absolutely revels in this, part one even finishing part one with a lesser seen destruction of the NX – 01. This is an unintended visual metaphor for the show's in production status and give licence for the titular ship to play no role in the second part. It also makes part two somewhat of a Valentine's to fans of both this show and The Original Series. This is via the Defiant being the primary setting and in a masterful choice visually, all of Defiant's sets are near perfect recreations of those seen in 'The Tholian Web'.
As an aside, the viewer prop on the helm was borrowed for this from the production of web series, Star Trek: Phase Two and smaller props such as 23rd century phasers were simply off the shelf toys. Highlighting how screen accurate these both were. Although the carpet, while barely seen, is the wrong colour. Ordinarily I would not care a jot, but with how much attention to detail all have achieved in other places of the Defiant sets (from the uniforms to the pictures of space on the bridge), it is just a shame to see them fall at this hurdle.
Or at least stumble.
Anyway back to 'In A Mirror, Darkly'. It's hard to single out any acting performances. It's clear that every actor is positively wallowing in the chance to spend two episodes entirely in the mirror universe. Everyone absolutely chews the scenery throughout. Even Scott Bakula, who makes the only appearance of his prime universe counterpart, does so with a good degree of scenery-chewing.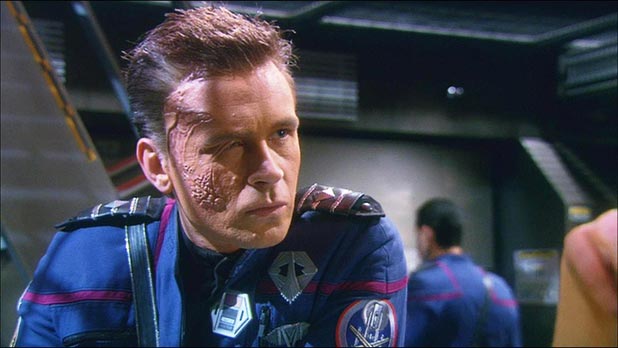 Whether this was due to the news of imminent cancellation (these episodes are incredibly near the end of season four and Star Trek laying dormant on television for the next twelve years) is a bit of a mystery. However, from seeing each episode of Star Trek: Enterprise, I get the distinct impression this was not the case, as whether the episode was well or poorly received, the actors always gave it their best from 'Broken Bow' to 'These Are The Voyages'. This was only compounded by the impression I was left with when at a convention, I met Connor Trineer and Dominic Keating and was thoroughly impressed by how nice they were.
A special note from me. I am a huge fan of The West Wing (it is pretty much why I did a MA in United States History and Politics) and 24 (where he earned an Emmy nomination for his role as Richard Nixon esque President Charles Logan). So, despite how briefly it was, to see Gregory Itzin in my favorite franchise is a thing of majesty.
In a Trek Central video in the middle of April, a potential fifth season of Star Trek: Enterprise is discussed at length (see below). One potential is that it would have had something of a mini-arc (or even longer!) in the mirror universe. It is a testament to the quality of this two-part story that I was by far, more disappointed that season five never happening meant this went unrealised. The Romulan War I would have enjoyed, but as the video says, the literary universe explores this very well. But to not follow up this well-told story is nothing short of criminal.
In conclusion, Star Trek: Enterprise is at best, a mixed bag (speaking broadly when taking the whole show as one). More so than perhaps all Star Trek shows. But some episodes such as 'Shuttlepod One' the 'Shockwave' two-parters, 'Similitude' (well most of season three's Xindi arc) and this majestic beauty are to be regarded as nothing less than top tier Star Trek. If I were to write a recommended list of episodes to watch to represent this show at its finest, it would definitely take me less than 0.83 seconds to decide that the 'In A Mirror Darkly' two-parter should be on that list.
It's me, I had to get another Star Trek: First Contact reference in.
Also, from Trek Central:
---
Don't forget, you can also get involved via our social media platforms:
▶ Facebook – https://www.facebook.com/TrekCentral
▶ Instagram – https://instagram.com/TrekCentral
▶ Twitter – https://twitter.com/TheTrekCentral
▶ YouTube – https://youtube.com/TheTrekCentral