Another Thursday, another episode of Star Trek. It's been one of those great traditions this year, now in the middle of the third series. So far, this fourth season of Lower Decks has been a treat to watch, but can it keep it up? This week's instalment, entitled "Something Borrowed, Something Green", has quite the job ahead of it. Compared to last week's episode, this is a much quieter affair. It's much less filled to the brim with references and is more of a homage to classic sitcom plot archetypes.
At least, it appears like this on the surface. Underneath all these sitcom tropes and comedy ideas, is there an episode worthy of the rest of the season? The past few weeks of the series have set a very high bar, so can the streak be kept up? And just what will we learn about the relatively mysterious Orion culture along the way? Join me as I discuss writer Grace Parra Janney's latest Star Trek: Lower Decks series contribution!
WARNING: This review contains spoilers for Star Trek: Lower Decks Season 4 Episode 4 "Something Borrowed, Something Green". Please read at your own peril if you haven't seen the episode! You have been warned.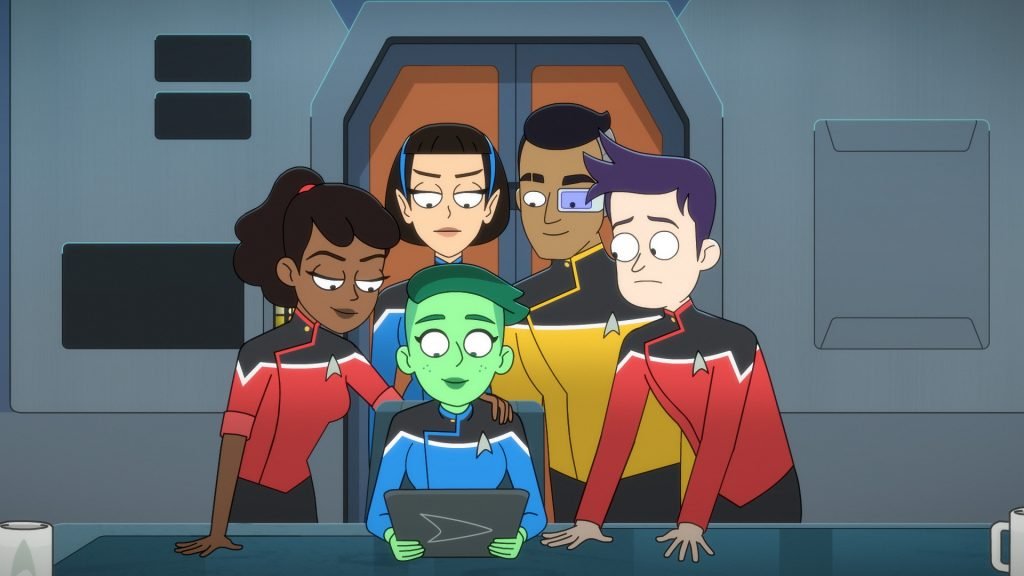 Ship Tease
This season has certainly been a little inconsistent in implementing its story arc. It's been at the end of the episode; it's been a cold open, and it's even been completely absent. It was welcome to see it again after not being in last week's episode. Unfortunately, with this being the third time, it's obvious where this scene is going from the start. While each of these scenes has been entertaining, they all follow the same formula.
On one hand, it allows the writers to immerse themselves in a particular alien culture properly. However, on the other hand, they feel like discarded comedy material. I hope these nearly identical scenes don't go on longer. It's not like a mystery box, where clues are dropped throughout. All of these scenes are identical. After watching this scene, I'm no closer to figuring out what's happening. At this point, it's becoming a little annoying.
However, This episode has something on the other two mystery ship scenes. It's a scene on an Orion ship, a species that features heavily in the rest of the episode. As a result, this one seems to serve a sort of purpose. It caught me off guard when the scene events were referenced on the USS Cerritos. Perhaps it's a sign that this mysterious threat is closer than ever to the Federation? Only time will tell, but I hope there's some movement soon.
A Culture Unexplored Until Now
As I alluded to earlier, most of the episode focuses on properly exploring Orion culture. It's one we know surprisingly little about, mostly coming from the third season of Discovery. Fortunately, that's still a few centuries away, so the writers have a lot of creative freedom to do whatever they want. For the most part, that's exactly what Parra does. She's crafted a world that challenges suspension of disbelief even by Star Trek standards.
The scenes around the clubs were comedy gold. It was alienating, disgusting, and all the other great words that should apply to more Trek aliens. That said, the hormone stuff was perhaps too adult in its implications for my taste. The work around the drinking game is very appealing, the sort of thing I'd love to try and mimic somehow. It's hard to speak for the planet, but the club scene looks like a great time!
Although the reveals around Tendi's (Noël Wells) real personal history is a little predictable, it's some nice development for a character too often relegated to finding herself. I hope we get to know the other characters intimately. With the bulk of them being human, though, I doubt it could be done anywhere near as effectively. The time we spent discussing the conditions of her upbringing and her desire to join Starfleet were surprisingly heartfelt for such a funny episode.
The Mark Twain Solution
Fascinatingly, the bit of the episode I found funniest didn't actually have anything to do with Orions. I'm unsure if that's a complaint about the main plot or me saying that this plot is just that funny to me. In the interest of balance, it's probably a mix of both. I wanted to see this sort of squabbling from the characters this season. We've settled Boimler (Jack Quaid) and Rutherford (Eugene Cordero) into their new promotions but not so much into sharing quarters.
It's the classic roommate fight, bickering over wanting to do chores. Of course, there's enough comedy here, as most normal people would be trying to get out of them. However, Lower Decks takes the extra mile and has them solve their problems by roleplaying as Mark Twain on the holodeck. Letting the characters solve their problems in a silly way is what the holodeck needs to be used for these days.
As soon as Freeman (Dawnn Lewis) tested this same hypothesis to solve her space dispute, I don't think I've ever burst out laughing so hard watching this show. This is the show's comedy at its finest, catching me genuinely off guard. It's such a shame that it doesn't connect with the rest of the episode because this scene here is comedy gold. If the B-plots of the next few episodes can be anywhere near this good going forward, it will be a great season.
A Wedding to Remember
The episode's title is an obvious play on the "something borrowed, something blue" rule for weddings. It's the sort of thing I wouldn't usually clarify, but it's crucial to the discussion. The episode introduces us to an Orion wedding – it's what the whole plot started with. The biggest problem with this is that we, as the audience, never get to see the weddings. It's a tried and true sitcom trope, characters going to all sorts of exotic locations for an eventful wedding, something that Lower Decks as comedy could've leant into.
As much as we enjoy the episode and the journey we go on across the Orion homeworld, we only see photos of the wedding. If this is a deep-dive exploration into Orion society, that would be a better option, especially if it's driving the story's action. Seeing a photo of the newly married couple swinging around looked like it could have been something exciting. It's not so much a problem with the episode's contents; it feels like a missed opportunity.
Speaking of missed opportunities, the Mark Twain and Orion plotlines don't quite converge. Unlike last week, where Boimler's mission was directly linked to Freeman's action on the planet, there's not really any substantial interactivity. As a result, it felt like we were switching between two very different (albeit pretty funny) scenarios every couple of minutes. I wish the episode either brought them together or focused on one, as both plots could've used more time.
Conclusion – Looking Forward to "Empathalogical Fallacies"
While not quite reaching the highs of last week's episode, it was a more than enjoyable way to spend half an hour. There was a more than welcome return to the series arc, and I really enjoyed how it tied into the episode's story. Although it's a shame that the episode's plots were as disjointed as they were. Not bringing them together was a missed opportunity, especially since both plots were interesting and genuinely funny most of the time.
Next week's episode marks the halfway point in the season, so it's expected that all the main character plots for the season will have at least been introduced by that point. Moving further on the mysterious ship could also be an interesting opportunity. It sounds like it will delve into T'Lyn's (Gabrielle Ruiz) character a little bit more, perhaps being Vulcan-centric. As someone who finds her deadpan delivery hilarious, it's bound to be delightful!
You can find Star Trek: Lower Decks streaming every Thursday on Paramount+ in the US, Latin America, UK, Australia, Germany, France, Italy, Austria and Switzerland. Each episode is also broadcast on the CTV Sci-Fi Channel in Canada. The season will also stream in South Korea on Paramount+ later in the year when the service arrives there. For more reviews, news, and general geeking out about Star Trek, follow Trek Central!
---
More From Trek Central
🚨 – REVIEW: Strange New Worlds – 'The Scorpius Run' #1
🔥 – Star Trek: Online Incursion Season Revealed
🔍️ – Master Replicas' Caretaker's Array Review
---
Join the Star Trek conversation via our social media platforms: